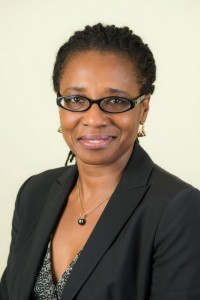 [Updated] The Bermuda Tourism Authority [BTA] announced today that Pat Phillip-Fairn [pictured left] has been appointed Chief Product and Experience Development Officer, effective April 14, 2014. She will report to the Chief Executive Officer.
Ms. Phillip-Fairn will be responsible for overseeing the Product and Experience Development Division. Her responsibilities will include analysing Bermuda's existing tourism products and experiences compared with competitors as well as current trends, and strategically identifying development opportunities for new niche areas.
She will also look at what Bermuda needs to offer to satisfy the expectations of today's traveller and develop corresponding product strategies. This is one of two new Divisions within the BTA.
Ms. Phillip-Fairn comes to the Bermuda Tourism Authority from her current role as Deputy Director, Corporate Governance and Communications at the Bermuda Monetary Authority [BMA], which she joined in 2005.
In this position she has been responsible for strategic planning and execution of the Authority's corporate communications programmes, and further development and implementation of the organisation's corporate governance framework and related policies.
She was appointed to this position after serving as Assistant Director, Policy, Research and Communications at the Authority for four years.
Prior to joining the Authority, Ms. Phillip-Fairn's career included providing international business editorial and marketing consulting services to a group of Bermuda-based insurance and financial services firms, as well as public sector clients. She is a former Chief Executive Officer of the Bermuda International Business Association, where she led strategic initiatives to promote Bermuda and its services as a financial centre globally; she also monitored and assessed the impact of legislative and regulatory issues affecting the international business industry in Bermuda.
Prior to that, she was the Director of Marketing for Appleby Spurling and Kempe where she was responsible for strategic marketing and business development. Ms. Phillip-Fairn was also the Assistant Director of Tourism at the Bermuda Department of Tourism, with responsibility for Marketing, covering strategic planning and execution of a range of communications programmes.
Ms. Phillip-Fairn is a graduate of Bournemouth University in the UK and holds a degree in Business Studies; she also has professional qualifications from the Chartered Institute of Marketing in the United Kingdom.
Bill Hanbury, CEO of Bermuda Tourism Authority, said, "I am delighted to welcome Pat to the Bermuda Tourism Authority. Her extensive background in research, strategic planning, and communications will be extremely valuable as she leads the division to uncover consumer needs and translate those into unique experiences."
Pat Phillip-Fairn said, "I'm very pleased to be joining a dynamic organisation with a strategic approach and a deep focus on success for Bermuda. I also look forward to returning to the tourism industry and I'm pleased to be contributing to the collective effort towards new development.
"It's an area that affects all of us and I'm excited to be taking my personal commitment to Bermuda to a new level and new direction with this senior role."
Ms. Phillip-Fairn is Chairman of the Development Committee of the Board of Somersfield Academy and a member of the Asset Management and Captive committees of the Bermuda Business Development Agency.
Update Feb 20, 11.11am: Shadow Tourism Minister Wayne Furbert said, "The Bermuda Progressive Labour Party welcomes the appointment of Pat Phillip-Fairn to the post of Chief Product and Experience Development Officer, with the Bermuda Tourism Authority.
"Mrs. Phillip-Fairn possesses an outstanding and varied background that will surely be an asset to the Tourism Authority and to Bermuda as we seek to better understand our customers and bring more visitors to our island."
Read More About