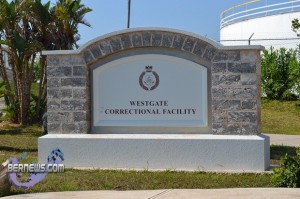 On February 11, 2014, Imagine Bermuda and Chewstick launched a collaborative pilot project at Westgate marking the Anniversary of the Release of Nelson Mandela from 27 years of imprisonment. A small team visited that facility and showed the documentary film "Nelson Mandela: The Fight for Freedom."
A spokesperson said, "Following the screening, the team spent time in group discussion with the men, relating Madiba's story to their own lives.
"The film revealed how his long imprisonment on Robben Island facilitated his personal transformation. It also uncovered the power of reconciliation in the restoration of a country that had been on the brink.
"On the occasion of Mandela's 90th birthday, the film captured him passing the baton, reminding the human family that, "it's in your hands." This became an excellent segue to remind those inmates that they can take that baton and make steps for their personal transformation.
"It was apparent that these men appreciated the connections that were being made on that significant date, and the team intends to visit Westgate on a monthly basis, with the program's goal being inspirational and educational. The aim is to supplement the wonderful efforts of other groups such as Prison Fellowship.
"One idea coming out of their first session is to initiate a pen pal system. Therefore, they are looking for members of the public who would like to take on a pen pal from Westgate. Those interested would commit to a regular [weekly or monthly] conversation by email with an individual inmate.
"For everyone's safety and privacy, the system would be securely filtered by the Corrections Department.
"While many groups, such as the Prison Fellowship, have a faith-based approach, this is an alternative and would simply offer a compassionate contact from the wider community for an inmate.
"Those interested in the pen pal initiative should contact info@chewstick.org."
Read More About