Keep Bermuda Beautiful [KBB] gave top awards to Margaret Fergusson, Greenrock and Rockville Lane Neighbourhood Watch during its recent Annual General Meeting which also highlighted accomplishments made during 2013.
Keep Bermuda Bermuda celebrates its 50th birthday this year and Governor George Fergusson, Bishop Kurtz, Minister Patricia Gordon-Pamplin, and MP Kenneth Bascome were on hand to help with the celebrations.
Guest speaker, Martha Dismont from The Family Centre, closed the AGM with a brief talk about how inter-connected we are in addressing Bermuda's social issues. Mrs. Dismont said, "Clean physical environments surround struggling families with hope and also teach them to be responsible, despite their challenges."
KBB's key initiatives are their School Education, Community Cleanups and Adopt-A-Spot Programmes, as well as the Artful Bins Project and annual Trash Art Show.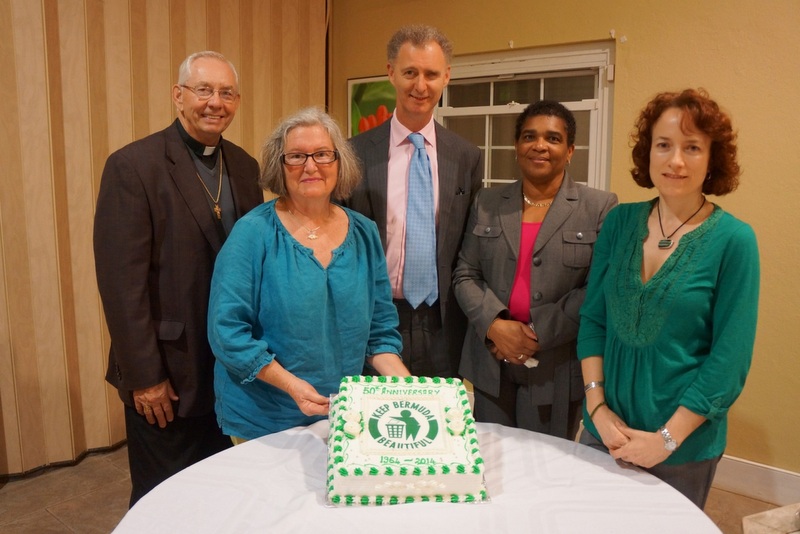 KBB President, Amy Shillingford said, "As KBB reaches its milestone year, we are grateful to be alongside friends and partners who are dedicated to protecting the environment."
The KBB President's Award is given each year to an organization, or individual, who deserves special recognition for work to help keep Bermuda beautiful and also promote environmental education.
This year KBB presented the top award to Margaret Fergusson for her School Garden initiative at Government House. Governor Mr. Fergusson accepted the award on his wife's behalf since she was off the Island.
Mrs. Fergusson's idea to get students involved in an environmental project who might otherwise be considered at high risk for exposure to gangs. Choosing the three closest schools — West Pembroke, Northlands and Victor Scott Primary Schools – students have been busy growing kitchen gardens at Government House.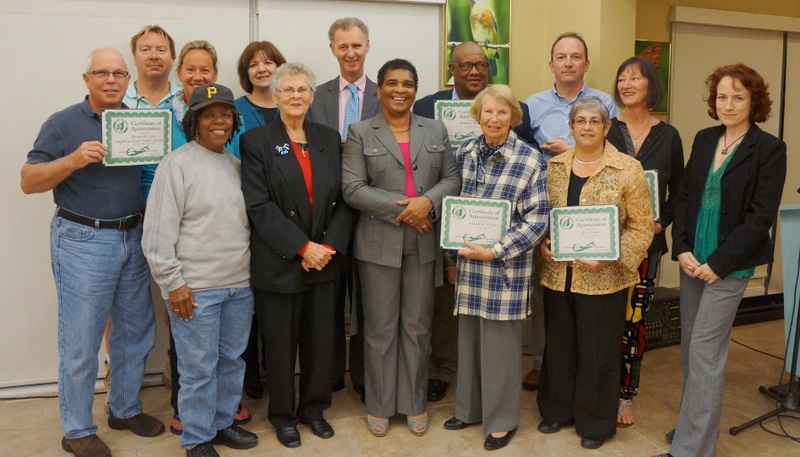 Under the direction of Mrs. Fergusson and volunteers from The Garden Club of Bermuda, these young people are gaining skills and knowledge that they may not otherwise get.
KBB applauds Mrs. Fergusson for providing this wonderful opportunity to Bermuda's school children. Mrs. Fergusson was going to be off the Island so a short video was made prior to her departure.
KBB's Environmental Partner Award for work done in 2013 was given to Greenrock. Accepting the award was Greenrock Chairman Nick Campbell who said, "Greenrock is delighted to receive this award from KBB. It is always gratifying to be acknowledged for the work that we do but it is particularly rewarding when it is by a peer organisation that we hold in high regard.
"Greenrock is very proud of the work that we have done together with KBB over the past year on the "No Thanks!" to single-use bags campaign. We are equally proud of our long-standing partnership with KBB on the Bermuda Marine Debris Taskforce and of our collaboration on the Eco Schools program.
"We look forward to continuing to work with KBB and others to help build an environmentally sustainable Bermuda for all. Greenrock would also like to thank KBB for all of their good work and to congratulate you on 50 years of Keeping Bermuda Beautiful."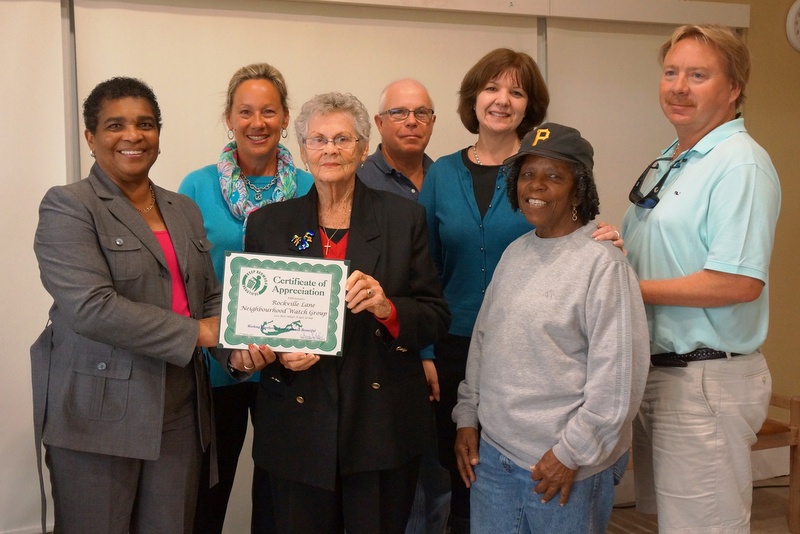 The Rockville Lane Neighbourhood Watch Group was awarded Best KBB Adopt-A-Spot Group for 2013. The residents of Rockville Lane in Pembroke have "adopted" their neighbourhood and are committed to keeping it clean and litter-free.
They have worked closely with members of the Central Community Action Team of the Bermuda Police Service to form their Neighbourhood Watch group and have actively worked to reduce crime in their neighbourhood.
KBB Certificates of Appreciation to recognize work done during 2013 were given to:
MP Kenneth Bascome for being an environmental advocate and working to cleanup areas of St. George including Barry Road, Ferry Reach and most recently the St. George's golf course.
Essie Hans for being an environmental educator to hundreds of students from the Catholic Diocese of Bermuda who clean up the Southampton Railway Trail each year in collaboration with KBB and The Fairmont Southampton.
Lesley Rego for raising awareness about plastic pollution by providing the venue and support for KBB's Annual Trash Art Show bringing art and science together at the people's gallery, The Bermuda Society of Arts in City Hall.
Claudine Wilson for being a long-standing KBB supporter for many decades, active as a committee member and clean up volunteer.
Click to enlarge photos:
Read More About
Category: All, Environment, News, Photos