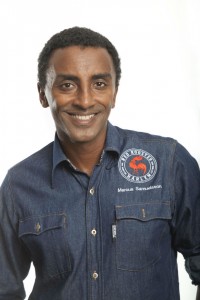 Acclaimed chef Marcus Samuelsson  will open a two month pop-up restaurant, Samuelsson at HP, from June 3 to August 3, 2014 at the Fairmont Hamilton Princess Hotel.
The pop-up will preview his new signature restaurant, which is set to open at the hotel in May of 2015.
A spokesperson said, "Chef Samuelsson has crafted a vibrant menu that celebrates Bermudian culture and history, and will be executed by chef de cuisine Leo Marino and chef de cuisine Justin Levine, both hailing from Samuelsson's acclaimed Red Rooster Harlem in New York City.
"I'm excited to create new flavors inspired by the rich, vibrant culture and history of Bermuda," said chef Marcus Samuelsson. "From fresh-caught local fish to an array of Caribbean and Portuguese ingredients and traditions, there is such a wealth of inspiration to bring to the table."
"The menu will offer dishes in Samuelsson's signature, internationally influenced cooking style. Dishes will highlight fresh seafood and local flavors to emphasize the restaurant's warm, seaside location and the culture of Bermuda.
"There will be several raw options, like Rockfish Crudo with pickled cherry tomato, radishes and jalapeño oil, small plate appetizers like Fish Chowder Croquettes with rum aioli and Paddlefish Caviar Tacos with wasabi sour cream and red onion. Large plates will include Grilled Head on Shrimp with ginger-scallion sauce, sweet soy and cilantro, and Mustard-Crusted Lamb Rack with red wine and coffee-caramelized pearl onions.
"Desserts take on an island theme, with offerings like Rum Cake with local strawberry and ginger salad, Dark & Stormy Sorbet, and Banana Bread Pudding Parfait with passion fruit gel and chocolate.
"The pop-up restaurant's bar menu will feature bespoke warm weather cocktails, from large, shareable pitchers of Rum Rum Punch with white rum, dark rum, coconut water, pineapple juice, lime and nutmeg, to the M City Grapefruit with tequila, grapefruit, mint and salt.
"Parts and Labor Design spearheaded the custom interiors of Samuelsson at HP to reflect Bermuda's rich culture and history, diverse ethnic influences and leisurely spirit. The pop-up will feature a 42-seat indoor dining room in addition to expansive outdoor seating for up to 60 additional guests with a bar, dining area and lounge terrace. Handcrafted design elements will showcase geometric patterned pillows and flooring, nautical elements, Scandinavian-inspired wood furniture and subtle, yet bright pops of color.
Chef Marcus Samuelsson cooks with Michelle Obama on Good Morning America:
"Marcus Samuelsson is the internationally acclaimed, Ethiopian born, Swedish raised chef/owner of Red Rooster Harlem and its sister speakeasy and jazz lounge, Ginny's Supper Club. He is the youngest chef to ever receive two three-star ratings from The New York Times, has won multiple James Beard Foundation Awards including Best Chef: New York City, and he was tasked with planning and executing the Obama Administration's first State Dinner.
"A New York Times bestselling author of Yes, Chef, Samuelsson was also crowned champion of television series Top Chef Masters, winning $115,000 for UNICEF, and he won Chopped: All Stars, donating $50,000 to C-CAP. He has most recently served as a mentor on season two of ABC's food competition series, The Taste.
"On behalf of the Green family, owners of the Fairmont Hamilton Princess, Andrew Green said, "To have Chef Samuelsson join us in bringing to life our vision for the signature Gazebo restaurant in truly an honor. We are very excited to introduce the chef and his exceptional and unique cuisine to Bermuda. As plans for the new restaurant unfold, we look forward to sharing those details."
"In honor of the new partnership between the Green Family and Chef Samuelsson, The Fairmont Hamilton Princess will be flying the Ethiopian and Swedish flags on the property's iconic flagpole terrace.
"The Samuelsson at HP experience is part of a more than $90 million renovation and restoration of The Fairmont Hamilton Princess that includes the guestrooms and suites in the Poinciana wing of the hotel, a new resort infinity pool and a new marina featuring an expansive harbor side restaurant, 1609.
"For epicures, The Fairmont Hamilton Princess will celebrate the opening of Samuelsson at HP with the Culinary Escape Package. This Package includes accommodations in a newly renovated deluxe harbor view room, a signed copy of Marcus Samuelsson's memoir, Yes, Chef, dinner for two at Samuelsson at HP, and breakfast for two each morning.
"Rates for this package start at $779 per night, with a minimum two-night stay. This package is valid June 2 through August 2, 2014, based upon availability, and reservations must be made no less than five days in advance. To make reservations, please visit online or call 800-441-1414."
Read More About