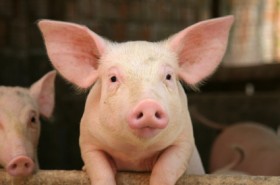 A 37 year old man appeared Magistrates Court this morning [Mar 26] where he pleaded not guilty to three charges involving pigs kept in Paget.
Daniel Heaven pleaded not guilty to keeping multiple pigs without the Public Health licence that is required, as well as keeping pigs and causing a nuisance.
After being asked by Senior Magistrate Archie Warner, Prosecutor Cindy Clarke said the maximum penalty for this kind of offence was $4,000.
Answering a further query from the Magistrate, the prosecutor said that the nature of the nuisance was alleged to be odours, noise, and that there were extra pigs. Ms Clarke also commented that, as far as she could recall, this was her first case involving pigs.
The Senior Magistrate agreed and set trial for April 2014 in his Court. The Magistrate granted Mr Heaven bail of $1,000.
Read More About
Category: All, Court Reports, Crime, News