The Royal Fleet Auxiliary Naval Support Ship RFA Wave Knight made its second multi-million dollar illegal narcotic seizure in less than a month when it detected a suspect speedboat in the Caribbean Sea earlier this month, ending with the arrest of two men and the seizure of an estimated £8.5 million [$14 million] worth of cocaine.
This bust is the latest operation conducted by Wave Knight since it began its patrol of the Atlantic after visiting Bermuda in January 2013.
The official website of the Royal Navy reports that, "While on patrol in the Caribbean Sea on the 11th of February the crew of Wave Knight detected a suspect speedboat operating in the area.
"A US Coast Guard helicopter was quickly dispatched from Wave Knight in pursuit of the vessel.
"The aircraft arrived on scene and established that a two man crew on-board were jettisoning packages into the sea: warning shots were fired, forcing the speedboat to a standstill.
RFA Wave Knight: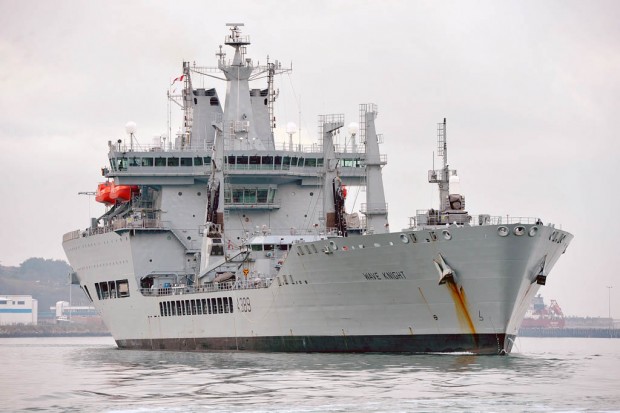 "A US Coast Guard boarding team from RFA Wave Knight deployed in the ship's fast rescue craft.
"During the boarding, the team recovered several packages totalling 170 kilograms that later tested positive for cocaine.
"The two-man crew were detained on board Wave Knight prior to transfer to mainland USA.
"The success follows closely on from Wave Knight's seizure of an even larger 1,250kg haul of cocaine last month south of the Dominican Republic.
"The ship is deployed in support of Operation Martillo, a 15-nation collaborative effort to deny transnational criminal organisations air and maritime access to the coastal regions of Central America and to disrupt the illegal movement of drugs from South America into the Caribbean and onward to the UK."
RFA Wave Knight played a key role in the seizure of an illegal shipment of marijuana with an estimated value of $1.64 million USD just last month.
Read More About