The money raised by Saltus Grammar School for the St. Baldrick's Foundation has now topped the $200,000 mark, with the $203,298.21 raised ranking the Bermuda school 13th in worldwide fundraising for this year's event, which is dedicated to helping find a cure for childhood cancers.
The funds were raised largely through the school's 8th annual head shaving event held on Friday, March 14, with more than 80 students, staff, and relatives taking part in the fundraising effort.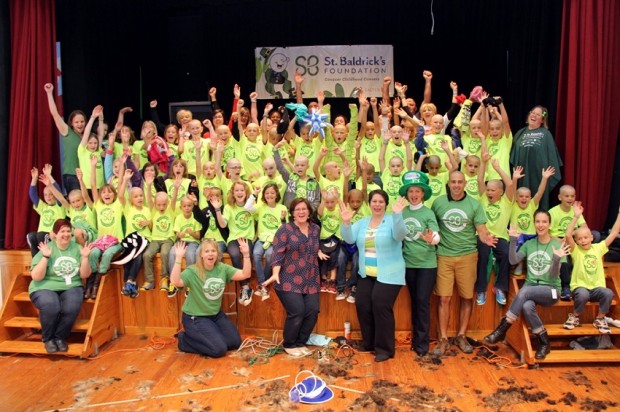 In addition to the head shaving events on Friday, over 165 Upper Primary students made a donation to participate in a special lunch on Monday. Green bracelets made at the lunch were sold, and funds raised from this, together with Upper Primary milk and popcorn sales, also went to the St. Baldrick's Foundation.
Upper and Lower Primary students had a Green Grub Day on Friday to raise additional funds, and Secondary students made a donation to view the event in the Gym.
In addition, Locks of Love also benefited as there were several Upper Primary and Secondary girls, along with two mothers, one teacher, and a sister from BHS [whose brother had his head shaved], who donated their hair to provide hair pieces for children with long-term medically related hair loss.
In total, this year's event has raised over $20 million towards the fight against childhood cancer. The top fundraiser worldwide was an Irish Grill and Pub in St. Louis, Missouri, which had 678 participants raise $485,000.
Groups from around the world signed up to participate, including those in England, Hong Kong, Germany, Australia, Canada, and other nations, with Saltus ranking as the sole location in the top 30 that is not in the United States, giving the school a special distinction among their international fundraising peers.
The St. Baldrick's Foundation is a volunteer-driven charity dedicated to raising money for life-saving childhood cancer research.
Since the U.S. based Foundation's first grants as an independent charity, St. Baldrick's has funded more than $127 million to support childhood cancer research experts around the world.
Read More About