[Updated] Premier Craig Cannonier responded to the recent criticism from Opposition Leader Marc Bean about his travel expenses, saying that in eight or nine months the PLP spent about $191,000 on travel, while he spent $171,000 in 14 months.
The Premier said it's important to get revenue into Bermuda from the outside world, and that international business is not going to just come here and set up, we have to get "out there to the world." .
Speaking yesterday, Premier Cannonier said, "I think a lot of smoke has been thrown out there to the public about the travel of the Cabinet Office.
"If you take a look back at the 2011/2012 budget, you'll see that $234,000 to $235,000 was spent in Cabinet, the actual spent. If you take a look at the 2012/2013 budgetary year, you'll see that $205,000 was spent. But we must remember that part of that 2012/2013 year…was attributed to myself.
"That means that for the time period of 14 months that we have been Government, the Cabinet Office has spent a total of $171,000 and maybe a few change there. $171,000 for the last 14 months.
"If you go back to the previous Government, PLP Government and what they spent the previous budgeted year, they have spent more in the previous budgeted year – than I spent in 14 months," added the Premier.
Premier Cannonier speaking on travel expenses:
"I'm flabbergasted at this whole thought of I need to cut back on my spending and travel of the likes. We have cut back tremendously, and the numbers speak for themselves.
"I think the public is getting a little tired of all this smoke and dagger type of stuff. Put up or keep quiet, because the numbers do speak for themselves. Let's not speculate here and throw out things that damage the reputation of this Government seeking to cut back on the costs for this country.
"It might be said, if you really look at the numbers, because the election was held in 2012 under the PLP Government there was no travel at all during the months of October, November and December because the election was on….people were out campaigning and the likes.
"What I spent in 14 months, can likely be shown to compare to what they spent in about eight or nine months. In that eight or nine months, they spent about $191,000, and here I am in 14 months spending $171,000.
"I'm just flabbergasted at this foolishness, and that's what I'm going to call it, foolishness, because I continue to ensure that when I travel to the East Coast, I go by economy. If we do the long flights, yes, we go by business.
"The whole idea in the business that we're in, in Bermuda is international business. The international business is not going to just come here and set up domicile.
"We've got to get out there to the world and that's what we're hearing….if you want our business, you've got to come to us. Gone are the days where businesses will come to Bermuda and just set up.
"We're in a competitive market out there, and we're competing against the world. It is imperative, that I make no excuses, I don't apologize for the travel that we do because it is important that we get revenue getting into this country and it will only come from the outside world.
"We do travel, but our cost, far less than what's been put out there by the PLP," said the Premier.
We asked the Premier about the most expensive trip listed, [around $48,000 | $13,000 for transportation] which was for nine people at the Bermuda Student Reception and World Islamic Economic Forum, which were both held in London.
The Premier addressing the audience at the World Islamic Economic Forum last year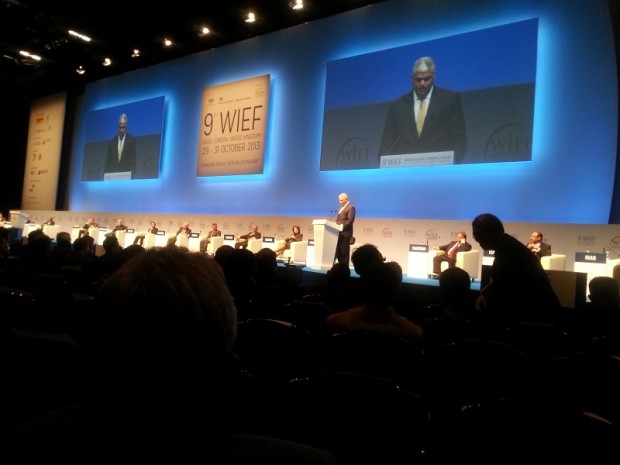 Premier Cannonier said, "There was nine of us. We went to the World Islamic Economic Forum. Bermuda may not be aware of this, but this is a huge event to be able to sit down with the Islamic nations to talk about potential investment.
"It is a highly secure, regulated event. We had nine people go. We had a strong showing, because we're seeking an investment in the rest of the world.
"For nine of going back and forth, it wasn't a close event. We had to travel quite a ways. We had to have special security protocols put in place. I had to be in a car by myself, the Minister also had to be in a car by himself. This is a highly secure event.
"We were the only nation outside of London allowed into this thing. This is a tremendous opportunity that we had as little Bermuda was able to be amongst this forum," explained the Premier.
"We sat on the panel. I sat on the lead panel at this World Islamic Economic Forum. Now, we're following up with that. From that, we now have a meeting in March coming up, late in March where we're going to talk more details about investment in this country.
"These things are paying off. Again, our spend in travel is far less. We've cut back tremendously since the PLP Administration. We are making the cuts that are necessary," concluded the Premier.
A PLP spokesperson said, "The Premier continues to duck responsibility and accountability for his actions. Saying 'the PLP did it too' is an excuse and a weak attempt to deflect from the fact that despite holding no Ministry he has played a pivotal role in breaking the OBA's promise to reduce travel costs.
"The OBA campaigned on doing things a better way. Since taking office they have broken promise after promise without apology and have acted like openness, transparency and accountability were just things they said they believed, but never truly meant.
"The OBA has been the Government for 14 months and by now should be capable of manning up, standing on their own two feet and taking responsibility for their actions."
Read More About