[Updated] A glimpse of the Bermuda version of the Pharrell Williams' "Happy" video was shown on OWN, the television network owned by superstar Oprah Winfrey.
During an interview with Pharrell William on Oprah Prime last night [Apr 13] they played a montage of fan-created YouTube videos adapted from his hit song "Happy," and the montage started out with the Bermuda version.
Screenshot from Oprah's interview with Pharrell Williams with a glimpse of the Bermuda video on screen: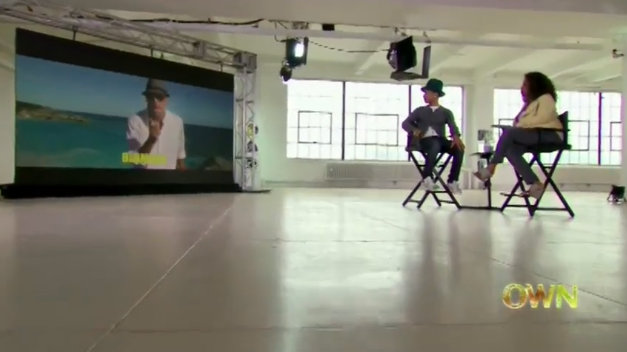 Directed and shot by "Into Bermuda," the video provides cameos by a wide variety of the islands's inhabitants, with shots taking place on boats, historic cannons, caves, pink sand beaches, and city parks, the video features the Gombeys, firefighters, workers, scuba divers, Johnny Barnes, well-known Fairmont Hamilton Princess doorman Carvel Van Putten, Town Crier Ed Christopher, and many others.
The Bermuda video being shown by Oprah:
The montage brought Williams to tears, with the 41 year old superstar becoming emotional watching all the video versions of his hit song, saying: "It's overwhelming, because it's like I love what I do, and I just appreciate the fact that people have believed in me for so long that I could make it to this point to feel that."
Read More About