Following the conclusion of the high jumping competition at the 2014 Commonwealth Games in Scotland, the record-breaking leap by Bermuda's Clarence "Nicky" Saunders continues to stand the test of time, remaining unbroken after 24 years.
Mr. Saunders set the record at the 1990 Commonwealth Games in New Zealand, becoming the first Bermudian to win a gold medal at the Commonwealth Games. The three-time Olympian — who placed as high as 5th in the Olympic Games  – is also the only Bermudian to claim two Commonwealth Games medals.
Mr. Saunders [right] with former Premier Craig Cannonier and the Gombeys during the Commonwealth Games Queen's Baton tour of Bermuda in April 2014: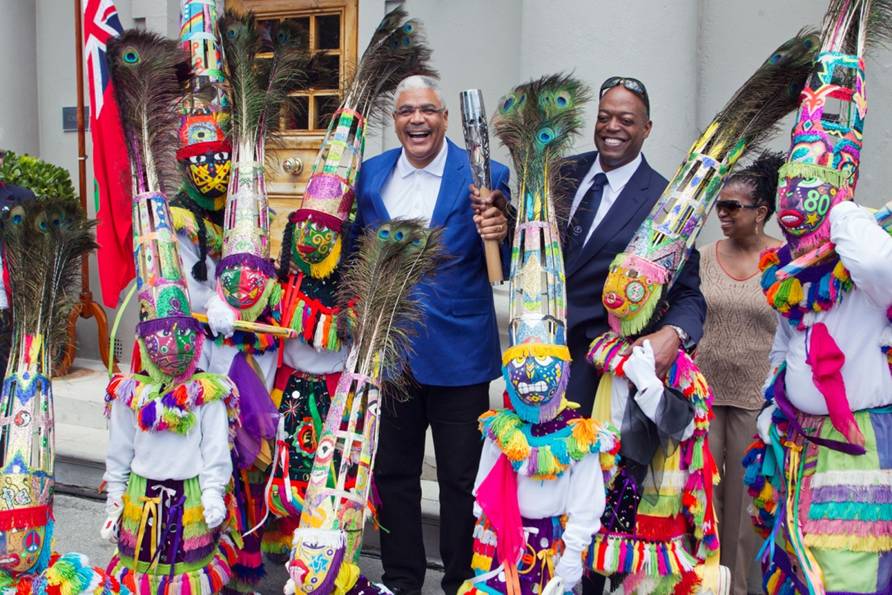 His impressive jump of 2.36 metres placed Mr. Saunders and Bermuda in the record books, where we remain 24 years later. With the next Commonwealth Games scheduled to be held in Australia in 2018, the record is guaranteed to stand for at least 28 years.
Mr. Saunders was given the honour of presenting the men's high jump medals in Scotland, and wearing our traditional Bermuda shorts, the record holder placed the gold medal around the neck of Canada's Derek Drouin who won the gold with a leap of 2.31 metres.
The silver medalist was Kyriakos Ioannou of Cyprus with a leap of 2.28m, while Canada's Michael Mason claimed the bronze with a jump of 2.25m.
The 2014 Commonwealth Games concludes today, with Bermuda having been represented by the 18-strong team of Arantxa King, Shianne Smith, Aaron Evans, Harold "Tre" Houston, Tyrone Smith, Shaquille Dill, Nicole Mitchell, Dominique Mayho, Gemma Lightbourne, Micah Franklin, Robert Maycock, Nicholas Kyme, Julian Fletcher, Roy-Allan Burch, Flora Duffy, Tucker Murphy, Tyler Butterfield, and Jonathan Herring.
Read More About