The Chief Justice has just issued a stay of the work to transplant the trees on Ewing Street, and the City of Hamilton said they have "not yet had the opportunity to present any information to the courts" and "look forward to clarifying the issues to the courts at the earliest opportunity."
This follows after yesterday's [Aug 5] protest which saw area residents and BEST take to the streets with signs over the matter.
A spokesperson said, "The City of Hamilton would like to reassure the public that all possible measures were taken into consideration to assure the most viable outcome of the Ewing Street refurbishment project.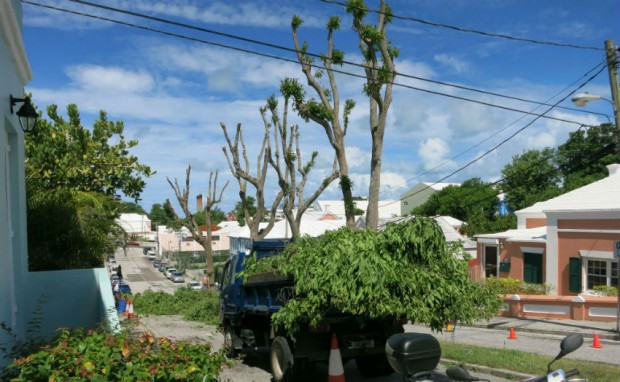 The spokesperson continued, "The objectives of the Ewing Street refurbishment, particularly between Court and Princess Street, is to allow accessibility for emergency service vehicles onto the Ewing Street as that section is too narrow, assess the three structurally unsound trees in the area of the median, widen the sidewalks as the current area is too narrow for pedestrians, provide for the undergrounding of all utilities and install a tree lined street with new street lighting.
"The City held several consultations with area residents, business and property owners. They were presented our proposed plan and we noted the various comments and concerns. After an extensive process of evaluation the plan of action approved by the Council was the removal of the median, widen the sidewalks, remove all utility poles and provide more street trees and lighting in line with the Princess Street project.
"After removal of the median, the trees removed will be temporarily relocated to Jubilee Park, none of the current trees will be destroyed and will be re-planted along Ewing Street. Additionally the pedestrian environment will be improved and resident on-street parking will be maintained. All other alternatives did not achieve the objectives and/or budget restraints.
"The objectors were aware of the approved plan and as recent as 6-8 weeks ago presented the infrastructure committee with yet another suggestion stating that they were aware that it might not be successful but they were appreciative of the additional opportunity to get their point of view in front of the Council.
"The committee reviewed and accessed the presentation and upon completion still agreed that the current plan of action would be the best choice for the project."
Read More About
Category: All, Environment, News