The Famous for 15 Minutes Playwriting Festival is getting set to celebrate its 12th year, with all proceeds to go towards the BMDS Charitable Trust, which gives out bursaries to students studying in Theatre Arts.
This year's event will run from August 28 – 30 and from September 3 – 6, 2014, with six original 15-minute plays written by local playwrights to be featured.
A spokesperson said, "Each year, locals and visitors alike are invited to write a play no longer than 15 minutes, with no more than four characters, and with no elaborate sets or props.
"Six plays are chosen by a panel of overseas judges. The names of the writers are removed from the original manuscript before being sent to the judges and the names of the judges are only known to the producing team. This year saw over 30 entrants."
Left to right: Yvon Tripper, Hamish McCallum, Sheilagh Robertson, Justine Foster, and Owain Johnston [missing: Nathaniel Butterfield and Julia Pitt]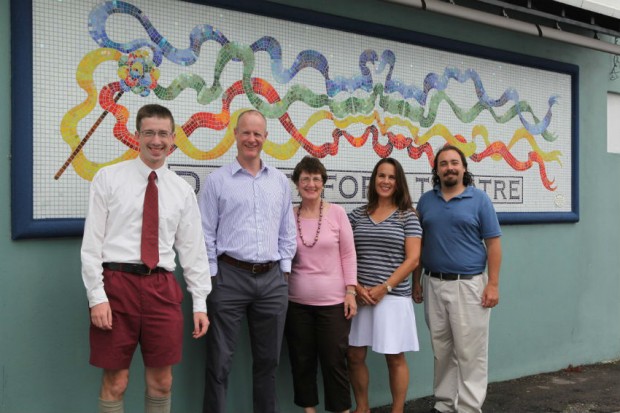 "The overall winner will be announced on the final night by this year's guest judge, Seth Rozin of InterAct Theatre Company in Philadelphia. The six plays have already been sent to him and he is currently picking his favourite, based purely on the writing alone.
"When he arrives to watch the plays and announce the winner, he will already have handed over a sealed envelope to the producers with the name of the successful writer. This envelope will be opened the same night he makes his announcement."
This year's plays include:
Cobb's Hill by Yvon Tripper
Just Deserts by Hamish McCallum
No Heming Way! by Justine Foster and Julia Pitt
Too Many Elephants by Sheilagh Robertson
Unfiltered by Owain Johnston
Viewpoint by Nathaniel Butterfield
Tickets cost $25, with tickets for the Gala Night, set for September 6, costing $75; that evening will include a pre-show reception at 6.30pm and the presentation of the Golden Inkwell to the overall winner.
Tickets can be purchased online, or at the Daylesford Box Office during weekdays only from August 21 through August 26, from 5.30pm to 6.30pm, or one hour before performances on show nights.
For more information about the festival, please contact famous@bmds.bm.
Read More About
Category: All, Entertainment