[Updated: Tyler Butterfield is out] Bermuda's Tyler Butterfield, Karen Smith and Chris Harris are in action today [Oct 11] at the Ironman World Championships in Hawaii, a race which is widely considered one of the prestigious triathlons in the world.
The 140.6 mile race consists of a 2.4-mile swim, a 112-mile bike and a 26.2-mile marathon. According to Sports Illustrated, more than 110,000 professional and age-group athletes attempt to qualify each year, and this year's race features competitors representing 49 states and 68 countries.
The official Ironman entry list [PDF] shows 2,247 participants this year.
The Ironman website has very comprehensive live coverage; with a live blog, video stream and athlete tracking available. As of this writing it shows Tyler Butterfield in 25th place, having finished the swim in 54:35 and now getting to the end of the bike portion.
Our athlete's positioning as of 6.35pm Bermuda time, data courtesy of Ironman's website: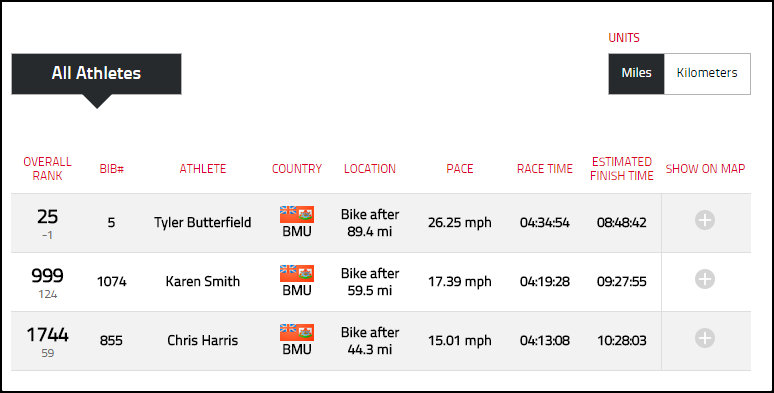 Update 7.38pm: Something happened with Tyler Butterfield — what we don't know — the Ironman website shows him dropping over 100 places and still on 89.4 miles into the bike race, and his wife Nikki has just tweeted "Tyler is out for today."
Update 8.03pm: Tyler just tweeted that he had to pull out due to lower back pain.
The things I thought might b weaknesses, were. & today I was found out. Unhappy 2 have 2 pull out w/ lower back pain. Now to watch to show.

— Tyler Butterfield (@TyButterfield) October 11, 2014
Read More About