Homegrown international charity KatKids announced that its popular annual Night Market will be held on Friday, October 17, from 5.30 p.m. – 9:30 p.m. at Lower Pier 6 on Front St. in Hamilton.
The annual festive and exotic evening organised by KatKids to raise funds for children in need in Bermuda, Nepal and southern Africa.
The KatKids Night Marke is timed to coincide with both Diwali, the Hindu holiday also known as the Festival of Lights as well as the United Nations International Day for the Eradication of Poverty. "
"This event gives people a unique opportunity to enjoy a festive atmosphere and find beautiful and unusual gifts for the upcoming holiday season while knowing that 100% of the profits and donations from the event go directly to support children in need here in Bermuda as well as Nepal and southern Africa," says KatKids Chair, Jennie Lee O'Donnell.
"We have no salaried employees, we are completely run by our extremely dedicated volunteers-which means that after paying for the items on sale and banking fees, we can put every penny raised from the Market to work for children in need of food, shelter, healthcare or education."
KatKids Event Manager and Director, Francesca Cacace said, ""You absolutely should not miss the exotic atmosphere of the KatKids Festival of Lights Night Market. This year we will be on the water in Lower Pier 6.
"We will have happy hour drink and food prices all evening and low $10 cover charge. All proceeds from the entry fee will go directly to feed hungry people in Bermuda, many of them children, through the Eliza Dolittle Society."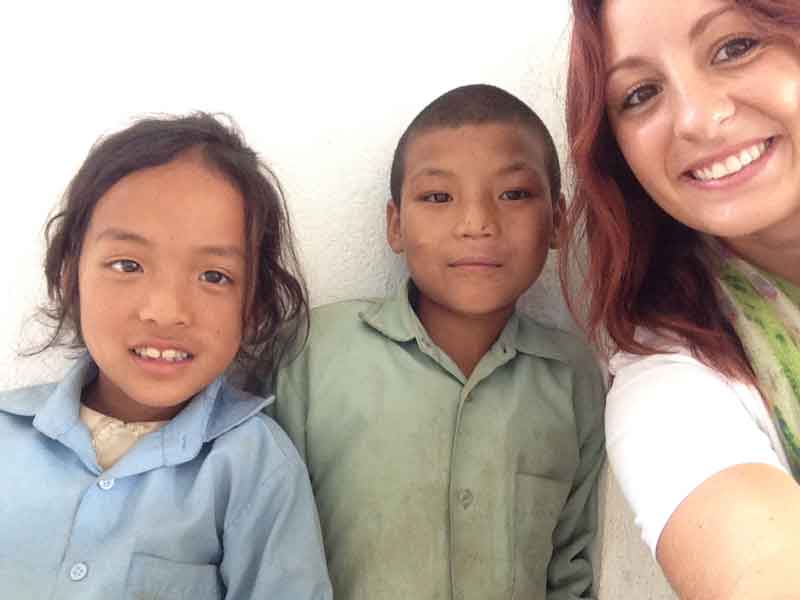 KatKids 2014 Festival of Lights Night Market will feature the exotic sights, sounds and smells of Nepal and Africa. Mingle and shop for gifts through a variety of themed market stalls including Nepali and southern African arts, crafts, beautiful beaded and silver jewelry, tea, and incense.
Rotary Club of Bermuda auctioneer, Donato Sqobba, will auction a wide range of handpicked, authentic and original artisan crafted items and alluring paintings while a silent auction will feature items of jewelry and smaller paintings. Live music will be performed by local band, Radio in Cars.
After the contribution to The Eliza Dolittle Society, the remaining proceeds from this year's event are earmarked for projects supporting education for at extremely at risk children in Kathmandu, Nepal and the social and economic empowerment of women and children affected by sex trafficking in Nepal.
Both organizations, Gentle Rain Nepal and Asha Nepal, were visited by KatKids Event Manager and Director, Francesca Cacace, during her recent trip to Kathmandu in September, 2014.
Ms. Cacace, a creative and driven 24-year-old Bermudian marketing assistant at Catlin Insurance Company Ltd., has served as KatKids Events Manager since 2012 and is now a Director.
Her passion for the event and KatKids led her to spend her hard-earned vacation days and her own money to travel solo to Kathmandu to source and purchase unique items for the Market as well to visit and learn about potential projects for KatKids to support.
"The opportunity to visit the children at Gentle Rain Nepal and Asha Nepal was life changing. I was proud to represent KatKids and I hope we can make a real difference" said Cacace.
The Kathmandu Kids Club, recently rebranded as KatKids, is an independent Bermuda registered charity [#960] with the mission of fundraising for children in need in Nepal, Southern Africa and Bermuda expanding from its former role of fundraising solely for The ISIS Foundation.
KatKids's long and fruitful relationship with The ISIS Foundation resulted in raising over $1 million for The ISIS Foundation's projects in Nepal and Uganda.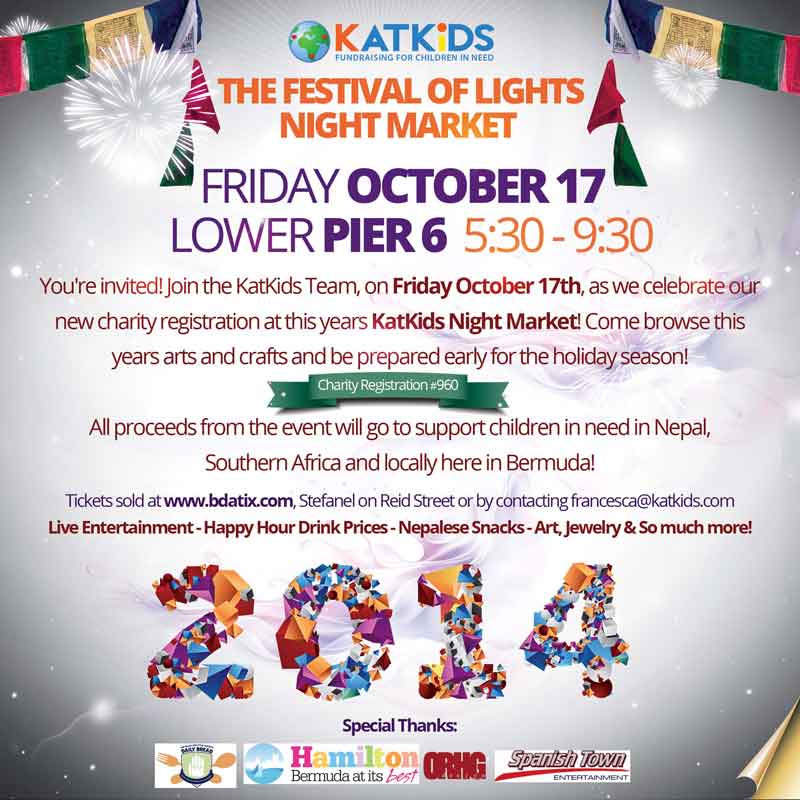 Jennie Lee O'Donnell, Chair of KatKids said "The ISIS Foundation has had tremendous funding success in Bermuda but in the face of desperate need in the developing world, KatKids wanted to extend its reach and to focus more broadly on identifying and partnering with promising smaller charities in Nepal and southern Africa in order to maximize the difference that KatKids's level of contribution could make."
Ms. O'Donnell adds "As small charity ourselves, we believe small charities can do important work but we know that funding is a constant worry. As a member of the Bermudian community, KatKidsfelt strongly that it is vital to give to organisations helping Bermuda's children in need."
Tickets can be bought online in advance via bdatix.bm or from the new location of the ISIS Law Offices 5th Floor of Andrews Place, 51 Church St. Hamilton [across from Magnum Force Gym] or from Stefanel on Reid St. Tickets can also be purchased at the door from 5.30 p.m.
Read More About
Category: All, Entertainment