Last night [Oct 8] the Government held a Town Hall Meeting about the SAGE recommendations at Pier 6 in Hamilton, which attracted a large turnout, with the seats all filled, and people standing at the sides of the room.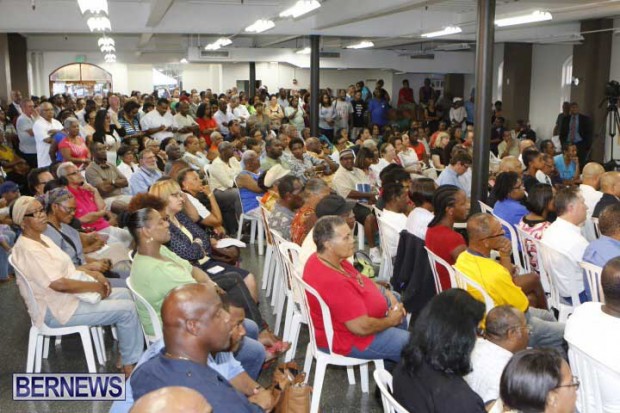 There was also a group of protesters present, who held signs with sayings including "Save Our Assets" and "Say No To Privatization," and chanted similar slogans before, during and after the meeting.
As the Ministers left the building when the meeting concluded, the protesters expressed their dissatisfaction by "booing" them as they all walked out.
The Town Hall was hosted Minister of Finance Bob Richards, and the Government previously said the purpose of the Town Hall "will be to communicate to the general public the high level policy decisions that Government has taken with respect to the SAGE recommendations and to invite public dialogue on the way forward.
Approximately one hour into the meeting, the protesters made their way inside, chanting "Enough, enough, enough" and "Save our jobs."

Minister Richards began the meeting by giving an overview of the Government's financial position, saying "In this financial year, it will cost $161.4 million for your government to service this debt. $161 million dollars – that's $13.4 million a month just to service the debt.
"That debt service has to be paid before everything else," said the Minister. "Before one dollar of salaries to government employees is paid, we've got to pay debt service. Before one dollar is paid to the hospital to take care of sick people, we have to pay debt service. Before one dollar is paid for police to keep us safe, we have to pay debt service.
"And if this debt service rose, it will eventually squeeze out these other things. Because if you don't pay that debt service, then the Bermuda government will be broke; that's the definition of broke."
 1 hr 47 minute video of the full meeting:
Following the Minister's presentation, the floor was opened to the audience to speak, which saw numerous lively speeches made by attendees, many receiving loud applause from others in attendance.
Read More About