Being an entrepreneur is not a choice; it's a calling, according to Deryn Higgins from My Sereni-tea Holistic Centre in Hamilton. She has run her own business for 16 years, first in corporate travel and now in holistic healing and specialty teas.
"Even when it's not making me rich, I do it because it's my calling, this is what brings me happiness and it's my passion", she says. "I've always had an entrepreneurial spirit."
Despite the challenges she faces in building the business, the rewards make it all worthwhile.
Deryn says there is the odd occasion when she slips into self-doubt, when she asks herself: "Do people want me here, do people need these services?" Sure enough, by no coincidence, the next person to walk in the door will comment how much better they feel from her healing services or how the tea café helps them cope with stress.
For her, it's about helping community. She sees people grow and come out of negatively impacting personal and health situations and overcome their struggles; she sees how great they feel after using tools they've learned at My Sereni-tea or after healing sessions, either massage, Reiki, crystal and other natural healing modalities.

"My passion is to lead workshops, teaching people a new way of looking at life and health," she said. "I'm rewarded knowing that people are becoming educated to the concept that we can heal ourselves."
Western medicine uses a pill to heal or mask symptoms, while her teachings show how pain or disease in the body consist of mental and emotional components that can be healed at the source.
Higgins has the support of friends, loyal clients and family who have believed in her vision from the get-go, and to whom she partially attributes her success.
It was her passion for tea that seeded the Holistic Centre. "It's so comforting to sit down with a cup of tea. I've grown up believing that a cuppa is a solution to so many things!"
Tea also has many medical and healing properties. All day she serves a variety of teas, some made from the natural herbs such as dandelion root and the like, to people who want a soothing remedy for anything from headaches, sore throat, cold symptoms and stress relief. The teas help get her customers on the road to well-being.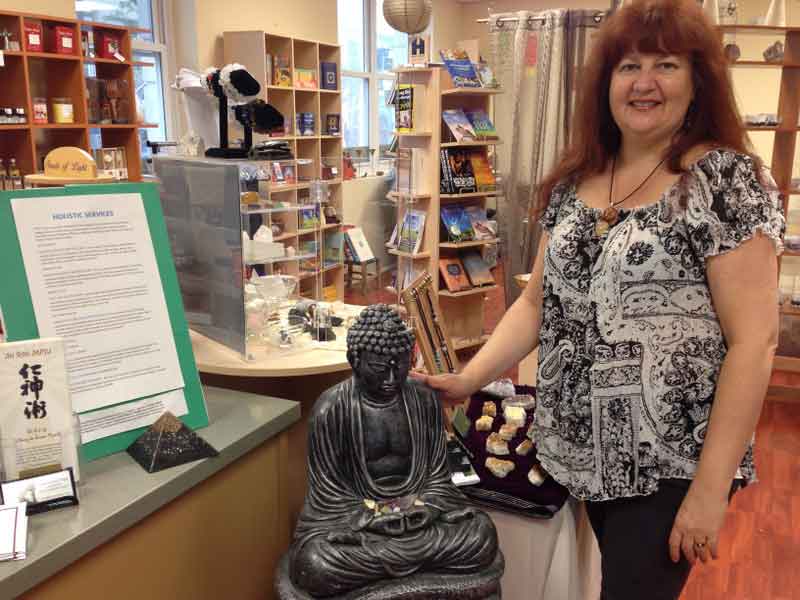 The Centre's name refers to the well-known Serenity Prayer, which has meant a lot to Higgins over the years. 21 years ago when she faced a crossroads in her life, she started her spiritual path and hasn't looked back, a path of rewarding personal growth.
She has created a space of serenity for others, with treatment rooms and the café, an oasis for peace, a space to pause from the busy world, "a place for clients to find the peace within."
Opening its doors four years ago on Reid Street, Hamilton, Higgins didn't imagine the store and café would grow to the extent it has. She has witnessed the natural health and wellness markets grow in those years. She is continuously amazed at how many people discover their own passion for crystals and natural wellness since discovering her oasis. It likely has something to do with the sense of instant comfort and well-being they get, just stepping through the door.
Now this inspiring businesswoman dreams of further growth by offering more holistic and natural health services, as well as writing the three books that she knows are within her.
"When you work for yourself it's necessary to have someone outside of the business as a sounding board, to bounce ideas off, someone to look at things another way, to help you consider all angles and of course, to offer encouragement," said Higgins.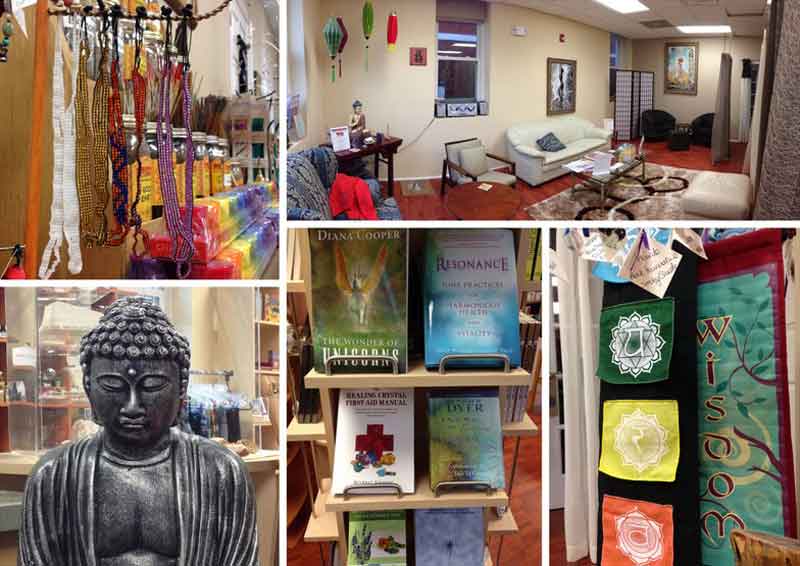 She has that in her friends and family.
Life as an entrepreneur is always full and Higgins is grateful for her mentors and is influenced by international thought leader Louise Hay, an inspirational and motivational author. "I really admire her. I use her quotes every day on our Facebook page, I sell a lot of her books and we use her tools in our workshops." Hay is known for her numerous books and programs that use affirmations to positively transform thoughts, beliefs and life patterns.
In the words of Louise Hay: Be willing to take the first step, no matter how small it is. Concentrate on the fact that you are willing to learn. Absolute miracles will happen.
- Written by Vicki Abraham, on behalf of CoffeeWorks Bermuda. This is the third in a series of profiles for Global Entrepreneurship Week [GEW]
Read More About