77-year-old sailor Dr. Stanley Paris is once again attempting to become the oldest and fastest person to sail solo around the world from Bermuda, starting his journey from the waters off St David's this afternoon [Nov 15].
The New Zealand-born sailor — who is the father of Alan Paris, who became the first Bermudian sailor to complete a circumnavigation in 2003 — previously attempted this feat in late 2013, however had to abandon the journey due to problems with his boat.
Dr Paris in his sailboat Kiwi Spirit off St David's earlier today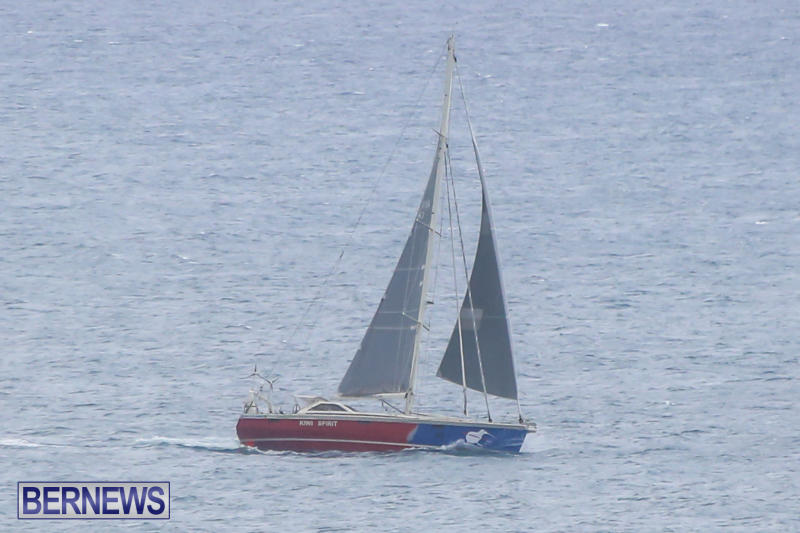 Early this morning, a Bermuda Maritime Operations Centre spokesperson said, "At 05:40 local time this morning the sailing vessel Kiwi Spirit called Bermuda Radio on VHF.
"The vessel is skippered by Mr Stanley Paris, a 77 year old hoping to circumnavigate the globe in 150 days, and break the previous record held by Dodge Morgan.
"The vessel was 27nm WSW of Gibbs Hill Lighthouse this morning, and he is hoping to round St Davids Lighthouse this afternoon, passing 1nm to the East, then proceeding South East on his voyage. His last port of call was St Augustine, Florida, and all going well will also be his next port of call.
"Mr Paris failed to complete his bid to break the record last year, when his 64ft Cutter Rigged Vessel sustained damage, [and himself injury], in bad weather."
Quick video of the Kiwi Spirit beginning the journey from Bermuda today:
Read More About