LookBermuda is officially launching the first phase of its Airport Art project, which will showcase large scale themed installations on open wall spaces throughout the L.F. Wade International Airport, designed to enhance the travelers experience.
In this first phase, LookBermuda will focus on photographic installations that highlight Bermuda's natural and cultural assets that will be produced, curated and installed by its team.
Airport General Manager Aaron Adderley said, "The Airport is pleased to partner with LookBermuda on this much-anticipated project. The photography highlighting the Island's natural beauty is spectacular and when completed, will allow us to add a splash of colour and vibrancy that our visitors and residents can both enjoy."
Some of the photos [by David Liittschwager/J-P Rouja for LookBermuda] displayed at the airport
-
After more than a decade working on Nonsuch Island including producing a film documenting the Cahow translocation process, creating the award winning Cahow Cams and launching nonsuchisland.com, LookBermuda continues with its efforts to showcase Nonsuch Island and the groundbreaking conservation efforts that have literally transformed it over the past 50+ years.
For the next phase it is launching "The Nonsuch Island Expeditions" a photographic biological survey which is a collaboration between the LookBermuda team led by photographer/filmmaker JeanPierre Rouja and National Geographic photographer David Liittschwager.
Mr. Liittschwager is known for his unique Biodiversity Survey photography and trademark "One Cubic Foot" projects which showcase the living subjects photographed against a white background in very high detail.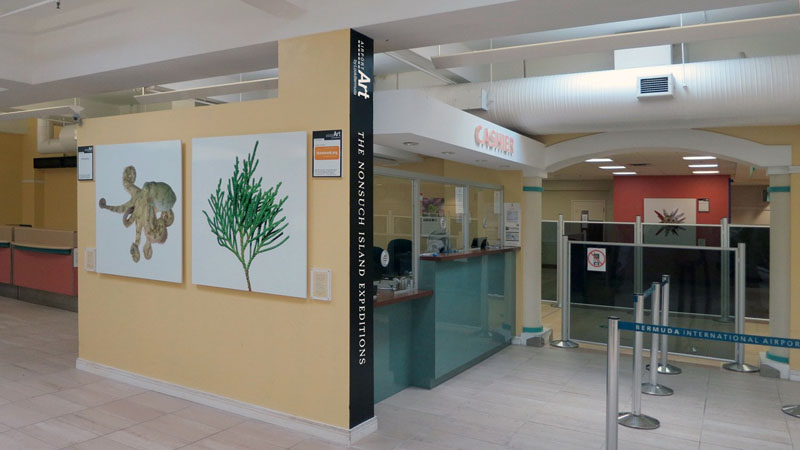 J-P Rouja said, "We had assisted David on another project and wanted to apply his process to our ongoing efforts to showcase Nonsuch Island. The shooting started with newly hatched Cahow chicks and has been expanded to include the biodiversity of the Nonsuch Island Nature Reserve and its surrounding waters.
"Working with Terrestrial Conservation Officer Jeremy Madeiros from the Department of Conservation Services, our team including Marine Specimen Collector Chris Flook conducted three separate expeditions in 2014 on and around Nonsuch Island, in the process producing the first 180+ images of our unique flora and fauna.
"We are using Nonsuch as a lens through which to document and showcase Bermuda's biodiversity, photographing not only the endemic and endangered species which can be found there but also more common species found around Bermuda.
"This project has a very important educational component as a collection of images will become a mobile art show that will travel throughout the local schools along with custom curriculum and experiential activities."
"All of this can be seen on the new website nonsuchisland.com which allows users to virtually visit Nonsuch Island which is otherwise too sensitive to accommodate the masses," added Mr. Rouja.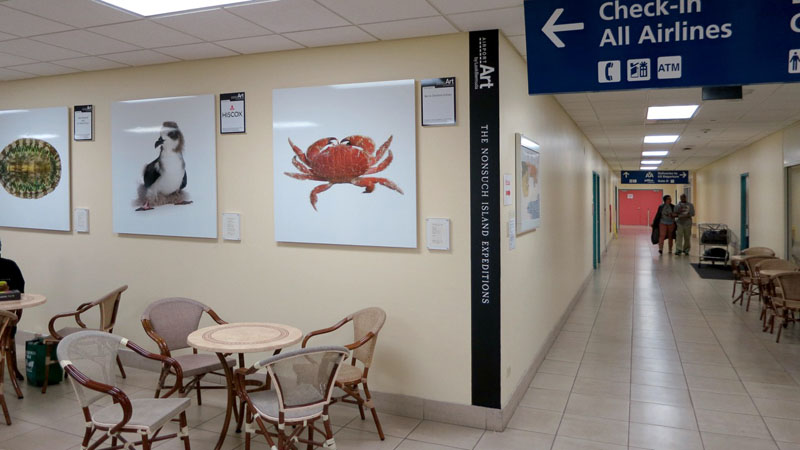 A selection of images from "The Nonsuch Island Expeditions" is the first themed Airport Art installation, with sponsored images being printed a minimum of 4ft x 4ft and installed in high traffic areas throughout the airport, each accompanied by museum type collection tags and sponsor details.
The non-traveling public will be able to see the prints in two Mobile Art exhibits, the first as a mobile pop-up show and the second as an educational exhibit that will rotate throughout the schools along with accompanying curriculum and activities.
J-P Rouja said,  "We welcome Patron sponsors for each of the individual prints with their contribution funding their chosen print in the Airport Art installation, the mirrored copies in the traveling Mobile Art and Educational Art exhibits and the ongoing Nonsuch Expeditions. Their personal or corporate details are then listed alongside their print."
"We have thus far secured sponsors for a first round of prints which are now being installed in clusters throughout the airport and we will continue to scale and grow the installation as more sponsors come on board."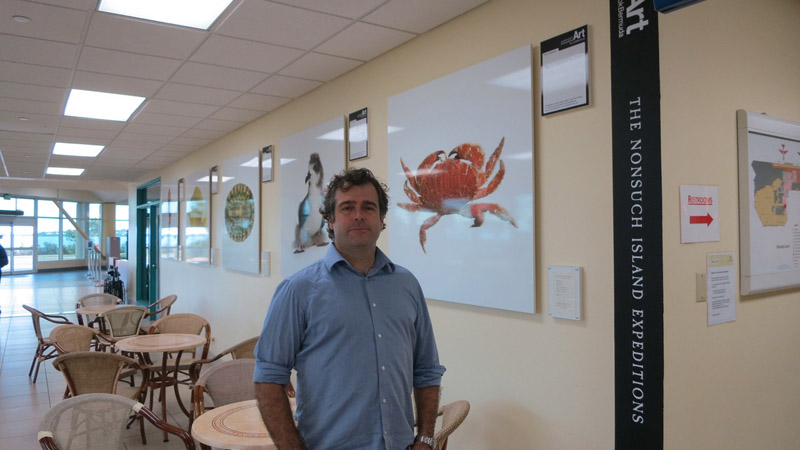 Mr Rouja added, "This package is proving to be quite popular as not only does it give a much needed visual boost to the airport but it also gives the general public and the schools a closer look at Nonsuch Island, to which access is normally restricted, and as a bonus the sponsors get a Patron copy of the print for themselves or their office."
"Thus far our Patrons range from Individuals Patrons to corporates [Hiscox, Butterfield & Vallis, CelloOne] and others who wish to remain anonymous and/or make their donations in the name of local NGOs who also wish to showcase and protect our environment [such as Bermuda's Living Reefs Foundation and Greenrock]."
"LookBermuda's exclusive contract with the airport extends for the next several years and with the upcoming America's Cup this is a perfect opportunity to showcase Bermuda in the best possible light.
In parallel, LookBermuda is developing several other themes for the Airport with large scale scenic panoramic images by Jean-Pierre Rouja and underwater photography by Chris Burville being earmarked for some the larger open walls. One of the larger panoramic murals being prepared by Mr. Rouja will exceed 8 feet by 40 feet in the arrivals corridor.
"All of these installations require sponsorship so anyone interested in participating is encouraged to contact LookBermuda," added Mr. Rouja. "For more information please visit nonsuchisland.com."
Hiscox Re CEO Jeremy Pinchin said, "Hiscox is delighted to join this innovative project helping support Bermuda's unique conservation challenges as well as providing a stimulating back drop to Bermuda's travelers."

Read More About
Category: All, Entertainment, News