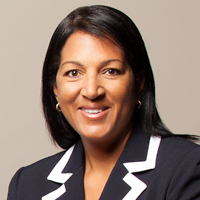 [Opinion column written by OBA MP Susan Jackson]
Louise Jackson fought long and hard for seniors as Shadow Minister when the Progressive Labour Party was in power. Her deep concern and often-controversial cries of fury paved the way for real change in Bermuda.
The neglect and abuses reported in the media last week should continue to pressure all concerned to pay close attention to our responsibilities as a community. I can only imagine the horror these reports must have caused, and the weight of responsibility the Minister of Health, Jeanne Atherden, must feel to bring abuse to a halt and improve services for our most vulnerable.
The Minister has my full support and I have confidence she can enforce the new policies she outlined in her recent article, and make a real difference in elder care.
Caring for our aging mothers and fathers is an overwhelming and emotionally-charged period in our lives. The combination of our love and our sense of responsibility to care for those who once cared for us creates powerful feelings of urgency, sometimes even desperation. We struggle to keep up with worsening medical reports and mounting financial expenses, all the while facing the emotional rollercoaster produced by the knowledge that those who once took care of us will no longer able to care for themselves.
The storybook idea of our elderly family members growing old in the rocking chair with a warm blanket on their laps often has nothing to do with reality. There is no cure for old age. Many of us have no idea how quickly age propels us from being able to live independent lives to being bed ridden and infirmed. The increasing need for medical care and daily hygiene and the worsening dementia and immobility that attack our loved ones are often a rude awakening. Elder care service providers often become our only salvation.
My mother campaigned hard for service providers and government to embrace high standards of care or else face legally binding penalties. It's no secret that the National Office of Seniors and Physically Challenged [NOSPC] was a thorn in her side. I can remember the anger and frustration she felt when she experienced their lack of responsiveness and accountability. She witnessed first-hand what she publicly voiced as severe neglect and sometimes even what she thought were questionable behaviours.
But that was then and this is now. As the Minister wrote, "we have new staff at NOSPC who are dedicated, caring people who have the best interest of seniors and the disabled at heart. Although they have only been in place for a relatively short time, they have already had a positive impact on office operations."
The Minister also said she had been struck, as she looked through the NOSPC's case files, with how many of the senior abuse complaints made had been the result of family disputes. She encouraged family members to recognise that their priority must be what is in the best interests of their elderly family member, not winning arguments.
The Ministry is shifting gears and we can expect increased enforcement of policies and law where and when necessary.
It must be this way. Residential care facilities have to embrace higher standards of care. They must be held accountable, and they must understand that they are not just a place to store our elderly. They are expected to be proactive and thorough with the medical care of those in their charge. The Ministry has to test the system often to make sure the quality of living meets this community's expectation.
It's now my responsibility and that of the OBA government to realise the changes my mother fought so hard to achieve. As a community we have to put our faith in the Minister's ability to find solutions that will work. I'm confident the Hon. Jeanne Atherden has identified and will implement an acceptable action plan for NOSPC.
- Susan Jackson

20 Most Recent Opinion Columns

Opinion columns reflect the views of the writer, and not those of Bernews Ltd. To submit an Opinion Column/Letter to the Editor, please email info@bernews.com. Bernews welcomes submissions, and while there are no length restrictions, all columns must be signed by the writer's real name.
-
Read More About