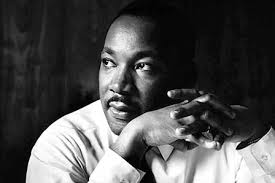 [Written by Glenn Fubler]
Born, Michael King Jr on January 15, 1929, MLK's life was a journey of transformation. His father had declared independence as a teen; turning around a challenged background through perseverance and some luck. Daddy King changed their names to 'Martin Luther' – after the leader of the Reformation, which transformed Europe – when MLK was 5 yrs old.
This theme continued through MLK's life; as he demonstrated in the campaign in 'Selma', when he followed his heart; as captured in the new movie.
When Martin Jr. completed his studies, he turned down his father's invitation to be Assistant Pastor at the renowned 'Ebenezer' in Atlanta, and instead, took on a smaller church in Montgomery. Months later, Rosa Parks claimed her independence on a bus on December 1st 1955 Rosa's declaration broadened King's sense of independence, to include interdependence. It was that paradigm shift that prepared MLK to play his part in that grassroots movement that transformed the World's most powerful nation.
Notwithstanding the brutality of "Bloody Sunday" in Selma in 1965; King avoided reacting. Instead, accessing his wisdom, Martin responded by engaging the hearts and minds of the Nation. His call galvanized people of conscience, from diverse sectors across the U.S.
However, on that much-larger second march, King assessed the situation in the early stages and made a dramatic turnaround. This retreat led many to angrily accuse MLK of weakness. Guided by his higher self, Martin described the move as a victory for the Movement. He had recognized that in essence, the society was linked together, regardless of appearances. That wisdom led to a deeper engagement among stakeholders – including grassroots activists and the President – resulting in the campaign's eventual success; the Voters Rights Act.
King's appreciation that his society was interdependent, brings to mind Bermuda. When labour leaders entered into an innovative MOU with the Government two years ago, to have one Furlough Day per month for employees, many were angry.[not unlike Selma] However, the union leadership was aware of the extraordinary financial crisis and debt that required the payment of some $13 million per week to cover Interest Payments alone. Like King, they recognized that our society is interdependent and appreciated the need for some engagement amongst stakeholders.
That decision has forestalled the results experienced by our friends in Barbados, where some 3,000 Government employees were made redundant, earlier last year.
We might learn from the Selma story, as we still face our island's ongoing financial crisis. It is evident that any resolution must be one based on our society's interdependence, and the widest conversation regarding all implications.
As we are all in this together, enhancing relationships, leverages everyone moving forward through deeper engagement. Martin demonstrated, in the face of blatant provocation, that one can choose a response that moves things forward; accessing one's power. That proved to be transformational in the face of the seeming insurmountable political leverage of the 'South' to block progress, during the Selma campaign.
In the face of polarizing forces, MLK's approach brought diverse people together. King was an exemplar of being able to disagree without being disagreeable.
If we can all learn from the example of Martin Luther King Jr and work towards a deeper, respectful, engagement that takes in all perspectives in Bermuda, we will all be able to sing along with those pioneers, that anthem of transformation – …the Truth is Marching on..
- Glenn Fubler

20 Most Recent Opinion Columns

Opinion columns reflect the views of the writer, and not those of Bernews Ltd. To submit an Opinion Column/Letter to the Editor, please email info@bernews.com. Bernews welcomes submissions, and while there are no length restrictions, all columns must be signed by the writer's real name.
-
Read More About