[Opinion column written by Larry Burchall]
"Events, dear boy, events."
Reputedly, that was UK ex-Prime Minister Harold MacMillan's response when asked what he feared most.
For Bermuda, two events have occurred. On 2nd December 2014, we learned that Bermuda would host the 2017 America's Cup races. Fifteen days later, Bermuda learned that US President Barack Obama was moving to normalize US relations with Cuba.
For us at 32n64w, those were opposite events. The first, good for us. The second, not so good.
I've already described the primary good that the America's Cup event could do for us. [Bernews: 10 December 2014]. However, Cuba's opening up poses a massive threat to Bermuda's struggling Tourist Industry.
Here are twenty direct and honest comparisons between tourist destination Cuba and Bermuda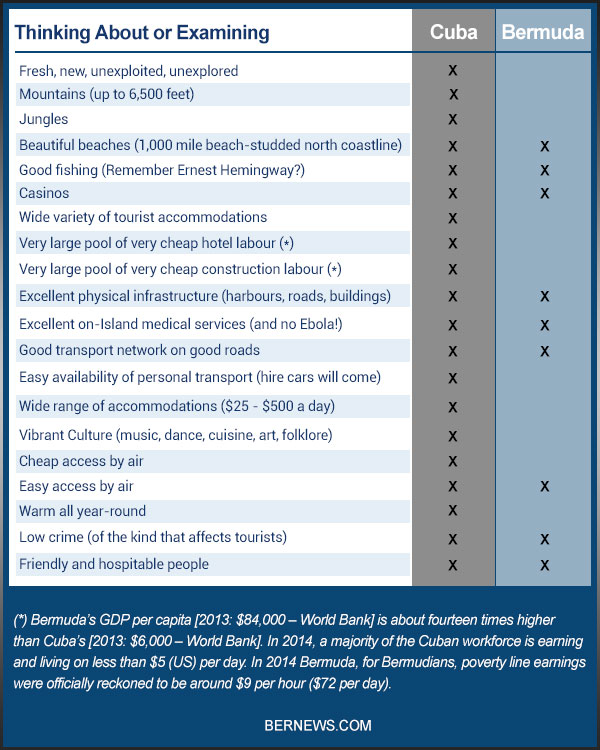 Cuba's relative newness as a tourist destination will give it several years of premium value and attraction. Currently, annually, just over 1.5 million Europeans and Canadians make up the majority of travellers to Cuba. Annually, fewer than 75,000 'rogue' Americans visit Cuba. These 1.6 million tourists already spend as much as two and a half hours additional time flying more than 1,250 additional miles to fly past Bermuda so as to get to Cuba.
Once the USA's 53 year-old self-imposed barriers are finally – and inevitably – removed; then on cruise-ships and in airplanes, hundreds of thousands more Americans are likely to flood into this newest tourist playground.
European and Canadian investor groups may have been reluctant to invest large bundles of their euros and dollars in Cuban assets which might still face legal problems over the 54 years ago Cuban government expropriation of property that was then owned by US investors. This was partly because of their view that the US Government would likely stand behind any US Corporation that brought a lawsuit.
Now, with Cuba opening up, a large number of US investors will recognize a golden opportunity in a re-opening and revitalizing free market Cuba. However, US investors face one particular and unique problem. Do they wait for notoriously litigious squads of US potential litigators to still pursue 53 year-old claims in US courts? Do they expensively huddle with their expensive US lawyers and fret about being sued in US courts, while European and Canadian investors surge in and grab all the best opportunities? Or do US investors jump in now?
I believe that potential US investor and investor groups will – and should – make immediate and copious use of Offshore Financial Centres [OFC's]. Use these OFC's to mass and move their US investment capital into Cuba. For American investors, this would be an ideal but side door entry into that new market, given that in the fast shark eats slow tuna world of global finance, any lawful entry – even a side door entry – is a good entry.
As a reputable OFC in a strong non-USA legal setting, Bermuda could benefit from a surge in business with big chunks of US capital being off-shored to Bermuda prior to being on-shored into Cuba.
If that happens, it should be a boon to Bermuda's severely shrunken IB sector and could – should? – provide some (50? 150? More?) new high-end jobs in Bermuda's IB sector.
Those new jobs will be desperately needed.
Cuba's free-ing up as a Tourist playground will work like a giant sucking machine. Cuba will suck millions more tourists into its 43,000 square miles (over 10 times the size of Jamaica and 2,000 times the size of Bermuda). Very low cost Cuba will negatively impact tourism throughout the low cost Caribbean and throughout Ebola plagued West Africa.
Cuba will be a fresh, new, and wonderful place to visit and explore. Initially, all costs in Cuba will be lower than on any other Caribbean island; and far, far lower than in Bermuda. Where a normal Bermuda tourist must allow for a minimum $500 a day basic costs (accommodation, meals, transport… no shopping!); in Cuba, that same tourist might require far less than $200 a day (accommodation, meals, transport… no shopping!).
First-in foreign investors will likely find that early on, new tourist accommodations can be completed in Cuba for something between $30,000 and $250,000 a room – depending on star grade. Contrast that with the $1,000,000 plus cost-per-room, for essential five star building in Bermuda.
For Bermuda, the second event provides an opportunity, but also presents a significant downer. In 2015, Bermuda will likely say goodbye to Desarollos/Club Med.
"Events, dear boy, events."
- Larry Burchall

20 Most Recent Opinion Columns

Opinion columns reflect the views of the writer, and not those of Bernews Ltd. To submit an Opinion Column/Letter to the Editor, please email info@bernews.com. Bernews welcomes submissions, and while there are no length restrictions, all columns must be signed by the writer's real name.
-
Read More About
Category: All