The Jamaican Association of Bermuda [JAB] is staging the JAB One Love Jerk Festival on Sunday, 26th April 2015 at the Shelly Bay Field in Hamilton Parish under the theme "One love, One heart, One people".
A spokesperson said, "The JAB One Love Jerk Festival is a family festival with emphasis on the world renowned Jamaican jerk cuisine. Jamaica is known for its versatility in food and culture. One such cuisine is the authentic Jamaican jerk which has been featured on the Food and Travel Networks and was most recently enjoyed by President Obama on his vist to Jamaica.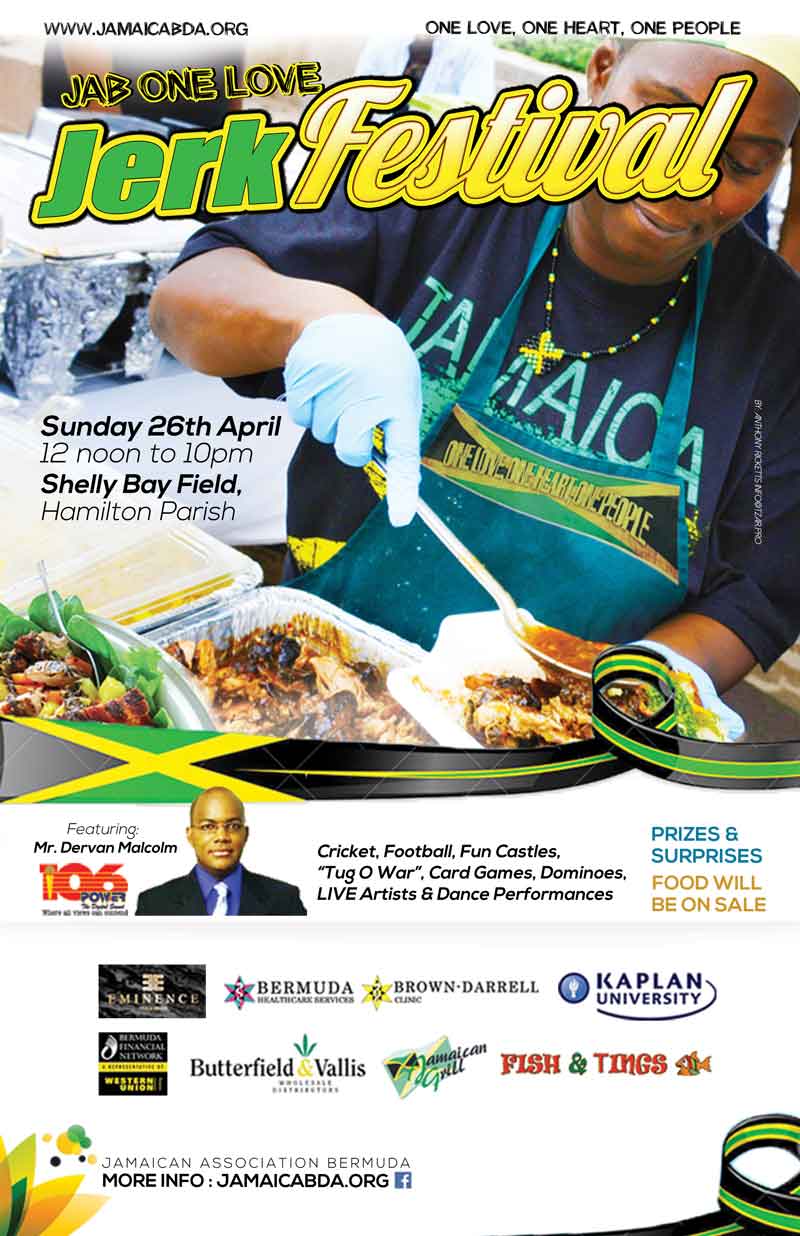 "The Jerk cuisine has everything to do with spices, meat preparation and cooking method used. When done the Jamaican way, its taste and scent are perfectly matched in unison, thereby giving the consumer a mouth watering, finger licking experience.
"To help us meet the demand for the delectables at the event, Fish N Tings and Jamaican Grill restaurants will also be on hand. The menu will include: Jerk Chicken, Jerk Pork, Jerk Fish, Festival, Soup, Ackee and Salfish, traditional local dishes, Rice & Peas and others. The event is free of charge, however food and beverages of all kinds will be on sale.
"It should be noted that the objective of the JAB One Love Jerk Festival is to promote love, unity and camaraderie within the communities across Bermuda. We in the JAB believe that as a people and a community, we all have a collective responsibility to create the model society we want to live in and be a part of. We believe in sharing love towards our fellow brothers and sisters.
"The JAB One Love Jerk Festival aims to do just that by bringing together in one place, people across every nationality here in Bermuda. By doing so, we are intertwining the uniqueness of different cultures, through our embracing the mantra, "no matter where we are from, our ethnicity, background or religion, we are one".
"On this basis, the event will feature a variety of activities to include a 20/20 overs cricket game beginning at 12 noon. Also there will be card games, dominoes, tug-a-war, face painting, fun castles, cultural performances, product showcasing from sponsors and a free health check-up station.
"Music will be provided by Magnum Force and After-Dark Sound with live performances from Septimus, Bobby Washington, Laritta Adderley, Whopper Benz, E-Levels, General Senda, Niambi Landy & friends [dance & modeling] and more. The event will also be broadcast live across Jamaica and the Diaspora by Power 106 FM from Kingston, Jamaica.
"Power 106 FM through its parent company Independent Radio Company Limited has marketed itself over the years as the Diaspora connection station through its very popular and most sought after broadcaster Mr. Dervan Malcolm, host of the radio programs Both Sides of the Story and Diaspora Live. Mr. Malcolm is scheduled to be on island from Thursday April 23rd, to Tuesday April 28th doing live broadcasts and interviews from various locations on island.
"Our guest speaker for this event will be the Mr. Herman G Lamont, Jamaica's Consul General to New York, United States of America. Many other dignitaries and special guests are expected to be in attendance. Our last event drew a crowd of some 1500-2000 persons and was a great family event for all. This year, we are aiming to make it bigger!
"Special thanks to our many sponsors who are supporting this event: Power 106FM and Music 99FM, Eminence Contracting, Bermuda Healthcare Services, Kaplan University, Butterfield and Vallis, Fish N Tings, Jamaican Grill, Fairmont Southampton Hotel, Grace Foods, MoneyShop, WiFi-Zone [TBI], Red Stripe, Pepsi, Barritts, MarCarty General Construction, ENT Health Practice, Maxilous Beauty Salon, Harvey and Company, Honorary Consul Winston G. Laylor, Sniggles Face Painting, Barclay's Construction, Sunrise Construction, Stevenson Construction, Island Construction, and KCC Island Painting.
"For further information on this event, please visit our website at www.jamaicabda.org or contact Mrs. Marlene Flynn-Carty, Event Chairperson or Mr. Orville Campell, President, Jamaican Association [Bermuda]. The Jamaican Association [Bermuda] is registered charity 611. We meet on the last Tuesday of every month in the Dr. E.F. Gordon meeting room at the BIU in Hamilton, Bermuda."
Read More About
Category: All, Entertainment, News