[Opinion column written by Larry Burchall]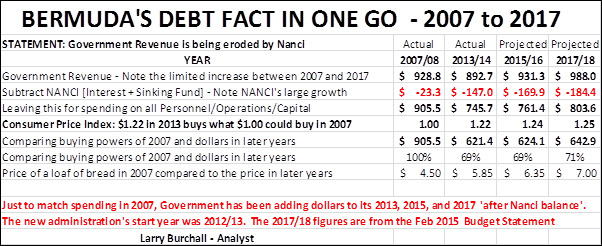 Once you've studied the chart, you should be able to work out all of Government's strategic management problems. If not, here is a set of facts – just facts – that will help you see and understand.
Fact One – Few people talk about this. "This" is the obvious and large – humongous, even – over 790% growth in Nanci in the ten year span shown. Nanci acts like a set of dollar-gobbling cells in the Government's Tax Revenue artery.
Fact Two – By 2017/18, Government Tax Revenue is projected – by the Minister – to be only $59.2m or 6.4% higher than ten years before in 2007. However, Nanci gobbles up that entire $59.2m increase. Then Nanci gobbles up another $125.2m on top. This huge Nanci bite-off or erosion is the core issue.
Fact Three – Government's 2007 to 2017 tax revenue is actually flat-lining [averaging around $940m]. Nanci is gobbling up a continuously increasing proportion of these flat-lining tax dollars. In 2015/16 Government will end up with only $761m to spend on the same range of Personnel, Operations, and Capital that it was spending $905m on in 2007. So, in 2015/16 and relative to 2007/08, Government will end up with $144m fewer leftover dollars.
Fact Four – Globally and locally, and confirmed by Government's Consumer Price Indexes, prices and costs have risen since 2007. To match the buying power that $905m had in 2007, in 2015, Government would require $905m x 1.22 in 2015 dollars. That comes out to $1,105m needed in 2015 – and that's just to match the buying power of the $905m in 2007.
Fact Five – From Fact Four, it's clear that in 2015, when compared to 2007, Government comes up $481m short on value or buying power. Add that $481m, and Government's buying power relative to 2007 becomes the same.
Fact Six – What the chart displays has been going on in Government finances at these high dollar volumes since 2010. Up to 2009, with Nanci still under $40m, the matter was manageable and could easily have been brought under control.
Fact Seven – What bedevils us today is a direct consequence of the loss of financial control that began in 2010 – the year that Nanci leapt from under $40m to $82m. This suddenly much bigger Nanci combined with weak and weakening top financial management. Effectively, Government finances have been out of control since 2010.
Fact Eight – Between 2014/15 and 2017/18, according to the February 2015 Budget Statement, Nanci is projected to rise from $161.2m in 2014/15 to $184.4m in 2017/18. So Nanci's rise is accelerating.
Fact Nine – For 2017/18, the Minister for Finance projects Tax Revenue around $988m. That means taking in only $59.2m more than in 2007/08. By 2017/18, when compared to 2007/08, Nanci will have grown from $23.3m to $184.4m; thereby costing a further $161.1m. So in 2017/18, Government will only have $803.6m left after Nanci's gobble-up. That's still $100m fewer dollars than in 2007, with those 2017/18 dollars having much less buying power than those 2007/08 dollars! That's wrong way arithmetic!
Fact Ten – Despite all the talk, press and Ministerial statements, expressions of sincere intent, and real evidence of real effort, the arithmetic still shows that Government is not getting ahead. Government is not making any real financial progress. Five years after losing control in 2010, year-on-year, Government is doing the same thing and, year-on-year, Government is getting the same steadily worsening result.
I hope I've cleared away the fog created by the brouhaha surrounding the 2015/16 Budget and all the Parliamentary procedure and parking lot screw-ups since.
Conclusions and observations
Nanci is the issue. Government must control Nanci. Controlling Nanci means reducing borrowing. Reducing borrowing means making major cuts. Government has not yet made any major cuts. So Nanci will continue to grow, clog the tax artery, and erode or gobble up taxes before those tax dollars can be re-spent.
The numbers show that ever since 2010, five years ago, Bermuda has been steadily and consistently burrowing itself deeper and deeper into a Debt hole that Bermuda began digging, and digging seriously, in 2010.
Nanci, is the fact to understand. Nanci must be dealt with. Nanci is the issue. If Government does not make major cuts, the Government will simply and absolutely 'burrow' its way, taking us with it, into a deeper hole from which there can be no escape for decades.
Study those numbers. Wrap your mind around those numbers. Those numbers are not lying to you.
Nanci! It's Nanci!
- Larry Burchall

20 Most Recent Opinion Columns

Opinion columns reflect the views of the writer, and not those of Bernews Ltd. To submit an Opinion Column/Letter to the Editor, please email info@bernews.com. Bernews welcomes submissions, and while there are no length restrictions, all columns must be signed by the writer's real name.
-
Read More About