[Opinion column written by Larry Burchall]
In Bernews on February 3rd 2016, reporting on Government finances up to December 31st 2015, the Ministry of Finance reported:- "Gross debt increased by $125 million as the Government drew down on its credit facility in order to finance the fiscal deficit. At the end of December 2015, total Government debt was $2.31 billion and debt net of the Sinking Fund was $2.194 billion."
Speed-reading that Ministry of Finance release, you could easily miss the section that I have underlined. Whether or not you noted it, you'll still get burned.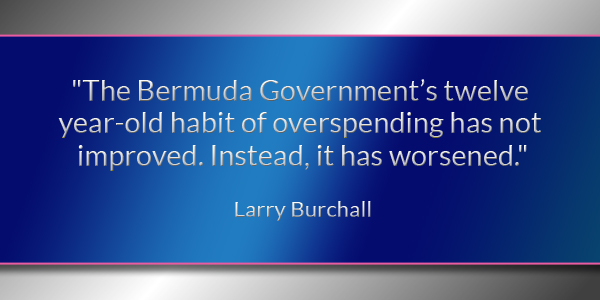 December 2013 – The eighth Minister for Finance completed borrowing $800 million. The Minister indicated that the $800 million was to be spread over the next thirty-nine months – out to March 2017.
February 2015 – Just fourteen months later, less than halfway to thirty-nine months, the Minister told us that the $800 million was "running out" and that he had "only $95 million left."
July 2015 – With Butterfield Bank, the Government negotiated a $200 million two-year Loan Facility. That $200 million two-year Loan Facility was similar to a bank overdraft. It is due to be cleared by July 2017.
December 2015 - Just five months after taking up the $200 million Loan Facility [overdraft], the Ministry of Finance reports that it has burned through 62.5% [$125 million] of that $200 million overdraft.
February 2016 - That $200 million overdraft still has another eighteen months to go but now there is only $75 million left. Government is due to repay Senior Notes of $30 million in May 2016 and $60 million in November 2016, with both amounts owing to foreign lenders.
December 2013 to December 2015 – In twenty-four months, the Government burned through a total of $925 million [$800m + $125m]. By February 2016, from that total $1.0 billion Loan and Loan Facility, only $75 million was left.
So $925 million [92.5%] of that $1.0bn was burned through in just 24 months – a burn through rate of $38 million a month – burning through more than a million dollars a day of borrowed dollars. That is scary!
Before Santa Claus returns in December 2016, two things will likely happen. First, the Government will go scuttling back to foreign lenders to borrow more dollars in order to keep the overly expensive Government overspending at the same high overspend rate as now – and in the past. This will happen because Bermuda has to pay off the $30 million May 2016 and $60 million November 2016 Senior Notes; followed by clearing that $200 million July 2017 bank overdraft.
Second, the Government will raise the Debt ceiling. The Minister will likely move it from its current $2.5 billion, to at least $3.0 billion – perhaps even higher.
The Bermuda Government's twelve year-old habit of overspending has not improved. Instead, it has worsened.
Between December 2013 and December 2015, the dollar 'burn through' rate accelerated.  Today's high burn through rate is much higher than the rate at which the previous administration burned through their borrowed millions.
The resulting picture and portent is ugly, very ugly.
In this ugly real world setting, the eighth Minister for Finance still insists on pushing ahead with his unwise scheme to give away, annually, at least $20 million of desperately needed Government revenue for an unaffordable new Airport terminal building.
In September 2014, the eighth Minister for Finance told Bermuda's Seniors: "… money doesn't grow on trees."  However, under his management, money is being burned through the way a raging fire burns through a forest of dry trees.
- Larry Burchall

20 Most Recent Opinion Columns

Opinion columns reflect the views of the writer, and not those of Bernews Ltd. To submit an Opinion Column/Letter to the Editor, please email info@bernews.com. Bernews welcomes submissions, and while there are no length restrictions, all columns must be signed by the writer's real name.
-
Read More About