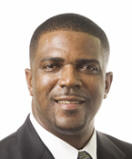 [Opinion column written by PLP MP Michael Weeks]
Bermudians have had an opportunity to see for themselves just what the OBA is about and most of us don't like what we are seeing; skyrocketing unemployment, a slew of broken promises, a seemingly never ending series of political scandals and an agenda that seems driven to benefit everyone but the Bermudians that pay their salaries.
They have made it easier for companies to bring in foreign workers over Bermudians and made it easier to sell off Bermudian land to foreigners.
Under the OBA we have seen the education budget cut, scholarships slashed, the cost of education at the Bermuda College rise and an increase in the number of Bermudians who believe that Bermuda isn't working for us. By their actions and where they have chosen to spend our money, the OBA have told us what their priorities are, and to them the average Bermudian simply isn't a priority.
The OBA are taking our country in the wrong direction, a direction that will lead to greater unemployment, a greater economic divide between the haves and have nots, and even greater marginalization of Bermudians in our own country and increasing social unrest.
There remains in our country Two Bermudas divided by race, income, opportunity and our perceptions about the future of our country. The OBA's failing economic policies and divisive approach have widened that divide and helped to make the worlds between our Two Bermudas more distant, less connected and less compassionate towards each other.
To break down the Two Bermudas, we believe that it is not enough to point out what is wrong with Bermuda, The PLP must also put forward a vision that sets Bermuda in the right direction, provides our people with hope and offers a clear plan to build a fairer Bermuda that works for Bermudians.
The PLP's Vision 2025, offers that vision in a 10 year plan that will:
Create a Bermuda Fund to Invest in our Domestic Economy
Diversify our Economy to create more jobs for Bermudians
Invest in the Training to ensure Bermudians can fill the jobs of the future
Expand Entrepreneurship with a focus on the high-tech future
Reform taxes to put more money in the pockets of our working poor
Expand home ownership opportunities for young Bermudians
Expand competition in the local banking and insurance industry to lower costs
Drive down the cost of food and electricity
Our priorities are clear; get Bermudians back to work, increase the number and range of businesses on island, invest in our people so that Bermudians have the skills to work for, and run those businesses, put more money in the average Bermudian's pocket and restore hope amongst our people.
These are our priorities and these are the things that we will invest our tax dollars in as we take a more responsible approach to reducing the deficit and paying off our national debt. You have seen what the OBA's priorities are and you now have a better idea of what our priorities are.
As a Party, the PLP have learned from our time in government and have used this time in opposition, to reconnect with our people, realign our priorities and produced a vision that comes from you, works for you and will benefit all of us.
I encourage you to visit www.plp.bm to read more about our plan and join with the PLP in working to make Vision 2025 a reality.
- Michael Weeks
Read More About