[Opinion column written by Larry Burchall]
On Thursday, 21st January, on the stroke of midnight, in layman's language, the Government of Bermuda ran out of taxpayer supplied dollars. At one minute past midnight on Friday 22nd January, the Government of Bermuda started functioning entirely on borrowed dollars.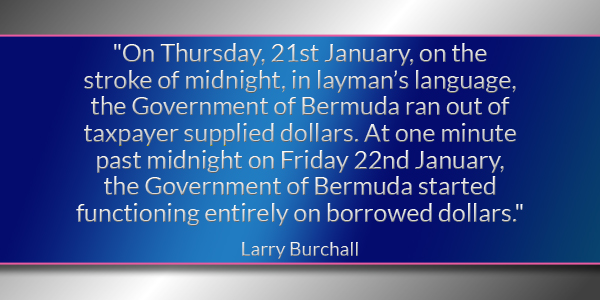 The Facts And The Arithmetic
Between 1st April 2015 and 31st March 2016, Government planned to spend $1,151.3 million even though Government was expecting total revenue of only $931.3 million. So Government deliberately planned to overspend by $220.0 million.
Government's 2015/16 planned spending of $1,151.3 million works out to $3.14 million a day, every day [$1,151.3 million divided by 366 days].
Spending $3.14 million a day means that Government's $931.3 million revenue could only last for 296 days [$931.3 million revenue divided by $3.14 million daily spend].
Counting from 1st April 2015, those 296 days end on 21st January 2016. On this day – 21st January 2016 – Government will have spent the whole $931.3m taxpayer revenue that it hoped to get.
Succinctly? Government ran out of taxpayer money.
But there are still seventy [70] days left in this Financial [Leap] Year. So what happens on 22nd January 2016?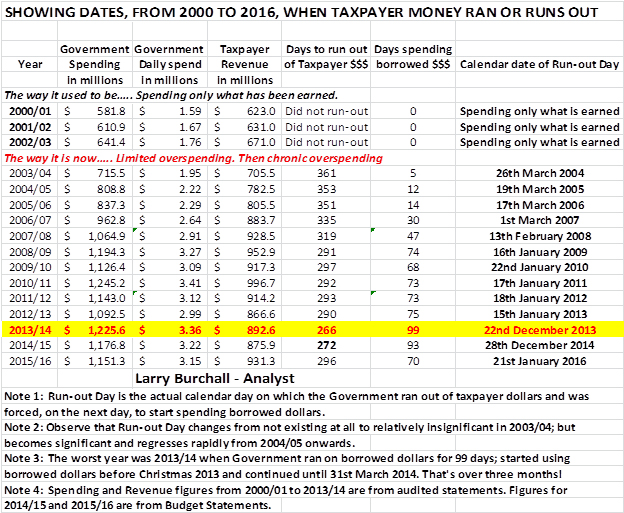 70 Days Living On Credit
Starting at one minute past midnight on 22nd January 2016, and for the next 70 days – right up to midnight 31st March 2016 – Government will be totally reliant on the $220.0 million that it borrowed to cover the $220.0 million 'deficit'.
Divide $220.0 million by the 70 days left, and you get back to $3.14 million a day.
That's arithmetic. Not politics. Arithmetic.
Wave the magic wand of a General Election. Change both political parties. Elect a 'fourth' or even 'fifth' party. Install a Ninth or even Tenth Minister for Finance. The arithmetic won't change.
Drown the print and electronic media in words, talk and stare for hours into video and TV cameras, canvass on the doorstep; nothing changes that brutal fact. That simple yet brutal arithmetic will stay exactly as I show it.
Up to 21st January 2016, every Government employee got paid in taxpayer generated 'Bermuda revenue' dollars. From 22nd January 2016, every dollar of their pay is a foreign dollar that has been borrowed from foreign lenders.
From 22nd January 2016, from high to low, from the Governor down to the lowest paid Government employee, every dollar of pay and benefits will be a borrowed dollar. That fireman or policeman responding to an emergency will be paid with borrowed dollars. Any person or business supplying goods and services to Government will be paid with borrowed dollars.
It's like you and your household running out of money every month, and spending the last six days of every month living on Credit. In the 13 calendar years, between April 2003 and March 2016, the Bermuda Government lived and will live solely on foreigner's money for two calendar years.
It's arithmetic. Not politics. Arithmetic.
Feeding Nanci
By the way, that $3,145,628 that gets spent every day includes a big chunk that's priority sliced off – every day – and priority sent overseas to feed "Nanci" [Non Negotiable Costs = Interest + Sinking Fund = Debt Service Costs].
How big is that priority slice-off? Currently, it is $464,208. And that slicing-off happens every day – for 366 days.
That means that Government actually spends only $2,681,420 within Bermuda. [$3,145,628 a day minus $464,208 a day = $2,681,420 a day.]
The Double Crazy
Now, a double insanity! Starting 22nd January, Government borrows that daily $3,145,628 and then priority slices off and ships out $464,208. So like some madly grinning financial psychopath, Government feeds Nanci with borrowed dollars!
Crazy? Double crazy? Yes! But true. It's arithmetic! Crazy arithmetic!
Because $0.15 [15%] of every borrowed dollar goes to Nanci, and only $0.85 [85%] of that dollar comes to us, every Government dollar – borrowed or taxpayer – is always a 'clipped' dollar – an eighty-five cent dollar. Twelve years ago, in 2003/04, that clip-off was a mere one and a half cents [$0.015].
During thirty-four UBP years and five PLP years, there was no crazy arithmetic. Every day of those thirty-nine years, Government only ever spent the dollars that it had first 'earned'. Government did not borrow for day-to-day spending. Every Government expense was met out of Government's taxpayer revenue. [See the first three FY's on the chart.]
How did Government descend into this national financial hell where Government has actually spent as many as 99 days – fourteen weeks and a day – living on credit?
Not through twelve years of wise strategic planning. Not through twelve years of careful management of Bermuda's national funds. Neither did Government arrive here because of any Great Global Recession [GGR]. This descent into today's financial hell started five years before the GGR began. [See the chart.]
The GGR accelerated Government's descent into financial hell. In 2007/08 Government spent 47 days living on credit. When the GGR happened, the Bermuda Government was suddenly slammed backwards. From running-out in mid-February, Government suddenly ran out a whole month earlier. Government still has not recovered.
Study the chart. Government's 2016 predicament follows a twelve year build-up of actions and non-actions, decisions and non-decisions taken and not-taken by Government's top financial managers.
Regardless of past and present politics and party loyalties, 21st January 2016 still came!
21st January 2016! Run-out Day! Not a day for celebration. A day for sobering-up!
- Larry Burchall

20 Most Recent Opinion Columns

Opinion columns reflect the views of the writer, and not those of Bernews Ltd. To submit an Opinion Column/Letter to the Editor, please email info@bernews.com. Bernews welcomes submissions, and while there are no length restrictions, all columns must be signed by the writer's real name.
-
Read More About