Premier Michael Dunkley and the Bermuda delegation were welcomed to New Orleans by the city's Mayor today, after touring the annual RIMS conference and meeting insurance industry leaders and Bermuda participants.
Mayor Mitchell [Mitch] Landrieu invited Premier Dunkley and Economic Development Minister Dr. Grant Gibbons to his City Hall office for an informal 40-minute meeting in which they discussed commonalities between his city and Bermuda—where he celebrated his honeymoon in 1987.
The Bermuda delegation met with the Chairman of Lloyd's of London John Nelson at RIMS 2015. From left: Finance Minister ET Bob Richards, Premier Dunkley, Chairman Nelson, Economic Development Minister Gibbons, and Jeremy Wright, of Canopius in Bermuda.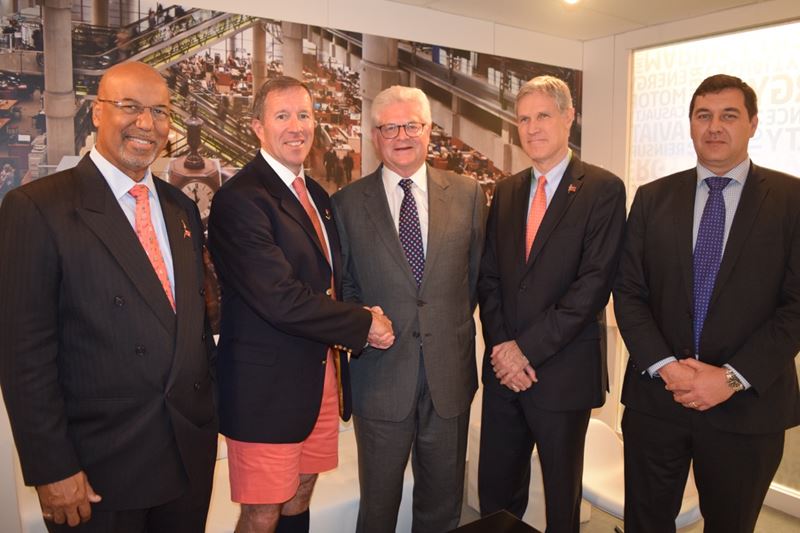 "I remember pink and I remember it was spectacular," said Mayor Landrieu, who discussed ties and commonalities between the two jurisdictions, including tourism, business development, and the perennial threat of hurricanes.
Bermuda-based reinsurers paid nearly 30 percent of the insured losses from 2005's Hurricane Katrina, Rita and Wilma, paying an estimated $22 billion to rebuild the US Gulf and Florida coasts after the hurricane seasons of 2004–05.
"We all share problems in the world, and we Bermudians think of you here in New Orleans," the Premier told Landrieu, the former Lieutenant Governor of Louisiana, who has served as Mayor since 2010, winning re-election last year with close to 64 percent of the vote.
Landrieu, who had placed a large Bermuda flag in his office to welcome the Bermuda visitors, said he and his wife Cheryl were fond of Bermuda because they had spent a week-long honeymoon on the Island in '87, staying at the Fairmont Southampton Hotel.
Premier Dunkley and Minister Gibbons met with New Orleans Mayor Mitch Landrieu at City Hall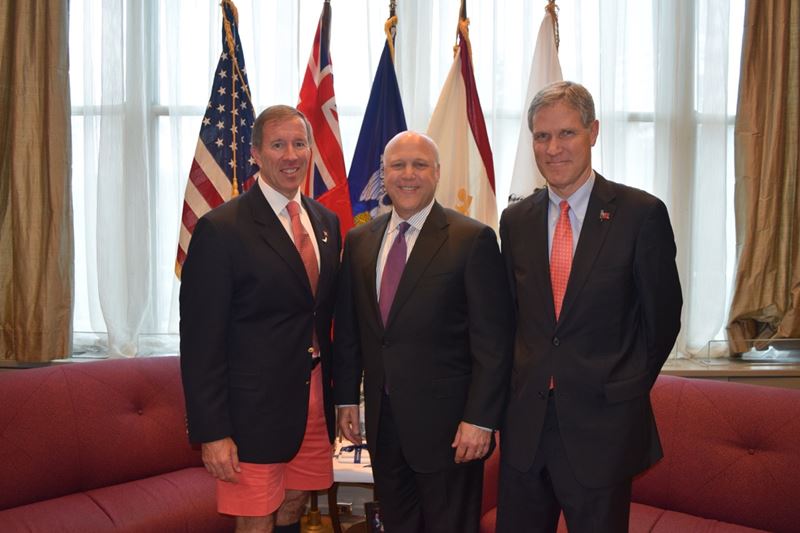 Earlier in the day, the Premier, joined by Dr. Gibbons, Finance Minister Bob Richards, Bermuda Monetary Authority CEO Jeremy Cox, BMA Licensing Director Shelby Weldon, and Bermuda Business Development Agency [BDA] CEO Ross Webber were officially welcomed to the Ernest N. Morial Convention Center.
Rick Roberts, president of the Risk and Insurance Management Society [RIMS] escorted the delegation to the iconic Bermuda Booth, where the Premier presented him with a Bermuda Bag and a pair of TABS Bermuda shorts.
Members of the Bermuda delegation greeted by RIMS president Rick Roberts .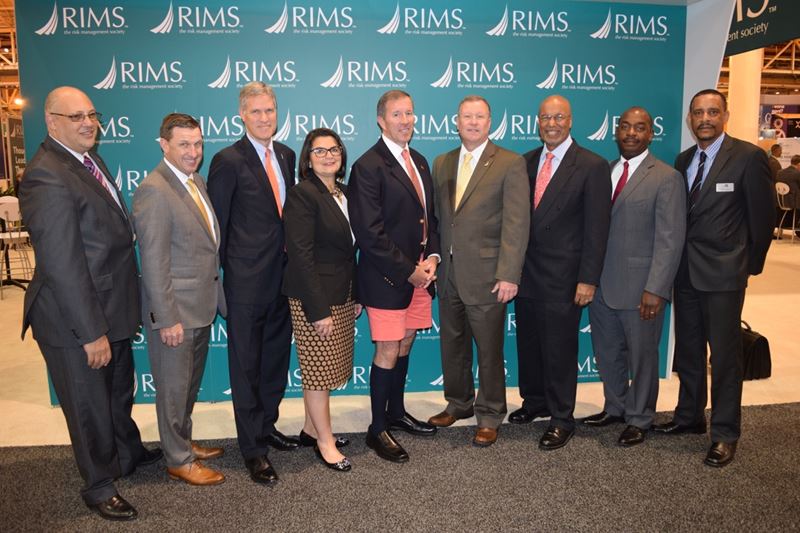 Later, the Bermuda delegation toured the RIMS Exhibit Hall, where they were also welcomed by Lloyd's of London Chairman John Nelson, who was guest speaker at last December's first Insurance Seminar in Bermuda hosted by the BMA. The Premier, Ministers and BMA executives also visited several Bermuda industry booths, along with those of other jurisdictions including Cayman Islands, Barbados, and Vermont.
Numerous Bermuda companies are participating at RIMS, including: ACE, AIG, AON, Appleby, Armour Risk, Artex Risk, Beecher Carlson, Bermuda Commercial Bank, Bowring Marsh, Butterfield Bank, Canopius Underwriting Bermuda, Cedar Consulting, Chubb Atlantic Indemnity, Clarien Bank, Conyers Dill & Pearman, Endurance, HSBC, ISBL, JLT PARK, KPMG, Liberty Mutual Management, PwC, Markel Bermuda, Montpelier Re, Randall & Quilter Investment Holdings, R&Q Quest Management Services, Willis Bermuda, and XL Insurance.
The Bermuda delegation at RIMS 2015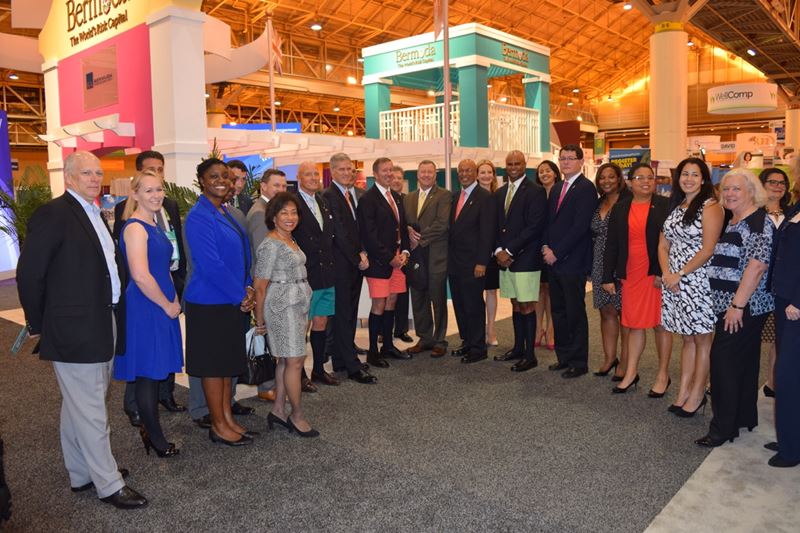 The Bermuda delegation was slated to attend a Bermuda industry reception featuring a tribute to balladeer Hubert Smith Sr. by band Mohawk Radio.
Read More About