Over the next three weeks the Bermuda Hospitals Board [BHB] will present the BHB Spring Talent Showcase, with staff members providing entertainment in various public areas of the MidAtlantic Wellness Institute and the King Edward VII Memorial Hospital [KEMH] during lunchtime hours.
The performances will be brief, between 15 and 20 minutes, allowing staff to experience the talent of colleagues and allowing the public to simply enjoy.
The BHB Spring Talent Showcase has been organised on the heels of the BHB Talent Show, a fundraising event that raised $13,000 for the Acute Care Wing [ACW] last month. Participants in the April talent show were so well received that calls for them to perform more, could not go unnoticed.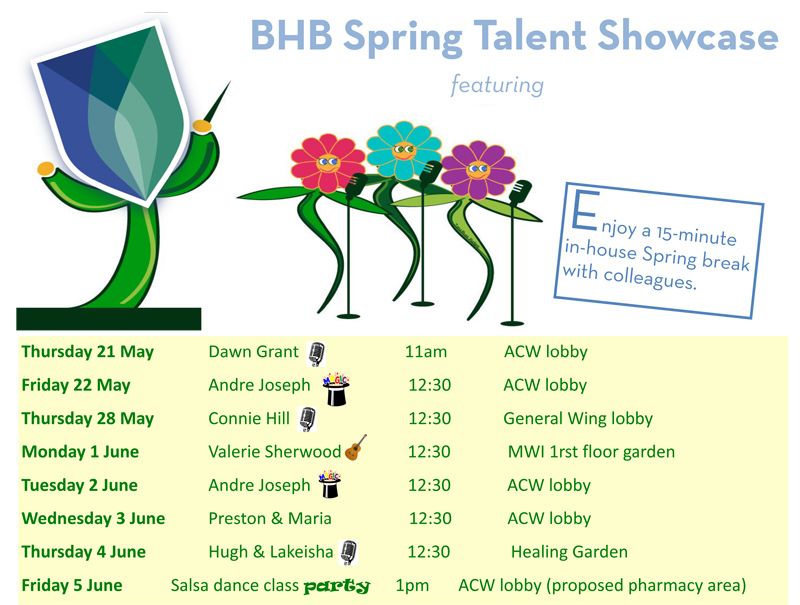 Eight staff are slated to give mini performances over the next three weeks.
The Showcase starts at 11am this Thursday 21 May with the soulful voice of KEMH cafeteria worker Dawn Grant. At 12:30pm on Friday 22 May, lab technician Andre Joseph will perform some magic. Both events will take place in the ACW lobby. Next Thursday 28 May, Connie Hill, Executive Personal Assistant to the CEO, will bring gospel to the lobby of the KEMH General Wing.
The showcase will end the first week of June with performances every day at 12:30pm. On Monday 1 June Valerie Sherwood will strum her guitar at MWI, and on Tuesday 2 June Andre Joseph will return with magic in the ACW lobby.
Preston Swan and Maria Burgess will sing in the ACW lobby on Wednesday 3 June, and dialysis nurses Hugh Murray and Lakeisha Bulford will perform in the KEMH Healing Garden on Thursday 4 June. The week will end with a salsa dance class party for staff, led by physiotherapist and Clinical Manager Angela Gilbert.
"It's a fitting way for us to celebrate our staff and spring," said BHB CEO Venetta Symonds. "Members of the public will also have the opportunity to enjoy a musical interlude or a bit of magic in their day."
Read More About
Category: All, Entertainment, Music