[Updated: Charles Gosling defeated Carlton Simmons [409-158 votes] to become Mayor of Hamilton, while the election in the east saw Quinell Francis [278 votes] defeat the incumbent Garth Rothwell [177 votes] and Alfonso Harris [23 votes] to become St George's Mayor.]

Voters are heading to the polls in both St. George's and Hamilton today [May 7] with the Municipal Elections taking place, with the positions of Hamilton Mayor, St George's Mayor and Municipal Residents' Councillors in Hamilton all to be determined.
Polling stations are open from 8:00 a.m. – 8:00 p.m, with the Corporation of Hamilton polling to take place at tbe Seventh-day Adventist Church Hall on King Street in Hamilton, while the Corporation of St. George's polling station is located at the Penno's Wharf Cruise ship terminal.
Charles Gosling, who previously served as Mayor of Hamilton, is set to run against Carlton Simmons for Hamilton Mayor, while the east will see Quinell Francis, Alfonso Harris, and incumbent Garth Rothwell running for St. George's Mayor.
The nominations for Hamilton Mayor from last month's Nomination Day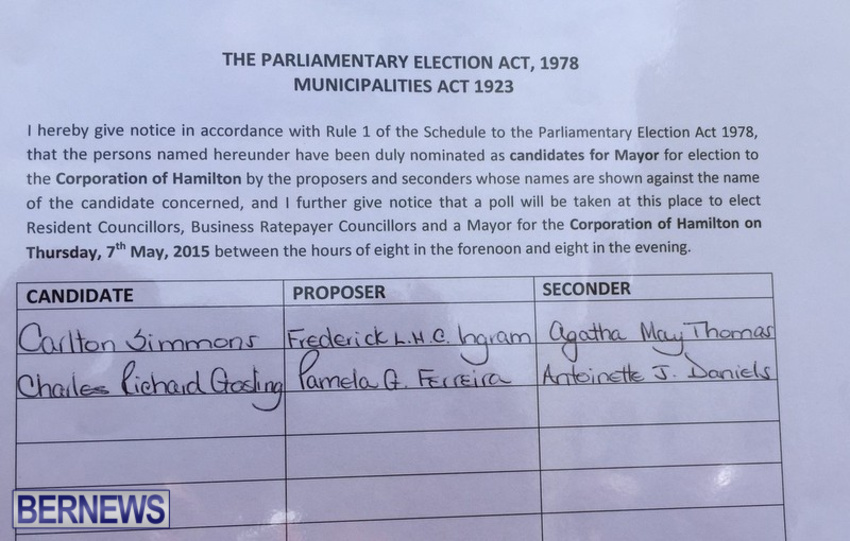 Voters will also be selecting Municipal Residents' Councillors in Hamilton, choosing between John Holdipp III, Henry Ming, Carlton Johnson, George Scott, Aaron Scott, Derrick Phipps, and RoseAnn Edwards.
There will not be an election for Business Ratepayers Councillors for the City of Hamilton, as there were only four candidates, including John Nicholas Swan, Lawrence Gordon Scott, John Harvey, and Dennis Tucker.
In St. George's, the Business Ratepayers' Elections and the Municipal Residents' Elections were also uncontested. Philip Seaman and Faith Bridges are the St. George's Business Ratepayers' Councillors, while the Municipal Residents Councillors are H. Anthony Richardson, Wilfred Bean, Phillip Anderson, Eakin McLaughlin, Elizabeth Christopher, and Jamie Sapsford.
The last Municipal Elections were held in May 2012, and saw Graeme Outerbridge elected as the Mayor of Hamilton, defeating Charles Gosling with 55.33% of the vote, while in St George's Kenny Bascome was elected Mayor with 66.44% [299 to 151] of the vote over  Alfonso Harris.
Update: Video of Mr Simmons and Mr Gosling speaking after the results came in
This election will be held under different guidelines than the 2012 election, with changes made to the Municipalities Act 1923 that affect the business vote.
Earlier this year, Minister of Home Affairs Michael Fahy said, "This Government also took the view that business ratepayers should have the right to representation of their interests, and the appropriate amendments to the Municipalities Act 1923 were made in the Municipalities Amendment Act 2013."
Minister Fahy said that only individuals who are ordinarily resident in the municipal area [and registered in the parliamentary register] are entitled to be registered as municipal residents; and only owners and occupiers of business premises are qualified to be registered as business ratepayers and be able to cast a vote.
Update: Live updates have ended, you can scroll through them below
Read More About