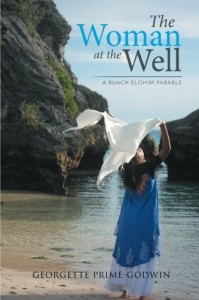 'The Woman at the Well: A Ruach Elohim Parable,' a new book by Rev. Georgette V. Prime-Godwin, offers a "fast-paced spiritual story about self-healing, personal acceptance and forgiveness," with the book already nominated for a Global Ebook Award.
"I wrote this book as a fictional story ringing with biblical truths," Rev. Prime-Godwin said. "It captures a new wave of imagery and draws the reader into each character's life."
The book follows up on Rev. Prime-Godwin's volume on faith and leadership, titled The Nehemiah Prototype – A Complementary Guide to Organizational Leadership for the 21st Century Church.
The book's synopsis says, "My view to life has always questioned my thoughtless actions. What evil provokes me to not forgive? What action has gone before me that has placed shackles on my heart?
"Life's journey is not easy; but if you pay close attention during the process, one can learn lessons that will permit forgiveness of faults and a gauge to monitor the thought process, which determines the very essence of our foundation. The mechanism found in the story of the woman at the well, will spur relief that propels self-healing for personal acceptance."
Rev. Georgette V. Prime-Godwin holds a Bachelor of Science degree in organizational leadership and management from Regent University. She graduated from Payne Theological Seminary with a master of divinity degree in pastoral leadership.
Promotional trailer for The Woman at the Well:
She has been ordained an itinerant elder in the African Methodist Episcopal Church in 2012. As an author and motivational speaker, she has facilitated workshops for over 20 years in educational, business, social and church settings.
For more information about The Woman at the Well, including how to purchase a copy, visit the official website.
Read More About
Category: All, Entertainment