[Updated with videos] The Bermuda Road Safety Council is calling on everyone on the island to take care on the roads over the National Heroes Day weekend, with Chairman Carlton Crockwell saying, "let us continue to work together to ensure that we all think, choose, live, and celebrate life long after this festive time is over."
Mr  Crockwell said, "This weekend marks another National Heroes Day in our wonderful island. There will be locals and tourists alike who will be celebrating in large numbers through several festivities such as the Queen's Birthday Parade, and the new Bermuda Heroes Weekend activities.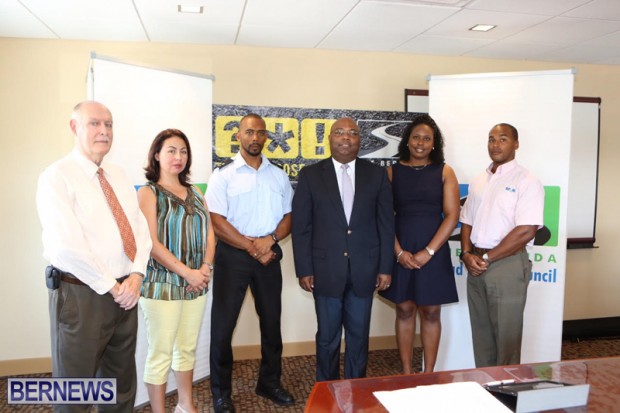 "Our purpose today is to encourage everyone to be as safe as possible while traveling on our roads. We have experienced tragedy on our roads again and again over the years.
"This holiday weekend, the Road Safety Council is asking all Bermuda to remember to think about your driving habits and the choices you make when driving, choose to make better decisions when driving/riding, and live to celebrate special moments with your loved ones.
"There are several ways we can think, choose, and live; we must adhere to the speed limit at all times, we must remain focused on the driving task only – avoiding use of technology, i.e. cell phones, iPods, etc, and we must ensure that if we celebrate with alcohol, we do not get behind the wheel and drive.
"These simple steps can assist all our community in maintaining safe passage on our roads. Additionally, we are aware that our community partners, the Bermuda Police Service, will be out and about this weekend to ensure our roads are safe.
"Recently, there has been a marked increase in the amount of collisions on our roads – we must do all we can to discourage this trend. We need to support their efforts and do all that we can to ensure safety on the roads.
"This holiday weekend is another opportunity to celebrate all that is great about Bermuda – let us continue to work together to ensure that we all think, choose, live, and celebrate life long after this festive time is over."
Update 3.33pm: Chief Inspector Calvin Smith said, "This year the National Heroes' Day holiday weekend celebration will feature some new and exciting additions to the calendar of activities, with approximately 18 different events across the island over the long weekend.
"These events will be held island-wide from Dockyard to St. George's over a 4 day period starting tomorrow.
"J'ouvert is scheduled to take place from 3am until 8am Saturday, June 13th on Moresby Plain also known as Malabar Field in Dockyard.
"The Bermuda Police Service will have a robust police presence around all the major weekend events on land as well as on the water.
"With that in mind, we would like the public to be responsible and aware of the following:
"These events are designed for people to enjoy the holiday however; anti-social behaviour will not be tolerated. Additional units will be patrolling Island wide, assisting where necessary to enforce the law and help members of the public.
"Alcohol will be available at the majority of these events. If you plan to consume alcohol do not drive, ride or operate a watercraft.
"Our Roads Policing Units and Marine Section will be active and any individuals suspected of operating a vehicle whilst impaired will be arrested and put before the courts.
"If you plan to be on the water, please file a float plan; do not travel alone; ensure your radio is working and all the requisite safety equipment is on board and up-to-date. Also, please ensure that your boat's registration decal is current and prominently displayed.
"When swimming, do not swim alone.
"Take appropriate steps to lessen your chances of becoming a victim. If you plan to attend any of these events travel with a group or in pairs; avoid parking or walking in dimly lit or isolated areas and advise someone of your whereabouts and when you plan to return.
"In addition, we are expecting some major traffic disruptions and encourage motorists' patience and cooperation.
"On Friday night, Front Street will be closed to vehicular traffic between Court and Queen Streets. We ask that you remove any parked vehicles along Front Street by 4pm on Friday. There will also be no parking along Front Street after 4pm on Friday afternoon.
"Additionally, Burnaby Street will also be closed between Front and Reid Streets from 4pm.
"On Saturday there will be traffic disruptions in Dockyard to facilitate the Parade of Bands. Persons should be aware that Dockyard will likely have significant traffic diversions and delays, as the bulk of the weekend's activity will take place there.
"We recognize that there may be loud music associated with some of these events and would encourage consideration on behalf of those holding the festivities as well as tolerance on behalf of the public.
"On behalf of the Commissioner of Police and the men and women of the Bermuda Police Service, we wish everyone a safe and enjoyable holiday weekend."
Read More About