Premier Michael Dunkley told graduating Saltus Grammar School students to "help build your Island home. Bermuda needs you".
At a packed ceremony at the Anglican Cathedral, 53 students celebrated their graduation and will now head off to universities in Canada, the UK and the US, including University of British Columbia, in Canada, University of Manchester in the UK, and Boston University, in the US.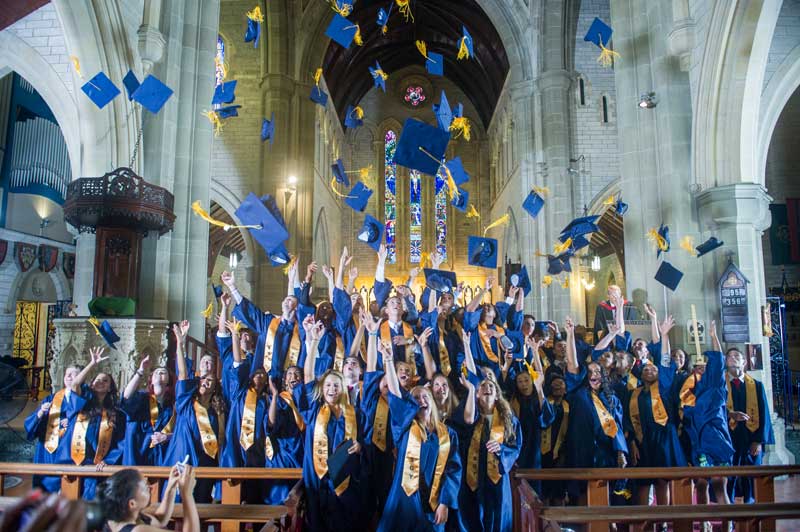 The Premier, a former Saltus student, told them, "Saltus is a great school and long may it continue the good work, which, I believe is ultimately about building a better world through the fine young men and women it sends forth each year.
"My challenge to you today is to not give in to the negativity. Negativity saps valuable energy and can create a state of mind that is tough to rebound from. Believe in yourself. Believe in what you're doing. When you believe in yourself others will also believe in you. Persevere, sacrifice and work hard.
"Don't be afraid of failure. Failure is often the stepping-stone to success. Use it to grow and be better. Bermuda needs competent, committed people with a can-do spirit. The Class of 2015 fits that bill, so please never forget Bermuda. Help build your Island home."
Head of School, Claire Charlemagne, who was presiding over her last graduation before moving to a new job in the UK, said: "We are here to recognize your many wonderful achievements.
"I offer my sincere congratulations to you all on achieving this very important milestone in your life. You have been prepared to make sacrifices to study hard and focus on achieving the highest academic standards.
"We can all feel very confident for the future when we see how well prepared you are to shape it for the next generation."
Mrs Charlemagne also applauded the wider pursuits of the students which included the Bermuda Outstanding Teen overall winner in the year group as well as seven other award winners and national athletes who have competed in the Commonwealth Games, Carifta and Bermuda U19 squads in hockey and rugby.
She added: "They have truly been an exceptional group of students who I believe will go on to achieve great things in the future."
The graduates completed Bermuda's longest standing university preparatory programme – the Saltus Graduate Years Programme which is built on the rigorous College Board's Advanced Placement (AP) examinations.
AP examinations are held in the highest regard the world over and students who are successful in the AP examinations can secure credit for their university studies.
Of those graduating, 90 percent were Bermudian, fifty percent were girls and half of the graduates had been with the school since S1.
Nicole Chichon-De Silva, Director of Guidance and Development at Saltus, told the graduates: "The American jurist Oliver Wendell Holmes said 'what lies behind us and what lies before us are tiny matters compared to what lies within us'.
"I hope that what lies within you is the whole experience you've had here at Saltus, the great education you've had, the friends and the memories you've made and the feeling of family that being part of Saltus gives you."
The awards presented include:
SGY Attainment Award [outstanding scholarship] and BELCO Mathematics Award [$750 --outstanding performance in Mathematics in last 4 years of High School] — Nicholas Pell
Jane Maddocks Endeavour Award [consistent effort and determined approach] — Shaundrea Washington
Michelle L. Outerbridge Award for Debate [contributed both to debating and the School in general] — Nicholas Pell and Nalani Dowling
SGY Award [fine representative for the School and whose participation in the life of the Graduate Year and of the School in general has been noteworthy] — Lawrence Gibbons and Ebony Clarke
SGY Science Award [the most promising student in the area of Science] — Shaundrea Washington, Daniel Oatley and Riley Correia
SGY Male & Female Sports Awards [contributed most to the School sports programme both on and off the field] — Liam Evans and Kennesha Nanette;
Dai Hermann-Smith Award [new--female graduate who has made a significant contribution to sport in the School] — Azari Thomas and Ebony Clarke
House Spirit Awards [to the students from each House who have contributed the most to House spirit and House participation]—Butterfield House to Lara Hall and Phil Hagen, Darrell House to Jacob Fisher and Kennesha Nannette, Saltus House to Nicholas Pell and Zureena Rubaine, Watlington House to Ethan Philip and Gemma Lightbourne
Head of School's Prize for Art [awarded to student whose exemplary artwork is purchased for permanent display at School] and Hinson Cooper Bowl for Art [the most promising student in the area of Art]–Nalani Dowling
Jason Smith "Live Free" Award [contribution to SGY life through sports, good humour, positive attitude and a kind spirit] — Philip Hagen
Davidge Family Award [for all round achievement -- academic, sport and school community participation] — Lara Hall
Ruth Henderson Performing Arts Award – Calum Maule
SGY Computer Science Award [most promising student in the area of ICT ] –Telisa Samuels
PwC Headstart Award of Excellence [$500 to most promising student in Economics, Business and Accounts] – Jaylen Martin
Deloitte & Touche Award [outstanding service, integrity, commitment to fellow students and respect for others] — Kennesha Nanette
Jennie Beard [Cavendish] Award [male and female students who have been at Saltus since S1 and consistently shown strong School spirit] — Kathryn O'Connor and James Patterson
Ernst and Young Award [$500 to student who demonstrates values of integrity, respect and teaming, along with energy, enthusiasm and the courage to lead] – Jacob Fisher
HSBC Bermuda –Recruit Extraordinary People Award [scholarship/internship
Top graduating Bermudian with an interest in financial services] — Daniel Oatley
Outstanding Student Award — Institute of Chartered Accountants [for scholastic achievement, leadership qualities, school spirit and community involvement]–Azari Thomas
Peter Wittich Award to Foster Good Bermuda/U.S. Relations [bursary given to the top student from Saltus attending a U.S. University] — Christopher Simmons and Katherine Anfossi
Francis 'Goose' Gosling Memorial Scholarship [to a student who has actively participated in all aspects of School life] — Philip Hagen and Liam Evans
SGY Scholarship [provided by the Saltus Trustees for overall contribution to School life]–Lawrence Gibbons and Lara Hall
Alumni Award — Ebony Clarke

Read More About