[Updated with video] The Minister of Public Works Craig Cannonier today [July 22] announced a public/private partnership between Ag Show Limited and the Bermuda Government to hold the 2016 Annual Agricultural Exhibition.
"Today, after months of negotiations, we can sign this Memorandum of Understanding and we can begin to prepare for next year," said Minister Cannonier at a press conference today.
"This Government is committed to seeing the Ag Show continue, we certainly do not want to see it die."
"We are confident that we now have enough time to prepare the grounds, repair damaged buildings and plan and execute a successful Ag Show in 2016," added the Minister.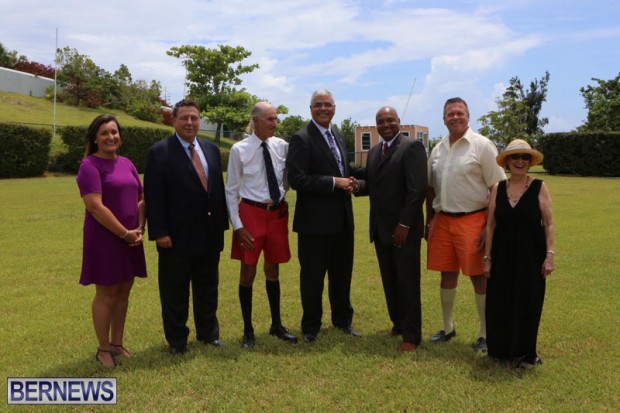 Also present at today's announcement and MOU signing were Antwan Albuoy, President of the Executive Committee of the AG Show Ltd., Mr. David Lopes, Chairman of AG Show Ltd., MP Jeff Sousa, lawyer Kim White and Andrea Moniz-DeSouza.
The Chairman of Ag Show Ltd is David Lopes, the President is Antwan Albuoy, the Secretary is Ellen Brown, the Treasurer is Peter Barrett and the Members are Judith Canale, Lisa Raposo Dawson, Andrea Moniz-DeSouza, Kirk Kitson, Nicole Botelho Lindo, Theresa Minors, Trina O'Connor, Talia A. Simmons, Jefferson Sousa, Ian Truran and Kim White.
Slideshow showing some of the exhibits, attendees and events from past Ag Shows

-
The Ag Show, which is normally hosted by Government, was cancelled this year to financial reasons, with the event normally costing around $400,000 to stage.
The annual event, which attracts thousands of people each year, normally takes place at the Botanical Gardens over a three day period, and involves an equestrian competition, and a wide array of exhibits including animals, baked goods, plants, flower arrangements, crafts and more.
Update 2.15pm: Video of today's press conference
Read More About
Category: All, Entertainment, News