Gilbert "Artie" Darrell has returned to his family home of Bermuda with plans to expand his business ventures with the goal of ensuring all residents and visitors to the island have access to the highest standards of emergency care available.
Mr. Darrell said, "I chose to come back to Bermuda to expand my business ventures home, and one goal was to provide top quality EMS services for America's Cup by bringing modern pre-hospital practices, equipment and training so as to ensure the well-being of not only the racers and crew members of the race team but also my fellow citizens."
Mr. Darrell's individual background and hands-on experience places him in an optimal position to set up a cutting-edge and effective emergency medical and rescue service system in Bermuda.
He is no stranger either to business or to emergency medical services. His grandfather, former politician Gilbert O. Darrell used to explain to him that opportunities would be presented by hard work and integrity, and he is keen to use his US-based experiences and carry on the Darrell legacy in Bermuda.
Over the past 16 years, Mr. Darrell [pictured below] has worked as a New York State Paramedic, firefighter, EMT, urban search and rescue team member, nationally certified fire service instructor, and high-angle rope rescue instructor and training officer, Command/Training officer for multiple fire departments and he has been involved in the Homeland Defense and Medical Consulting industries in the US.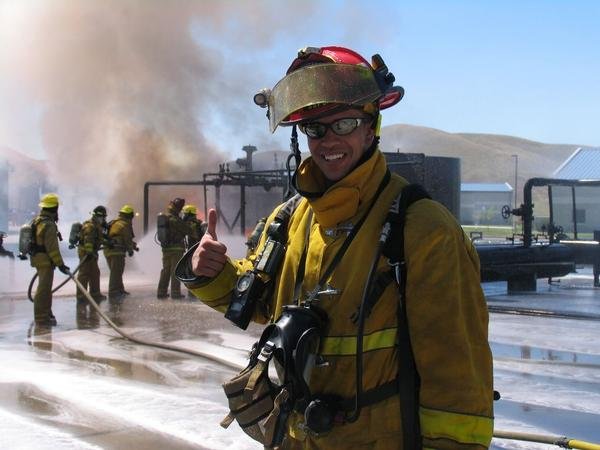 In Bermuda, he has volunteered at King Edward Memorial Hospital and has recently joined St. John's Ambulance Brigade. With an upcoming graduate degree in Emergency Management and Pre-Medical Studies at the American Military University in Virginia, his newly formed Bermudian company, Darrell International, presently offers services that include: homeland defense and security, information technology, security solutions as well as medical consulting, staffing and training to its clients.
Mr. Darrell said he has "identified a general lacking in the rescue component aspect of emergency medical services as well as in access to advanced life support services provided by paramedics. With the upcoming 2017 America's Cup along with other large-scale events such as the recent Bermuda Heroes Weekend comes a dramatic increase in water activities participation."
Mr. Darrell said, "Rescue situations are dynamic and not only require strength and skill but also an experienced leader and health care provider to best benefit the patient" which led to the creation of Mobile Rescue Services.
"Today we have the technology and training to provide definitive care immediately on scene, stabilizing patients before they are transported to the Hospital. This dramatically improves patient outcomes for everyone including America's Cup competitors."
"Mobile Rescue Services' bottom line is 'bringing highly advanced rescuers and hospital level care directly and immediately to the patient.'
The providers who work for him are handpicked for their own skills, experience and management skills for all worst-case scenarios and come from busy emergency medical systems, he said. The staff are supported and directed by seasoned American medical director Dr. Dennis Mao, attending physician at Good Samaritan Hospital in New York.
Mr. Darrell said, "Bermuda will be in the spotlight for the America's Cup. We need the world to see that Bermuda was the best locational choice that the America's Cup organizers could have made."
Read More About