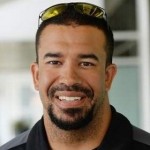 A local entrepreneur is aiming to bring air medical evacuation services to Bermuda via startup Mobile Rescue Services Ltd, headed by local entrepreneur Gilbert Darrell [pictured].
Mr. Darrell, who is also the CEO of Darrell International, said, "For the past five-plus years, Bermuda has been without its own air medical evacuation service, causing serious and long delays in bringing aircraft from the United States to Bermuda to pick up our critically ill citizens and guests.
"My goal is to bring this vital service to Bermuda so that patients who need access to advance healthcare services in Bermuda are transported much faster then waiting often days for an aircraft from the United States.
"At present, it's typical, in my experience, to wait 12-36 hours for a company to be found and an aircraft to be sent. Often when I have interfaced with the aircrews, I am told they were given the mission while they were in Texas, Maine, etc.
"For our citizens and our valued visitors, it's unfortunate, and soon hopefully it will be unnecessary for them to wait so long to be transported to a higher level of care facility."
For more information about Mr. Darrell and Darrell International, visit the website.
Read More About