A unique local business recently had its wares on display at Harbour Nights, with owner Corynne Bailey on hand in order to show off the bookbinding work done by her company OrangeCircles Design, with the products available for purchase at Brown & Co.
Speaking during Harbour Nights, Ms. Bailey told Bernews, "All my lovely books here are handcrafted, from every piece of paper cut, everything is sewn with linen thread, and if we need lines in it, I actually go in and print them in.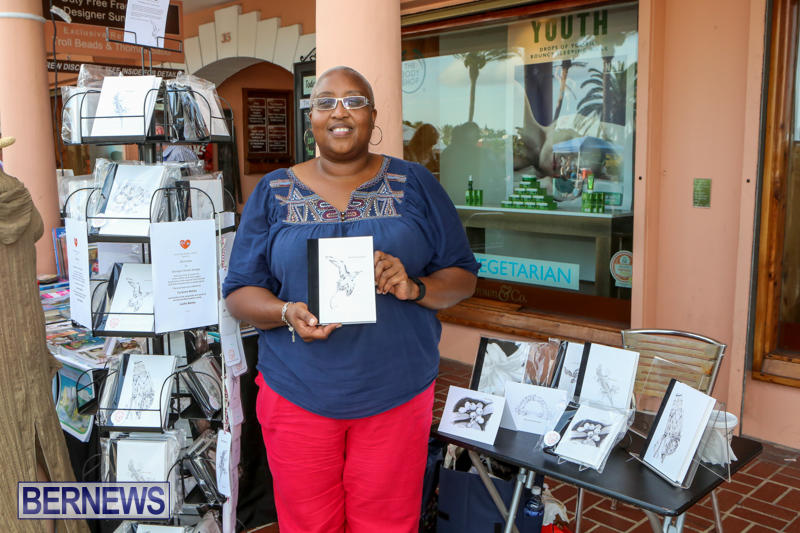 "Every aspect of these beautiful journals are hand-made, hand-crafted, by me. The artwork is done by my lovely daughter Leslie Bailey, who's away right now studying. And she does oil paintings and pencil sketches, so all the work the you see here, she has done it, all of it, and it's amazing, very detailed.
"The books are made with Italian paper called Fabriano, one of the finer paper sets out there, and I love to use it because it's so versatile. I not only put it on the inside, but it's also what all the artwork is printed on.
"So it's archival, it's going to last forever, it's acid-free, also with the linen thread; every aspect of my books will last up to a 150 years. I've tested the paste for Bermuda because of the humidity and found out that there's a certain one that works or a combination of two.
"So I made sure that I've covered all my bases."
"So come on down to Brown & Co. – they're sold every day upstairs, near the register. All these beautiful books, they're great gifts for family, friends; if you're going away to visit someone, you can take these because you can let them know that this was made in Bermuda 100 percent.
"Also, we also have some beautiful cards, blank cards, 5 by 7 cards, and bookmarks."
When asked about the artwork featured on her books, Ms. Bailey told Bernews, "My daughter, growing up in Bermuda, had a lot of love for Gombeys. So the key, it started with the Gombey.
"And from the Gombey, she just started adding on and if I saw something that I loved or wanted done, she would do it for me. But the key thing was the Gombey."
For more information about Orange Circle Designs, visit the Facebook page.

Read More About
Category: All, Business, Entertainment, News