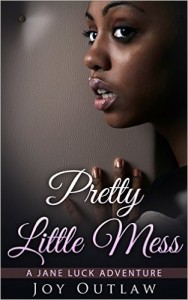 A book by author Joy Outlaw follows the romantic adventures of character Jane Luck, with Bermuda serving as a backdrop for a love that, "though very real, could be very doomed."
The book's description says, "The decidedly unlucky Jane Luck has found herself in a pinch with yet another less-than-ideal man. Huddled in her bedroom closet hiding from Jack, she fears that his stalking will be her demise.
"She had no idea that Jack had been hunting her for years when she met him at a concert four months prior, let her guard down, and shared her first sexual experience with him. As if the guilt over having broken her commitment to save herself for marriage weren't bad enough, the encounter itself was lackluster.
"In an out of character moment of frustration, Jane relieves Jack of $11,500 in cash and cards before fleeing the scene of her disappointment while he showered.
"Jane is like a duck gliding upon the water. She appears to be moving through life with focus and ease, yet just beneath the surface, those little feet are paddling feverishly toward an uncertain future. The daughter of well-meaning yet troubled parents who struggle with violence, addiction and infidelity, Jane left home to pursue her lifelong dream to study architecture.
"Unbeknownst to her, Jack faithfully follows her from her hometown of Norfolk, Virginia to Philadelphia, Pennsylvania and patiently plans their meeting.
"Also, Jane's faith is a grounding force but also a source of constant angst as she copes with her sexuality and need for companionship. Juggling school, work, family, faith, and a helter-skelter love life proves to be an ultimate challenge and a threat to her health.
"Student loan debt that will ultimately rival a mortgage is piling up fast, and the fear that she is ill-suited for her chosen career path is ever increasing. Yet her dogmatic dedication to her goals won't let her change course. She enlists the support of her life coach and friend Devi, and decides to take a break instead.
"Retreating to Jobson's Cove, Bermuda for a two week vacation—made possible with Jack's money–Jane meets, falls for and eventually cohabits with Alister Stevens, a gorgeous, caring, and generous artist and resort security guard.
"Ali" finds her mysterious, alluring, and exceptional in her pursuits, but Ali's own checkered past might mean their love, though very real, could be very doomed. Time will tell if Jane will finally escape the actions of her past and finally live the life – and have the man – she desires."
Read More About
Category: All, Entertainment