[Opinion column written by Shadow Minister of National Security Walter Roban]
On November 2nd 2015, Bermuda learned that another armed criminal action had taken place at Southside Pizza House on October 30. Thankfully no innocent person was injured. I cannot imagine the surprise and shock that must have been felt by those present.
My heart and that of the Bermuda Progressive Labour Party [PLP] goes out to them and anyone else who has witnessed the scourge of gun violence. There is no wish any resident to face such undesirable acts.
Bermuda has seen ten armed robberies in 2015, up drastically from 2014; all residents should be deeply concerned that this particular type of crime appears to be worsening rather than decreasing. In fact with over 2000 jobs lost and more job losses on the horizon, sadly we may need to prepared for robberies; armed and otherwise to increase.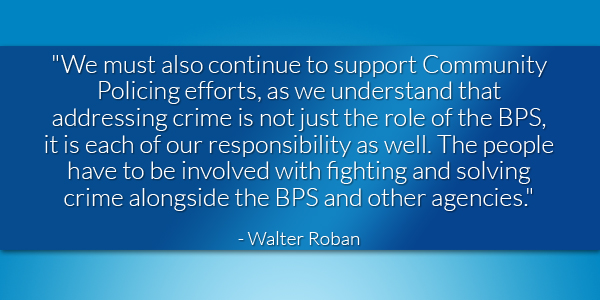 In this atmosphere, OBA budget decisions means cuts to manpower and resources in the Bermuda Police Service [BPS]. This leaves our able and dedicated Police Officers possibly without the full range of tools at their disposal to fight crime. We believe it ill-advised to allow this to happen.
We reiterate our earlier request in July of this year that with any cuts to manpower of the BPS, "… It is essential that this process is managed carefully to not only maintain operational effectiveness, but also maintain public confidence…"
How do we as a community get a handle on this? A number of steps must be taken. We must continue to support the men and women of the BPS.
The BPS was able to bring about a downward trend in overall crime with a clear budgetary commitment by the former PLP government to provide the resources, assist with acquiring the needed manpower, passing and amending appropriate legislation and endorsing any steps to bring about greater public engagement addressing crime and its causes.
The PLP believes the measures listed below amongst others must be continued and deployed to address this sudden uptick in criminal activity:
Maximizing the resources being engaged through what is already being done with the BPS and other agencies to address gang culture and violence in the community
Review the role and the results being achieved by the current Gang and Violence Reduction strategy
Review the role and the results being achieved by the Inter Agency Gang Task Force
Review the current policy and strategy to work with Community Clubs to address chronic issues of anti-social behavoiur and violence on their premises
BPS and other relevant agencies should be meeting quarterly with Community and social clubs to address any concerns or issues of Security
Attach members of the community action team to clubs and other grass roots organization [community centers, seniors clubs, churches, etc.] throughout the island working with them to achieve successful community outreach strategies
Task the Community Action Team to devise an anti-gun education programme that can be deployed in the community and our schools; bringing to life the danger of guns and the tragedy associated with Gun violence.
The best solution to keep crime numbers low is a booming economy where Bermudians that want to work, can work. With that not happening, it is important that we are fully prepared for the consequences of long term unemployment and dwindling employment prospects by providing our officers with the tools and manpower necessary to keep our communities safe.
We must also continue to support Community Policing efforts, as we understand that addressing crime is not just the role of the BPS, it is each of our responsibility as well. The people have to be involved with fighting and solving crime alongside the BPS and other agencies.
The public engagement has been essential to any success Bermuda has had with this in recent years. Surrendering to the shadows in fear will be help to irradiate violence. Working together with a fully resourced BPS will apprehend this uptick in violent criminal action and see a return to the steady downward trend on overall crime in Bermuda.
- Walter Roban

20 Most Recent Opinion Columns

Opinion columns reflect the views of the writer, and not those of Bernews Ltd. To submit an Opinion Column/Letter to the Editor, please email info@bernews.com. Bernews welcomes submissions, and while there are no length restrictions, all columns must be signed by the writer's real name.
-
Read More About