Project 100 Bermuda is getting set to celebrate thirty years of service to the community with a black tie fundraiser on November 21 at Fairmont Southampton, aiming to further their mission to "foster and develop an awareness of the needs of the mentally challenged [learning disabled] population in Bermuda and to raise funds for the sole use of eliminating or reducing their needs."
Cocktails will be served at 7.00pm, with dinner beginning at 8.00pm. Tickets, which cost $250 each, can be purchased by contacting Deborah Gillet on 295-7125 or gillet@ibl.bm, Cathy Lord on 238-4062 or clord@ibl.bm, or Francesca Bortoli at cescabortoli@yahoo.com.
A spokesperson said, "Over our thirty years we have funded specially equipped vans and cars, provided financial assistance to students to obtain degrees in Special Education and given financial assistance to families of children with various learning disabilities to help with medical expenses, learning support, therapy and special equipment.
"These difficult economic times are placing additional burdens on families with special needs person in there care who find themselves in need of assistance.
|In addition we have purchased three residential homes and leased and restored the Old Sandy's Parish Rest Home for 35 years for the sole use of the learning disabled community. We have partnered with Mid Atlantic Wellness Institute who provide the 24 hour care. Very few people think about what happens to a special needs person when their parents or guardian dies."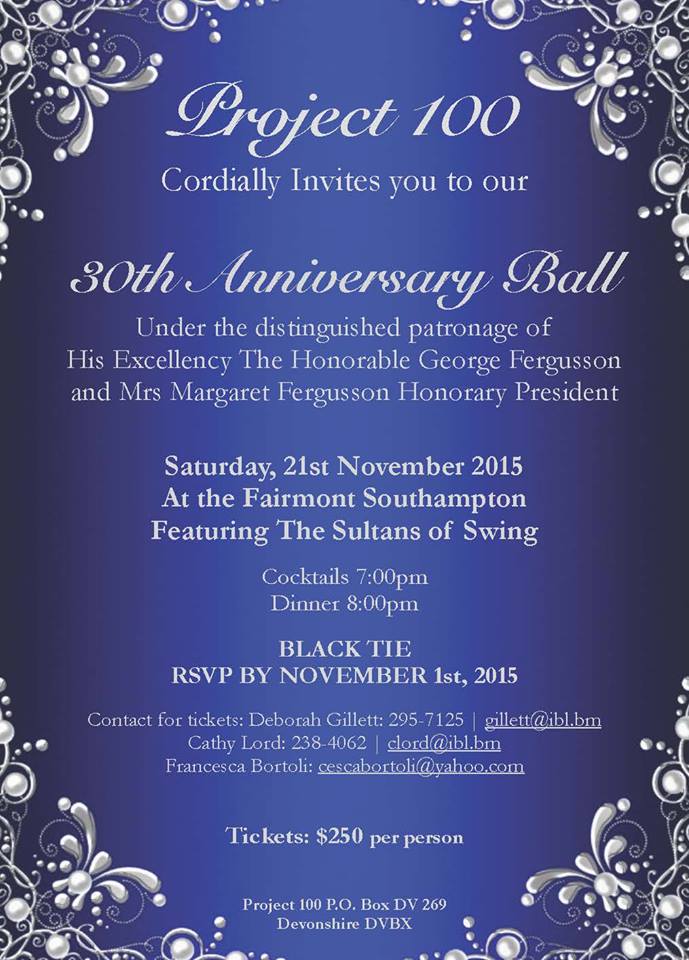 "We, the eighteen volunteer members of Project 100, and MAW' believe as they do in the USA, Canada and the UK, that these special persons do not belong in an institution and should continue to live in the community.
"I would like to add that some of the residents have jobs at grocery stores and a couple of warehouses. Others attend Opportunity Workshop during the day where they paint, sing and do crafts etc.
"One of the pressing needs is to continue our efforts in providing suitable residential housing. Based on the Needs Assessment Report 2013 for Community Homes, the learning disabled population is 200 and it is estimated the housing needs include immediate need for two homes for seven residents, each with one respite room; in 2-5 years time, a further home for 8 residents plus room for drop in emergencies; and in 5-10 years time, a further home for 4 residents plus room for drop in emergencies
"We were able to purchase our fourth home in 2014 and renovate/furnish it for the comfort and needs of six learning disabled ladies. We continue to fund raise in order to reduce the mortgage on this property and to service our other properties.
"Last month we renovated our Southampton Home, installing a new kitchen and provided a bathroom suitable for those in wheelchairs or less mobile."
Read More About
Category: All, Entertainment