Twelve local artists created a unique piece of artwork — which involved them all painting one square which were then combined together — with the art to serve as a fundraiser to benefit the Friends Of Hospice, with people asked to take part in an auction to sponsor the squares.
A spokesperson said, "Michele Smith, Chairperson of the Bermuda Arts Centre was inspired by the concept of an installation created by multiple artists. Twelve artists were asked to be a part of this exciting initiative and it all began with a single photograph of a serene area in Bermuda, which was then cut into 12 pieces. A piece was then given to each artist, none of which had any idea where the photo was taken, or what the complete picture looked like.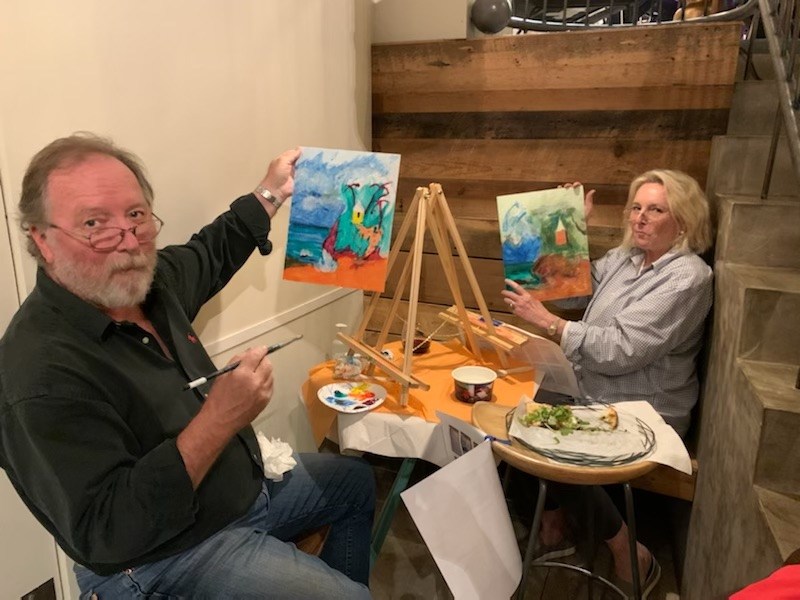 "The artists then painted their interpretation of the photograph received. At the end all 12 squares were put together to create a single scene and the blend of mixed media and unique styles came together to create the most amazing work of art.
"This work of art, two feet by 6 feet, had been created by a team of talented artists and now all that was left to do was to find the perfect home for it.
"An installation containing this level of artistic collaboration needed to be housed somewhere that allowed it to be seen by many and where it could have a positive impact, as do all great pieces of art.
"The creation of the installation began shortly after a capital campaign was launched by Friends of Hospice to build a new facility to replace the existing Agape House and it was then the artists agreed the new facility would be the perfect home for their labour of love."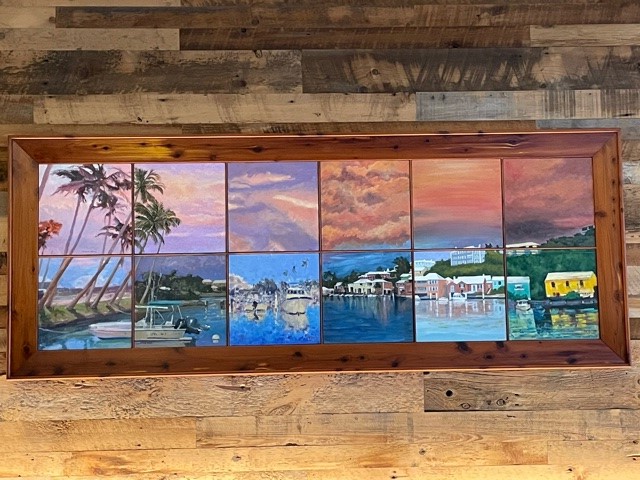 Heidi Cowen, Administrator of the Bermuda Arts Centre at Dockyard told us, "It is rare to find this many artists collaborating on a single work of art which makes this a truly unique piece.
"It is entrancing as your eyes wander over the 12 separate squares of colour and texture before accepting that you are taking in one scene. The cedar frame designed to look like a window view additionally enhances the entire piece."
Participating artists were Barb Freda, Cheryl Hastings, Christopher Grimes, Christopher Marson, Diana Amos, Heidi Cowen, Jonah Jones, Lee Kitson, Michele Smith, Sylvia May, Tiffany Banner and Tricia Roberts, many of whom have also agreed to donate additional pieces of art to hang throughout the new facility. The frame was created and donated by Scott Leman.
Jennifer Mahoney, Executive Director of Friends of Hospice stated, "Artwork such as this installation piece is rare for many reasons. The most significance for me is the amount of emotion put into the piece and the artists' desire to create something truly unique and lasting. We are extremely honored to have been selected as partners in this meaningful collaboration."
A spokesperson said, "A sold-out Sip and Paint event with artist Michele Smith was held on March 20th at BREW to mark the launch of the initiative and erection of the installation. A second event will be held on April 17, 2021 with artist Summer Wood. Both events are to be hosted at BREW located on Front Street with the support of Burrows and Lightbourne.
"Prior to installation in the new AGAPE House, sponsors are sought for each individual square. This will take place in the form of an auction to sponsor the square and artist of your choice.
"The highest bidder for each square will have their names placed on a plaque to hang under the installation piece at the new hospice facility. Those successful sponsors/bidders will receive an 8″x10″ painting from the artist they have bid on.
"This co-operative fundraiser supports the enhancement of quality of life and the beauty of art that surrounds us, both of which go hand in hand.
"All are encouraged to stop by BREW on Front Street from now through April 30, 2021 to view this extraordinary piece of work. Bidding opens at noon on March 22nd and closes at 11:59 pm on April 30, 2022. Bids can be placed here.
"For more information on the Sip and Paint on April 17, 2021 contact bermudaartscentre@gmail.com or how to support these two worthy charities contact executive.director@hospice.bm."

Read More About
Category: All, Entertainment, News