Royal Bermuda Regiment soldiers in Jamaica got a shock when 'running' in to superstar sprinter Usain Bolt at their hotel.
And the record-breaking athlete stopped to talk and have pictures taken with the advance party, which is preparing for the arrival of the main body of troops this weekend.
Sergeant Major Rupert Lambert said the RBR group spotted Mr Bolt, dubbed Lightning Bolt after his stunning string of Olympic and World Championship victories, on a photo shoot at the Strawberry Hill Hotel – and later bumped into him at their own hotel.
Sgt Maj. Lambert said: "He was doing his thing at Strawberry Hill, so we didn't want to interrupt that, but we saw him later at the hotel.
 Sgt Major Rupert Lambert with Usain Bolt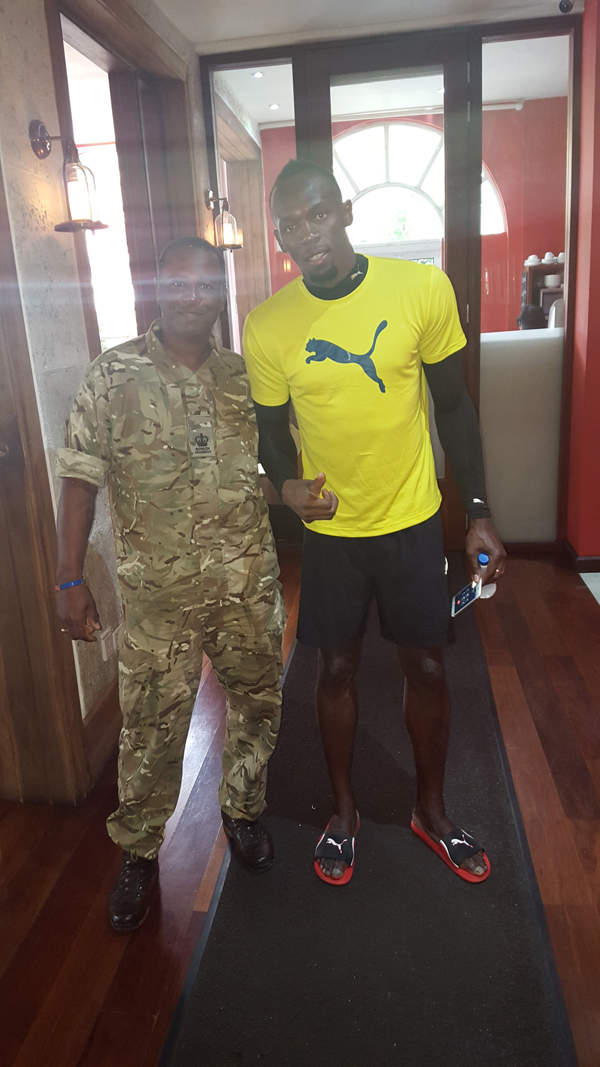 "I saw him in the hallway, smiled at him and stopped and asked if I could get a picture. It was unbelievable – I told him I had seen him run at the Carifta Games in Bermuda years ago.
"He was really approachable and very friendly. He stopped and posed for the picture."
Sgt Maj. Lambert added: "You get a lot of good experiences in the Regiment – but meeting the fastest man on earth is something else."
The main body of troops leave on Sunday for two weeks' intensive training in Jamaica, working with the Jamaican Defence Force.

Read More About