One of the Island's leading insurance/re-insurance companies has donated thousands of dollars to help a charity supporting the blind and partially sighted.
On behalf of AXIS Specialty, Alice Cedenio presented a check to the Bermuda Society for the Blind for $7,500 which will help the organisation to continue providing programmes and services to people who are blind or have a vision impairment.
Alice Cedenio of the AXIS Charity Committee, said: "We are delighted to help in this way. The Society is the only organisation of its type in Bermuda and, as such, has a vital role to play in the community.
"We hope that this donation goes some way to helping them to continue the excellent work they do. AXIS is interested in helping the community in various ways so after reviewing their proposal we thought it would be a perfect fit."
She said that AXIS supports a diverse group of charities for the community in Bermuda. Other charities the company has supported this year include Meals on Wheels, the 2016 Agricultural Show, and Open Airways.
Left to right:Jamie Steeves [AXIS], BSFB Vision Rehabilitation Therapist Jane Charlton, Shalimar Williams [AXIS], Karen Gonsalves [AXIS], Amanda Marshall, BSFB President, Alice Cedenio [AXIS] and Laquita Philpott [AXIS]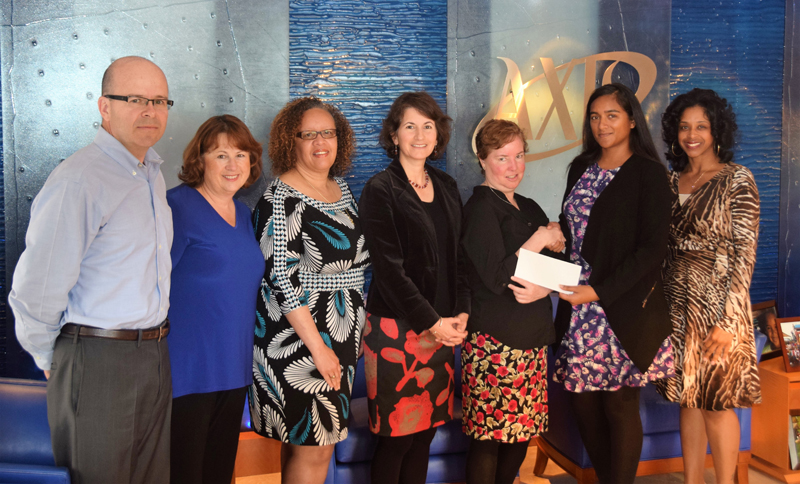 Amanda Marshall, the Society's Board President, said about 2,500 Bermudians have vision problems, according to the 2010 Census, and of those more than 900 say loss of sight interferes with their ability to complete everyday tasks.
She added that the top five conditions that cause blindness and low vision in Bermuda, according to a 2009 National Survey, were diabetic retinopathy/hypertensive retinopathy, glaucoma, macular degeneration, cataracts and eye trauma due to accidents or violence.
"With an ageing population we expect the number of people who are affected by some degree of vision loss to increase so we are indebted to companies like Axis for their very generous support," said Dr Marshall.
The Bermuda Society for the Blind began offering vision rehabilitation therapy programmes when Jane Charlton, a dual certified Vision Rehabilitation Therapist [CVRT] and Orientation & Mobility Specialist joined the team at the Society.
The programmes assist persons with vision impairments achieve and retain their independence.
Read More About
Category: All