The Hamilton Sewerage Amendment Bill was brought before the House of Assembly, with the Bill seeking to allow sewerage taxes to be imposed on units that outside the municipal area of the City of Hamilton if the units are connected to the Corporation's sewerage system.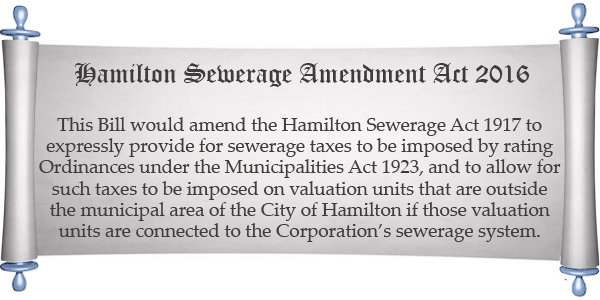 Speaking outside the House on Friday, Economic Development Minister Dr Grant Gibbons told Bernews, "Going back a number of years, the Corporation of Hamilton recognized that they needed to start putting some money aside for capital upgrades to the sewage system, which, as everybody knows, deals with everybody within the municipal boundaries, but they're also a lot of others that are connected up.
"It goes as far as Berkeley, CedarBridge, Prospect, and a lot of Government facilities as well. It goes all the way out to the east through East Broadway, and the hospital's connected to it as well.
"We're talking about a fairly major infrastructure system here. They've done some capital upgrades in the last couple of years, but they recognize they need to start putting some money aside for that.
"The Bill this morning essentially gave them the authority to be able to impose, under an old ordinance, an old Act in the city of Hamilton, the 1917 act, a sewage tax simply for capital upgrades. The tax is likely to be very modest, the maximum they can assess is some $0.25 per hundred dollars," continued Dr Gibbons.
"For a small residential ARV of about $30,000, that looks like it's going to be about $75 per year. Larger property maybe up to $250, that would be the maximum.
"We're not talking about a large imposition on most people here. But of course, if we don't have these upgrades and we don't do this, then the consequences could be quite catastrophic in terms of sewage into Hamilton Harbour or worse on the street."
"There was also some discussion about the need to look at how we deal with raw sewage, which is now pumped out off of Seabright and through rather a long pipe out there.
"I think the discussion revolved around the fact that depending on the amount of treatment, that could range from $20 to $60 million dollars in additional capital spending.
"The Corporation's certainly been looking at that and this tax will go some way to helping them address that, but more immediate capital upgrades as well. I think everybody was relatively in support of it."
The Hamilton Sewerage Amendment Bill 2016 follows below [PDF here]:
Read More About