Friends of Hospice Rubber Duck Derby celebrated its 20th Anniversary on Sunday, with BELCO once again serving as the lead sponsor.
"Friends of Hospices is the charity that supports Agape House, Bermuda's only hospice. The Derby is Friends of Hospice major annual fundraiser," a spokesperson said.
"This year's derby was the largest ever held spanning both King's Square and Ordnance Island St. George's with a focus on 'The Family'. Just under 3,500 ducks took to the water to race in 5 races, after a very strenuous training regime in the lead up to the Derby.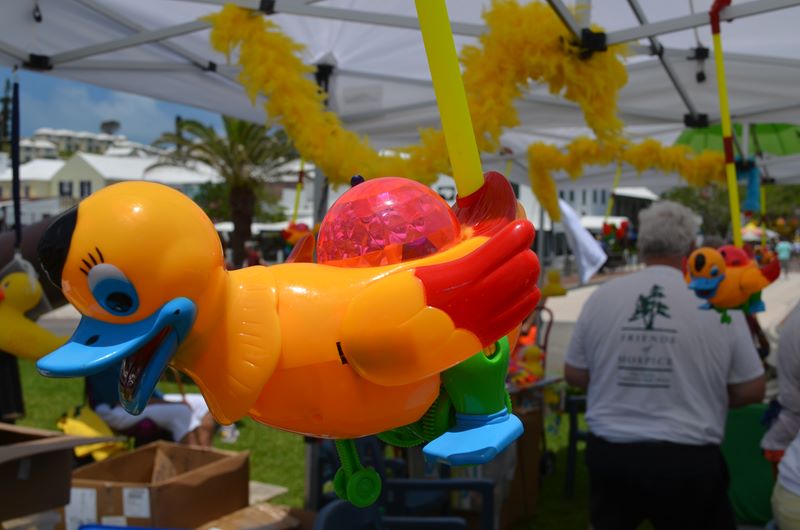 "The atmosphere was carnival like with a large Kiddie Land located in King's Square with rides, bouncy castles, slides, remote control cars, face painting and lots of games for every member of the family.
There was a live DJ on site, as well as BELCO Bird and Chuck the Duck who kept things lively and lots of fun. The event was Emceed by Wendell Dill and Nikita Robinson.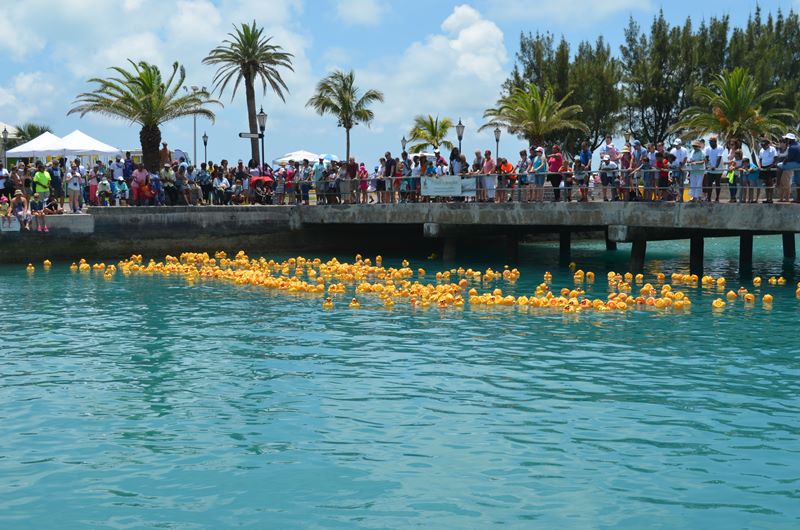 "This year, for the first time, there was a plant stall, where Bermuda grown roses supplied by The Bermuda Rose Society and Bermuda cedar trees, the symbol of Friends of Hospice were available.
"We also hosted a unique Craft stall that included a quilting table for individuals and families to create a commemorative square for a loved one or a "design a duck". The quilt[s] will be hung on the wall of Agape House where it can be enjoyed by patients, family, friends, staff and volunteers. There is still an opportunity to create a square. Anyone interested call email info@hospice.bm or call 232 0859.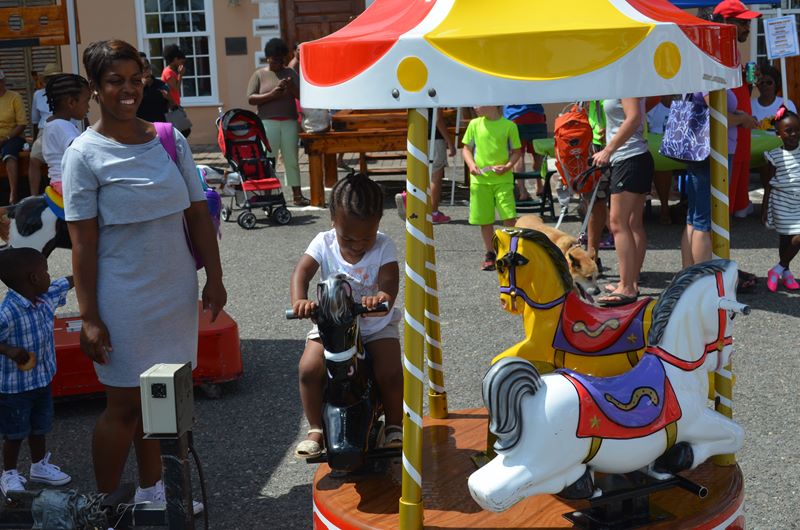 "Two major highlights, aside from the duck races were: A Flash mob, we believe for the first time in Bermuda, which started on the bridge and moved to the stage and Ordnance Island organized by DanceSations. A Sail past and demo with America's Cup Endeavour Group with 12 pink sailed mini skiffs sail past in St. George's Harbour.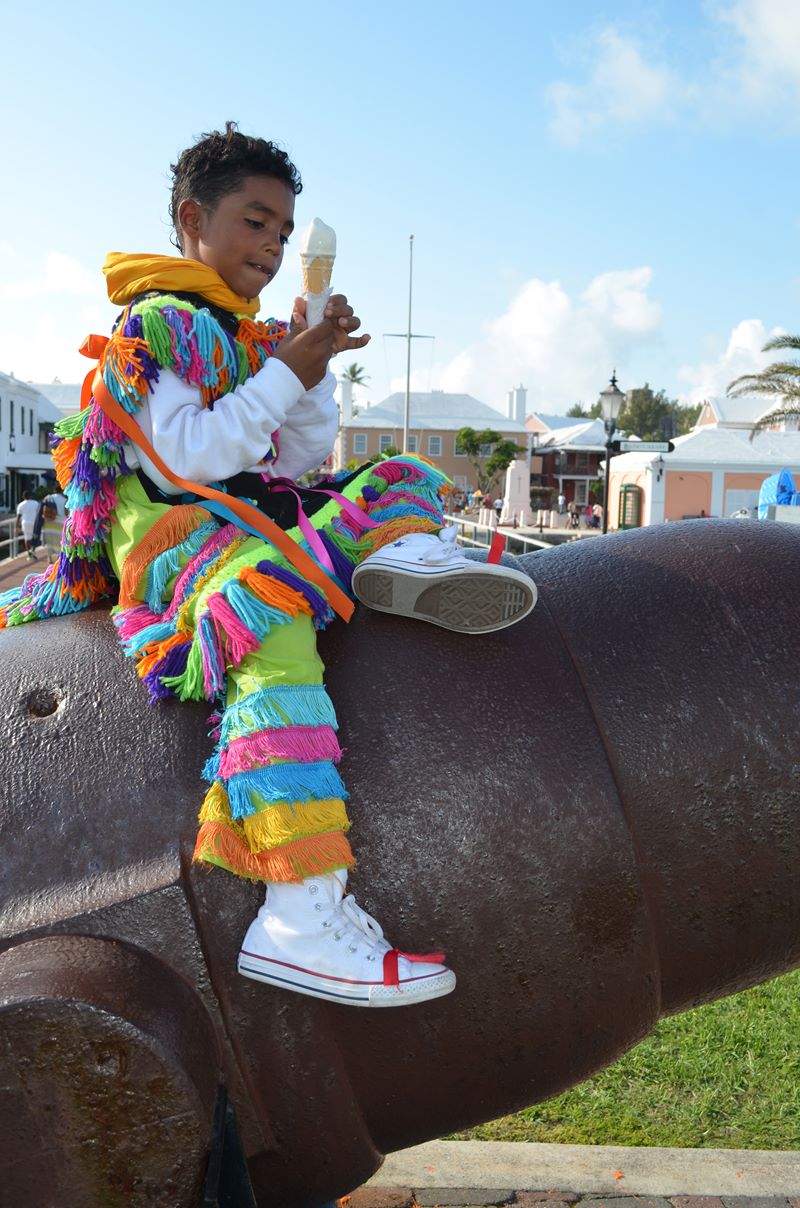 "The lineup of entertainment on the day was nothing short of amazing with a wide variety of performances from a diverse cross section of Bermuda talent, including Blues Beat Band; Shine Hayward; DanceSations; Saltus Junior Choir; Gilbert Institute Choir; West End Primary; For God's Purpose Bermuda; Live Wires; Mount Zion Choir; St. Georges Dancerettes. In true tradition, the event ended with the Gombey Evolution!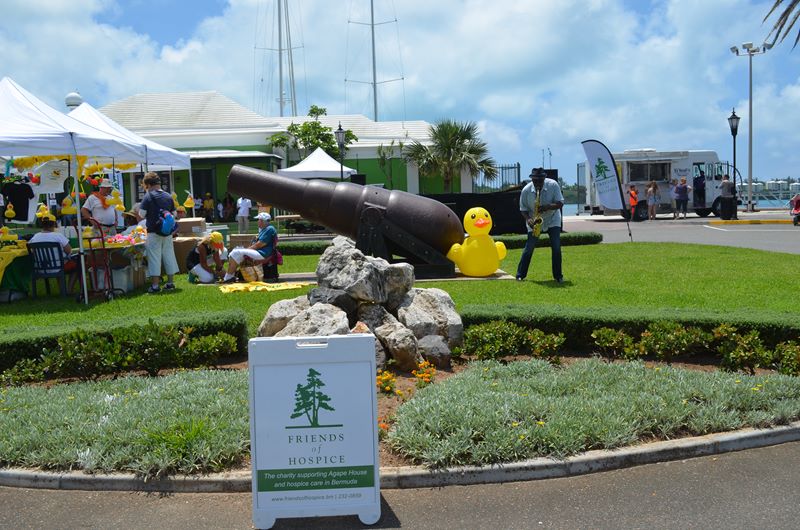 "Over 10 food stalls, located in the square and on Ordnance Island, included all the usual yummy cool treats, and some delicious healthy options. There was a fabulous bake stall with yummy goodies including traditional Malasadas [Portuguese donuts].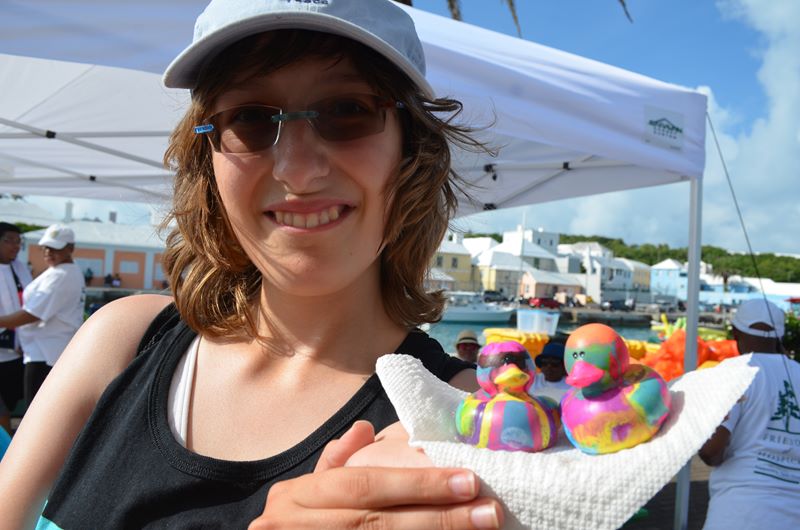 "The event would not have been possible without the lead sponsorship of BELCO for the past 20 years. Lindo's Group of Companies very generously covered the majority of the marketing.
"Also providing necessary support were Barritt's and Universal Electric. The Corporation of St. Georges very generously provide support of not only the venue but infrastructure and St. John's Ambulance who were on hand.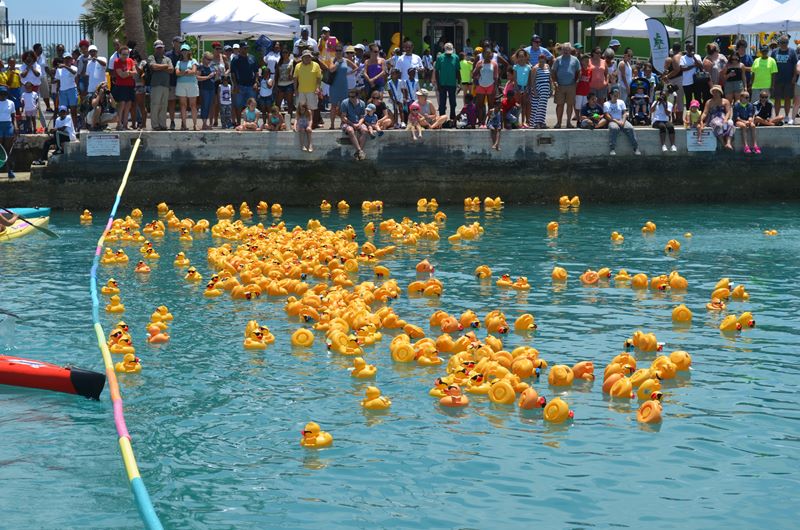 "We are also grateful to the Corporates and Retailers who purchase Corporate ducks; the over 130 businesses who donated raffle; our fabulous volunteers and the community who came and supported us on the day and purchased the raffle tickets in advance.
:It was a spectacular Rubber Duck Derby and Friends of Hospice very grateful to the Bermuda community for attending and showing support. The weather provided a spectacular Bermudaful day and a fabulous time was had by all."

Read More About
Category: All, Entertainment, News