Friends Of Hospice announced that their annual Rubber Duck Derby will be transformed into an event called the Butterfly Blast, with the event set to take place on Saturday, September 12th at Victoria Park in Hamilton.
A spokesperson said, "After 22 years, Friends of Hospice, the charity supporting Agape House, Bermuda's only hospice, today announced that their annual Rubber Duck Derby would this year be transformed into a spectacular event dubbed the Butterfly Blast, once again supported by major sponsor Lindo's Group of Companies.
"The change in theme comes after much consideration as the Rubber Duck Derby has become a much anticipated event over the years, but the charity felt that the relationship between butterflies and hospice care was a better fit and the change provided them with the flexibility to expand the scope of the event.
"Artificial butterflies will be circulated within a large clear dome for all to see, and helpers with nets will capture the butterflies determining the winners of the respective raffle prizes. There will be a total of four blasts, the first will be for corporate entities that have sponsored butterflies, followed by the Caterpillar, Painted Lady, and Monarch blasts.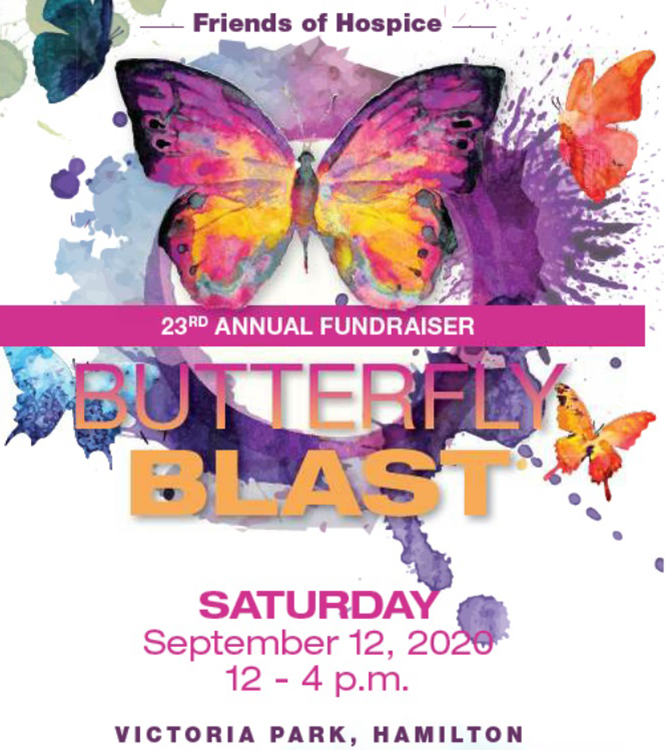 "The event will take place on Saturday, September 12th at Victoria Park in Hamilton from 12-4pm, and will include a diverse selection of activities guaranteed to keep all participants entertained. The location is an ideal setting for the change in theme and location sponsors City of Hamilton have helped make the transition an easy one.
"The entertainment line-up includes well- known local performers such as Joy T Barnum, the Coral Beats, In Motion Dancers, Places New Generation Gombey's and Sophia Cannonier's Padma Aerial Arts Team. There will also be guest appearances by Daniel Smith and Maia Faye who were a part of the student lip sync competition earlier this year.
"Lindo's Group of Companies have been a long-standing supporter of the event and this year are again acting as major sponsors."
Zach Moniz, Manager of Lindo's Group of Companies and told us, "Lindo's is proud to support Agape House the only Hospice in Bermuda. The amazing love and support the Hospice provides is an essential component of our community surpassed only by the people who care for our loved ones at Agape House. We urge all those who can to come out and support the Butterfly Blast and The Friends of Hospice to help ensure our loved ones are well looked after in our hour of most need. "
The spokesperson added, "This year Friends of Hospice will be introducing a new offering called Body Marbling which brings art to life on your body. "It fits in perfectly with the Butterfly theme and we're extremely excited to be able to offer it to the event participants", a spokesperson told us.
"BGA are on board this year and will be helping Friends of Hospice keep things interesting with the Tide Monarch Mayhem tent and are supporters of the delicious fare that will be served under the Friends of Hospice food tent.
"There will be plenty of opportunities to grab a bite and Ashley's Lemonade will be on hand to help keep folks hydrated and don't worry, there will be something to satisfy your sweet tooth.
"Party Animals have graciously supported the event by donating some of the games that will be used and players will have the opportunity to win some great prizes. There will be a costume competition for children and prizes will be awarded for best butterfly costume and best caterpillar or bug costume and this is a great way for the kids to express their creative talents."
Jennifer Mahoney, Executive Director of Friends of Hospice explained, "This event is a great way for families to get out and participate in fun activities in a safe, socially distanced manner. I think we all need a fun release at this juncture and this event will provide that. The introduction of the butterflies is extremely exciting as it marks the beginning of a new chapter for us as an organization.
"In planning this year's event, we were acutely aware of the importance of social distancing and ensuring the safety of the staff, volunteers, and those attending the event, so have focused efforts on putting all necessary checks and balances in place. Unfortunately, that also meant that a few of the attractions we wanted to include had to be side-lined this year."
"This event wouldn't be possible without the partnership and support of our sponsors and for that we are eternally grateful. This has been an extremely difficult period for us all and I'm looking forward to the introduction of the Butterflies and the hope and positivity they represent."
Any questions concerning the Friends of Hospice Butterfly Blast can be sent to executive.director@hospice.bm and details found on their Facebook page @FriendsofHospiceBda.
Read More About
Category: All, Entertainment