[Opinion column written by Wayne Caines]
It is very rare in Bermuda that nine acres of land suddenly appears on the market waiting for an entrepreneur – or entrepreneurs – to come along.
But that's what is happening at Cross Island, at the Royal Naval Dockyard, and I strongly believe this presents an unheard of opportunity to create a legacy for Bermuda that will benefit the community for decades to come.
I accepted an invitation to become the chairman of the Cross Island Legacy Committee because I feel passionately about this country and its future and saw, in this, a chance to help create a game changer that could benefit Bermuda economically and culturally.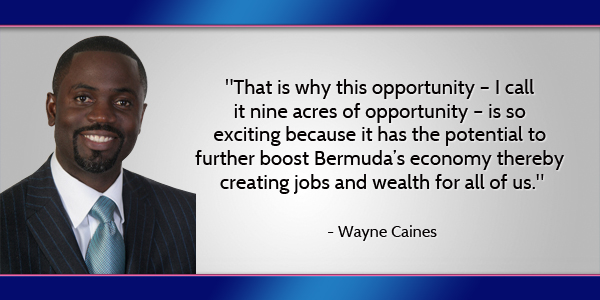 Cross Island will be the home of the America's Cup event village next year and there is always the possibility that the Cup will return to Bermuda in the future, using the same land.
However, at some stage there will be a need for a long-term use and it would be foolish not to plan for that now and that is what the Committee is doing – by asking for the input of the entire community.
So far we've had some brilliant ideas – a sports centre, conference centre, a shipping container city for small businesses, a fish farm, and a sailing centre to build on the America's Cup legacy. All these, if they went ahead, would provide jobs and help bring investment to the Island.
That is why this opportunity – I call it nine acres of opportunity – is so exciting because it has the potential to further boost Bermuda's economy thereby creating jobs and wealth for all of us.
Helped tremendously by Deloitte, the Committee has been – and will be – asking stakeholders, community groups, professional groups and everyone in between for ideas. If you have not contributed already you can via this link.
Mr Caines urges people to submit ideas for Cross Island
Importantly, we don't just want your ideas, we also want your input on other people's ideas – ideally we'd like to get a really good conversation going and you can see and comment on many of the ideas on our Cross Island Facebook page. Please tell us which ideas you support and why, and help us improve and develop the ideas others have already submitted.
I also want to stress that this process is not necessarily about finding one big idea, one big development. The best solution might be lots of small ideas so it is inclusive, allowing the average Bermudian a chance to participate and benefit.
The deadline for your submission is July 31. The work of the Committee will then start in earnest as we begin to digest and analyse all the ideas.
Aerial footage of the infill at Cross Island early in the construction phase
My fellow committee members – Andy Burrows from the Bermuda Tourism Authority, Joanna Cranfield, the Business Development Manager at WEDCo, Kirk Outerbridge from the Department of Works and Engineering, Aideen Ratteray-Pryse, from the Department of Planning, Philip Seaman, of Pj Designs and a member of the WEDCo board, Elena Strong from the National Museum of Bermuda and Jonathan Starling, the executive director of Greenrock – will work towards delivering workable ideas to WEDCo.
The committee will evaluate the benefits and costs of each idea against the following key objectives:
1. Economic – Provides economic benefits to Bermuda
2. Environmental – Is sensitive to the environment, surrounding historical significance, and marine habitats
3. Financial – Delivers a good Return on Investment [ROI] for Bermud. Is financially viable
4. Social/Cultural – Is connected to Bermuda's heritage and culture/ Provides social benefits to Bermuda
5. Structural – Is a good fit for the location, physical site, and exposure to weather and elements.
Once that is accomplished, we will pass our shortlisted recommendations to the WEDCo Board. The Board will then review and shortlist the ideas further to form part of a public RFP process. We are confident that WEDCo are committed to carrying out a transparent and inclusive RFP process in the next phase of this exciting endeavour.
Bermuda, this is a conversation worth having. It is a once in a generation opportunity and I, for one, hope we will receive 60,000 ideas.
- Wayne Caines

20 Most Recent Opinion Columns

Opinion columns reflect the views of the writer, and not those of Bernews Ltd. To submit an Opinion Column/Letter to the Editor, please email info@bernews.com. Bernews welcomes submissions, and while there are no length restrictions, all columns must be signed by the writer's real name.
-
Read More About