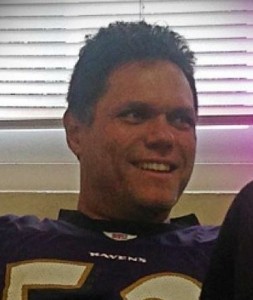 [Opinion column written by Vejay Steede]
A few days have passed since Bermuda engaged in an utterly distasteful and arrogant exercise; well, 47% of Bermuda's registered voters did anyway.
The referendum on same sex marriage [SSM] and same sex civil unions [SSCU] held on June 23, 2016 was, to put it mildly, a despicable thing.
Why this government felt that a referendum was the best way to tackle this hot button issue is beyond me, and a mind boggling development to anyone with a brain and firing synapses.
The very nature of the thing renders a popular referendum moot as the civil rights of any minority group are rarely won by popular demand. Our government was looking for a way to avoid being unpopular and thereby committed an egregious assault on the progress of the struggle for equal rights and justice for our LGBT community.
Thursday, June 23, 2016 was a truly tragic day for all parties involved in the most expensive popular opinion poll this country has ever suffered through.
Rights, whether they be civil, human, or union [workers], have always had to be fought for. The power dynamic always dictates that the stronger party is the one withholding rights from the weaker, or numerically smaller party. Human or Union rights can be withheld by a powerful minority, but, more often than not, civil rights are withheld by an unjust majority.
Do you believe, for example, that the majority of the citizens living in Little Rock, Arkansas supported the federally forced integration of Central High School in 1957? Do you believe that the majority of US citizens support minority causes, even today?
You can bet your bottom dollar that if the citizens of Little Rock were offered a referendum on school integration back in 1957 they would have roundly rejected the idea. That is precisely why civil rights matters cannot be voted on by the citizenry; because prior to them being granted, most civil rights concessions are not popular.
In the immediate wake of the roughly 66% no vote last Thursday, civil rights lawyers and opposition MPs offered rationalizations for why this referendum was a complete waste of time and taxpayer money.
Not only was it an entirely repugnant and predictable exercise, it was also rendered inconclusive due to insufficient voter engagement; which I see as a victory in our struggle for equality and justice for all.
Mr. Walton Brown, MP explained the low voter turnout by saying that voters "felt it was inherently inappropriate to put minority rights to a referendum." I couldn't have said it better.
I did not vote in the farcical referendum because I do not feel that I have the right to judge peoples' love for one another. Nor do I believe that any group has the right to limit, control, or regulate love within any other group.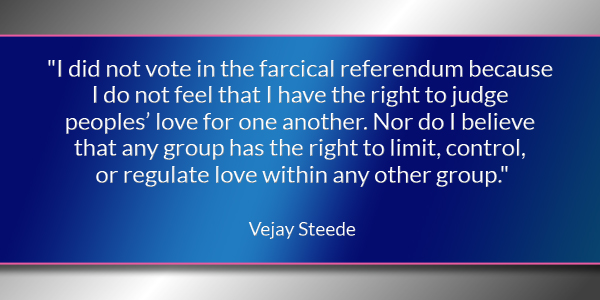 By voting no do you think you're stopping the "spread" of homosexuality? By voting yes are you obliterating ignorance and bigotry? This day at the polls was a truly sad occurrence, and I am quite pleased that the question remains "unanswered." An inconclusive result was the best result possible for this nonsense referendum.
Lawyers Peter Sanderson and Trevor Moniz, the Attorney-General, have both said that the referendum result has done nothing to change the fact that the government has a legal requirement to accommodate same-sex couples who are in a permanent relationship, as per the Human Rights Act and the European Convention on Human Rights. So what was the point of this dumb referendum then?
Well, Premier Michael Dunkley told the media back in March that the referendum was being called because the "vast majority" of the OBA's parliamentary caucus supported marriage between a man and a woman and that they didn't feel it would be appropriate to legislate without seeking public approval … no, that's not right, it was without seeking the public's view, not their approval. He also indicated that a bill on the matter would be in danger of being defeated if it were presented in the House of Assembly. Well that's just a crying shame.
So it appears that, much like Little Rock in 1957, the courts will have to lead the way forward on this issue. The government is sterile, afraid, and possibly just plain old-fashioned ignorant; and asking the people to bail them out of a tough decision is not a step forward … at all.
It is a distinctly fortunate circumstance that the courts, especially the Supreme Court, are comprised of the very wisest amongst us. These are people who know that homosexuality is a biological orientation, not a social phenomenon, not a matter of choice, and certainly not an unnatural thing.
These are people who will be familiar with the landmark 2003 Lawrence v. Texas case, during which the American Psychiatric Association, and other groups, cited homosexual behavior in animals as evidence that the notion that homosexuality is a "crime against nature" is utter hogwash.
These are people who will be well aware that human beings are mammals, and that being born homosexual is no more "unnatural" than being born left handed. These are people who will get this question answered correctly, without irrational fears or disjointed, emotionally charged logic, and without the need to consult their constituents.
These are the wards of justice who don't consider what is popular when they act, but act because what is right needs to be done. Equal rights for same sex couples must manifest within these shores, and these people will ensure that it does. Thank God for Supreme Court Justices.
The idea that we as a society continue to persecute and ostracize human beings in our community who were born with different sexual preferences than the majority is a vile, shameful thing.
Can you imagine the complete insanity we would create if we began treating left handed people the way we [still!] treat homosexuals? I cite left-handers because they comprise roughly the same portion of the population as homosexuals do -10%.
So where's the referendum asking me if I favor "homodextrous" marriages or civil unions? There is none, because that would be ludicrous.
For me, and I'd imagine most other folks with half a brain, the referendum that actually happened on Thursday, June 23, 2016, in Bermuda, was just as ludicrous.
- Vejay Steede

20 Most Recent Opinion Columns

Opinion columns reflect the views of the writer, and not those of Bernews Ltd. To submit an Opinion Column/Letter to the Editor, please email info@bernews.com. Bernews welcomes submissions, and while there are no length restrictions, all columns must be signed by the writer's real name.
-

Read More About