[Written by Senator Georgia Marshall, Senate Spokeswoman for Justice ]
It's becoming a fixture on the Bermuda scene in early summer – cheques being handed out to community groups in the Cash Back for Communities programme. This year, the new Minister of National Security, Senator Jeff Baron, did the honours in a short ceremony.
Cash Back is a way we use some of the cash that is seized by the Courts from criminals to benefit people who do good works in the country. This year, $10,000 each was given to the Bermuda Pacers Track Club, the North Village Community Club, Western Stars Sports Club, the Pembroke Hamilton Club, the entertainment group, TROIKA Bermuda, and CrimeStoppers.
The CARE Learning Centre and the Lorraine Rest Home received $15,000 each, and $50,000 was given to the Family Centre.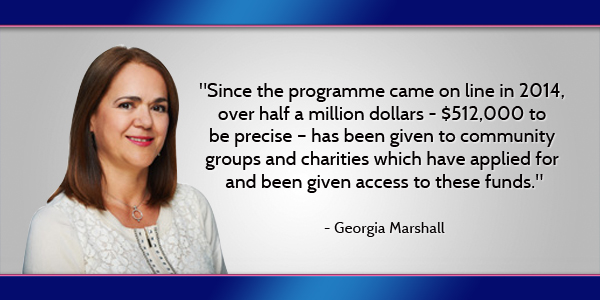 These are organisations that have their roots deep in the community. They are organisations that benefit ordinary members of the community. They are organisations that do good work for the community, organisations without which the life of the community would be very much the poorer.
This constructive and creative initiative is the result of an OBA election pledge. We said we were going to do it and we did.
It wasn't easy to set Cash Back up. There is already a law that allows the court to seize ill-gotten gains – the Proceeds of Crime Act. We had to create an amendment that allowed us to do this, and pass it through the Legislature.
We did that.
We set up a procedure whereby community-based organisations or sports clubs that are related to youth development, sport, area improvement, community improvement or infrastructure improvement can apply for grants every year.
Seized funds are also used for law enforcement, for the costs of treating and rehabilitating drug addicts, drug prevention and public education efforts on drug abuse. They can also be used to offset the expenses of National Drug Control.
Video of this year's Cash Back presentations:
Only the Finance Minister and the Minister responsible for Legal Affairs are listed to authorise payments from the Confiscated Assets Fund.
Since the programme came on line in 2014, over half a million dollars – $512,000 to be precise – has been given to community groups and charities which have applied for and been given access to these funds.
I think this is, as I said, a creative and constructive initiative designed to get funds deep into the heart of the community, to support the good works that benefit so many Bermudians.
It's your Government, working for you, Bermuda.
- Georgia Marshall
20 Most Recent Opinion Columns

Opinion columns reflect the views of the writer, and not those of Bernews Ltd. To submit an Opinion Column/Letter to the Editor, please email info@bernews.com. Bernews welcomes submissions, and while there are no length restrictions, all columns must be signed by the writer's real name.
-
Read More About