[Opinion column written by Rolfe Commissiong]
"Why should they ask me to put on a uniform and go 10,000 miles from home and drop bombs and bullets on brown people in Vietnam while so-called Negro people in Louisville are treated like dogs and denied simple human rights? No I am not going 10,000 miles from home to help murder and burn another poor nation simply to continue the domination of white slave masters of the darker people the world over. This is the day when such evil must come to an end. I have been warned that to take such a stand would cost me millions of dollars. But I have said it once and I will say it again. The real enemy of my people is here." – Muhammad Ali
Muhammad Ali's daughter said that her father's heart continued to beat for a full half hour despite the fact that all of his other major organs had died and ceased to function.
It has been said there are times when a man's life at the doorstep of death can pass as a flash right before one's eyes.
What was Muhammad's recollections like when he reached that doorstep? Did he once again see himself running through the neighbourhoods of Kinshasa Zaire [the Congo today] as he trained in preparation for his fight against George Foreman with hundreds of children running right behind him. Every one of them with a big smile on their faces.
Or did he revisit the 14th round of the Thrilla in Manila encounter with his old and ultimately beloved nemesis "Smokin" Joe Frazier. He told everyone then that he was done and that fight brought him to the closet point to dying he had ever been. Frazier's corner conceded the bout by throwing in the towel despite Joe's fruitless opposition to doing so.
Did Muhammad recall the interview with his biographer Thomas Hauser when he told him "Frazier quit just before I did. I don't think that I could fight anymore."
But even now with his heart still beating; the heart of a champion he was still fighting and perhaps still remembering that life. That sweet life.
Would he have seen his mother always lovingly adoring him? Gazing upon him with those eyes that said with immense pride: Look what God has wrought
Muhammad Ali kisses his mother Odessa in front of the family's Kentucky home in 1963: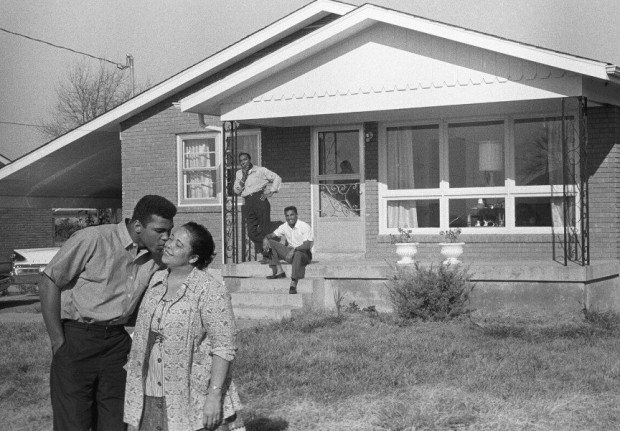 Would he have recalled that first of two trips to Bermuda during the early Sixties when the preter-handsome, charismatic and newly minted Heavyweight champion of the world Cassius Clay met a young teen at D.A's Cocktail Bar owned by non-other than DA Brown the father of the future Premier who in his own way would go on at Howard University to become a civil rights activist like Clay. Would Clay have noticed how the teenager, no more than 15 or so marvelled at the size of his hands? Dr. Ewart Brown, still today would say with the same look of marvel on his face that they were huge.
Or would he remember his visit to the Forty Thieves club on Front Street were ladies' man Cassius would meet a musician named Rudolph Commissiong as they found themselves only feet away from each other at the club's bar.
It was Cassius Clay then for most people – what he would later call his slave name – as he was still in the process of transitioning to his new identity and name Muhammad Ali. He would fight for this new name and identity in the public arena as fiercely as he fought an opponent in the ring.
And what of the legendary Bermudian impresario and promoter Olive Trott who brought the young phenom to Bermuda ? She was one of the few persons alive who had the type of charisma and toughness that would rival his own. Would he remember her too and that beautiful Bermuda day when hundreds turned out at the Tennis Stadium to see the boxing exhibition that would feature him and more importantly to see the next black hope.
No one then I am sure neither here or in the United States could envision then that the young brash and irresistible fighter would also be a leader for racial and social justice just as important to us in the African diaspora as Malcolm X, Stokely Charmichael, Michael Manly, Eric Williams, Kwame Nkrumah and so many other world leaders.
Would Ali once again think of Malcolm who pound for pound had as much raw personality and commitment to his people as he. Would he still question in those few minutes remaining to him as to whether – as he sometimes stated – he did enough to assist Malcolm during his time of need and greatest danger.
Did Muhammad replay that day after representing the United States in the Olympics he would return home to Louisville Kentucky and back to the racist "Jim Crow" South where white supremacy not only reigned but was flaunted with terrible consequences for black people, only to be told as an Olympic gold medal champion that he and a friend could not be served at a "whites only" segregated restaurant in the city centre.
Muhammad to his dying day insisted that resulted in him throwing his gold medal in to the nearby Ohio river, part of the dividing line between the North and South. But Ali would go on to know and understand that white supremacy was a worldwide phenomenon that relegated people of colour like him and Olive, like my father and DA Brown to a second class status or worse.
He was lucky, because for decades before that "uppity" Negros such as himself would have been lynched for defying the white dominated social order. Would he have recalled then on his death bed the stories he heard as a boy of soldiers coming home from the war and being beaten and even killed for simply sporting their uniforms. Did he have a relative who had met such a fate? His mother's grandfather or his father's second cousin on his father's side? Many did.
One thing is for sure is that when he came to Bermuda in the early 1960's he could graphically see that not only the South had "Jim Crow" for it was in Bermuda too as sister Olive would have told him even before he got off that plane.
You see Muhammad Ali epitomized "black power" before it became a slogan. And he showed us how we could have pride in being black long before James Brown would fashion that into a song.
And his heart; the heart of the people's champion kept beating until literally it had no more left to give.
In closing, no athlete in the 20th Century and there were many – Jesse Owens, Jack Johnson, Jackie Robinson, Joe Louis, Sugar Ray Robinson, who Ali worshiped as a boy, Gary Sobers, Pele, Michael Jordan – had a more lasting impact in a way that profoundly transcended their respective sport.
He was the iconic and defining athletic figure of his era bar none. He also, as importantly for my generation and that of my parents defined black identity and became a model of resistance to the global racist oppression of black and non-white people during the 1960's and early 1970's.
"The fight of the Century" took place in 1971 at Madison Square Garden between Muhammad Ali and Joe Frazier. Muhammad was seeking to re-claim the title that was so cruelly stripped from him by his decision not to honour his draft enlistment and fight in the Vietnam war. This was the title fight that he was seeking as "Smokin Joe" held the coveted WBC and WBA title belts. But it was not to be as Frazier won by unanimous decision after 15 rounds and gave Muhammad his first professional defeat.
Joe Frazier vs Muhammad Ali in 1971:
All of the world was at the Garden that night – or at least it seemed like it – including of course the heavy hitters in New York from the world of politics, entertainment, sport and the business world. It also was an event that attracted all of the gangsters -both black and white – from all over the city and beyond.
The world by that time had literally beat a path to Muhammed Ali's door. It was not always that way. Only a few years prior he was reviled by some of the same whites and conservative blacks who will no doubt celebrate him now and deservedly so. Yet a large number of those now who are over 55 years of age would have once viewed him with contempt or worse.
Note how the white city fathers of Louisville and the white citizenry of Louisville and Kentucky will seek to bask in the glow of Ali's accomplishments without coming to grips with the past that so shaped Ali. Many of course; not all, but clearly a majority, will in November turn out for the Presidential election and pull the lever for Donald Trump the antithesis of everything that Ali stood for.
There would be two more titanic battles between Ali and Frazier.
My father is a big boxing fan and he along with my uncle Labby Laborde had the pleasure of attending the second bout in 1974 between Frazier and Ali at the same venue. The anticipated re-match was not a title fight as Frazier by then had lost the belts and along with them the title of world heavyweight champion.
Yet, like the first it was an amazing event as all of the stars were out in force again. It also ended with the right result as far as we were concerned as Ali finally overcame Frazier by way of an unanimous decision.
As a student at City University of New York then I had the privilege to accompany my father and my uncle the following year in 1975 to the Garden to watch the "Thrilla in Manila" bout. This was the third and final contest between "Smokin Joe" and Ali. The bout was on closed circuit and projected into a massive screen. It was really exciting to be there as most of the heavy hitters in New York who could not actually make it to Manila in the Philippines were present. Ali, as anticipated won the fight but little did I know then – as indicated above – that Ali saw death stalking him just before "Smokin" Joe's corner threw in that towel in the 14th round.
He may have robbed death then.
The sweet science always exacts a price. And so does a system that effectively robbed Ali of his prime athletic years and literally millions of dollars from the age of 25 to just short of his 29th birthday. It's hard to imagine any athlete today making the type of sacrifice that he did by opposing the military draft and the war in Vietnam. Martin Luther King Jr. and thousands of middle class white college students who later would take up the banner against the war, were essentially following Ali's lead as even King Jr. would acknowledge. Ali was first to the party.
Is this why he ended up fighting way too long? Was it to compensate for the great loss that he endured during the prime of his career? Was Parkinson's the ultimate price that he paid? We will likely never know now.
That fight is the closest that I ever got to my icon but I am not complaining. After all, I, like many of my generation could not even begin to pay the great debt that we owe our beloved Ali and his family.
Ali once said the following which bears repeating:
"Some people thought that I was a hero. Some people said that what I did was wrong. But everything that I did was according to my conscience. I wasn't trying to be a leader. I just wanted to be free."
Rest in Peace my brother…
- Rolfe Commissiong

20 Most Recent Opinion Columns

Opinion columns reflect the views of the writer, and not those of Bernews Ltd. To submit an Opinion Column/Letter to the Editor, please email info@bernews.com. Bernews welcomes submissions, and while there are no length restrictions, all columns must be signed by the writer's real name.
-
Read More About