The Black Collective — a group of five women who met as a result of their desire to highlight Bermuda's unique culture and heritage — announced that on Saturday [Sept 3] at the BIU parking lot, they will be hosting a Book Signing and Sale by three of Bermuda's authors
"The Saturday Market has been in place since Saturday July 2, 2016 when the Pre-Cup Match Market was held. The Black Collective recognised that many in our community are struggling in these difficult financial times," a spokesperson said.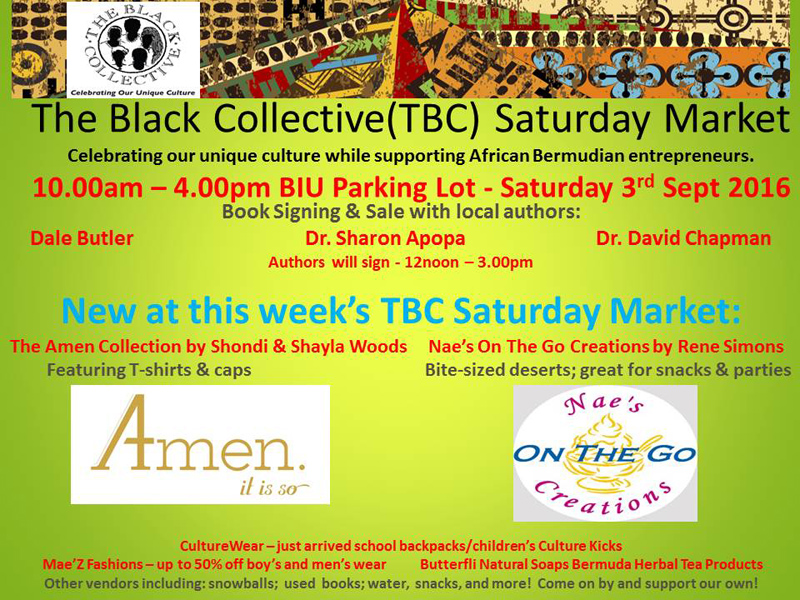 "The objective of the Market is to give local entrepreneurs a venue to sell their products and to give buyers a venue to purchase quality goods at a reasonable price. The market does not charge vendors as the goal is to give persons the opportunity to make money without the burden of a fee.
"Although to date most of the vendors have been women, the Market is open to men and women. Goods on sale include new items as well as second hand, 'gently used' goods.
"An ongoing feature of the Market has been the CultureWear clothing line by Black Collective member, Lynelle Furbert. Mrs. Furbert is a Bermudian designer who lives in Ghana and has her products make by local Ghanaian artisans thus supporting the local Ghanaian economy while providing quality, unique Ghanaian products to the local Bermudian community.
"The CultureWear line was featured at the inaugural African Rhythms Fashion Show which the Black Collective hosted on 21st May 2016. There was such a demand for the fashions that the idea for the Market was raised and expanded to include giving opportunity to other entrepreneurs.
"The 3rd September Market is a very special one. As our emphasis is on 'celebrating our unique culture' we have featured various local cultural experiences. We started with Cup Match in July; featured local artists Francis Furbert and Rhonda Cross Maskal in August and we start of September highlighting local authors Dale Butler, Dr. Sharon Apopa and Dr. David Chapman.
"We invite the public to come on by on Saturday 3rd September to purchase these authors' books and then have them signed by these authors.
"The books by Mr. Dale Butler of the Atlantic Printing House, which cover topics from Bermuda's musical and sports history, and everything in between, are now out of print so this sale represents maybe the last opportunity to purchase these books.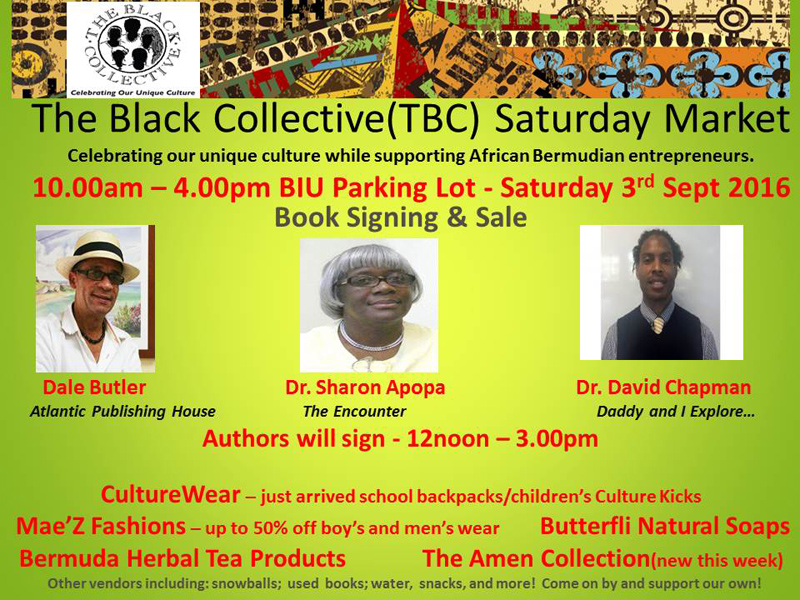 "Dr. Chapman's books – The Daddy and I Explore series of five which feature a father's interaction with his children as they explore Bermuda's environment, have been very popular and in fact for this sale and signing we have only 3 of the series available, so I would encourage persons to come out early to purchase the remaining titles.
"Sr. Sharon Apopa has written the novel Encounter, tells the story of four women whose lives cross paths after the train they are travelling on crashes. Dr. Apopa says that the book is a fictional representation of the various men and women she has met over the years."

Read More About
Category: All, Entertainment